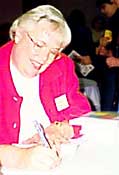 Teacher Feature...
---
Around the Block With Cheryl Ristow
by Cheryl Ristow

Last month I was pleased to write the cover story for the February Teachers.Net Gazette about my trip to the 4-Blocks Leadership Conference in North Carolina. I have now been asked to write a regular column called Around the Block With... which will explore what teaching is like around the world. I am hoping to find guest columnists each month willing to tell us what school is like in their part of the world---be it a large metropolitan area or a small corner of the countryside.

When I discovered Teachers.Net several years ago, one of the most exciting things was meeting the many teachers from different parts of the world who visited regularly. While we all have some concerns in common, it has been fascinating to hear how teaching varies from country to country and even from state to state within the USA. For instance, here in California, elementary teachers rarely have planning time during the day - we teach art, P.E. music and science. What a surprise it was for me to learn that in most states teachers have "specials" when teachers are "off duty" for an hour or so! I've also been surprised to hear about different school year schedules; some start in early August, some don't start until the middle of September. I was interested in learning that Canada's school year is about 10 days longer than mine in the U.S. and that schools in the UK and Australia have more frequent breaks than I do.

So here goes! I'm going to tell a little about my school and its community. After this I hope to introduce a guest columnist each month from somewhere in the world who will do the same for their neck of the woods. If you are interested in doing this, please contact me by email---- aggie@teachers.net. I'll be looking forward to hearing from you and about your school!
| | |
| --- | --- |
| Name: | Cheryl Ristow |
| School: | Valencia Park Primary |
| Location: | Fullerton, California, USA |
| Age taught: | first grade (6 and 7 year olds) |
| School year: | 180 days for students, 185 for teachers |
| Website: | http://www.fsd.k12.ca.us |
Fullerton is in the huge megalopolis known as Orange County in California. The community is located about 20 miles from Los Angeles and is only 5 or 6 miles from Disneyland. The area was home for centuries to a group of native people later known as The Gabrielanos (because they fell under the protection of the mission in San Gabriel). Prehistoric remains of saber tooth tigers and other animals have been found in the area. In the 1880's Real Estate Developers and brothers George and Edward Amerige sold land in the area after the Southern Pacific Railway built a station here. The area was largely agricultural until the 1950's when the California building boom began. Today there is a population of about 128,000 people within the city limits. Click here more information or to see a short movie clip of the area.
Valencia Park School, where I have taught for 14 years, is in West Fullerton. This is a neighborhood of small, single-family homes, apartments and residential motels. It is an area where a lot of people from countries other than the U.S. have settled. About 50-60% of our students come to school speaking little or no English. About 80% live below the poverty line. While we have a school-wide Title 1 program, we are also a California Distinguished School. Built in the late 1940's, the school was meant to accommodate about 700 students. Our enrollment, however, has grown steadily over the years and we now have nearly 1100 students. Like a lot of schools in California we have many portable classrooms on the campus. Up until this year we have had both a Principal and a Vice Principal. Late last school year, however, the decision was made to split into 2 schools within a school-we now have separate Primary and Intermediate Schools that share the same campus but have separate principals and offices. The Primary School serves grades K-3 (children aged 5-8) and the Intermediate School serves grades 4-6 (children aged 9-12).
Our school of 1100 requires a large staff! There are about 70 people who work at Valencia Park---of which 35 are teachers. The 1st and 2nd grades were able to participate in California's Class Size Reduction plan 4 years ago. Before this it was common to find any class at my school w/more than 30 students. After CSR, 1st and 2nd grade classrooms were reduced to 20 students each. Kindergarten and grades 3-6, however, were unable to participate and still have more than 30 in each class. We presently have 8 sections in 1st and 2nd grades and 4 sections of each of the other grades.
Scheduling and controlling 1100 students is quite a task. School starts at 8:15 in the morning with breakfast starting at 7:30. Anyone who has seen more than 1,000 students filing into our school has been amazed at 2 things--- just how HUGE this school is and how well behaved the students are! It is really quite a sight to see the students arrive and then quickly go to their classrooms. We have 3 morning recesses-at 10:15, 10:20 and 10:40 and 5 lunch times that begin, in Kindergarten, at 10:30! There is almost never a time when our playground is empty and quiet-there's always someone at recess, lunch or P.E. Our day is over at 2:40 (for the Primary School) and 2:45 (for Intermediate) when, again, everyone goes to the front of the school for dismissal.
There are two major challenges of teaching at this school: instructing children who are learning English and dealing with poverty. California has outlawed bilingual education but this has never been a viable option at Valencia Park since so many different languages are spoken. In years past I have had classes where 5 languages were spoken and there are about 10 different languages spoken at the school. All instruction is done in English, which is not as difficult as it sounds. All of us have received a great deal of instruction in how to teach ESL (English as a Second Language) and now all new teachers must have the CLAD designation on their credential which means they received university training to teach ELL (English Language Learners). Some of the ways we have found to facilitate language acquisition is to use real objects or models, lots of manipulatives, the use of songs, poetry and chanting when introducing a new concept, and the "10/2 lecture". This latter refers to a technique where the teacher lectures for 10 minutes and then gives students the opportunity to discuss the new ideas for 2 minutes in their native language.
The poverty faced by a great many of our students is the other major challenge facing us at school. In the surrounding neighborhood there is gang activity, drugs, many single parent households or grandparents raising grandchildren while the parents are in jail or unable, for whatever reason, to raise their own children. Each teacher can tell you of students facing terrible challenges. One of the ones that haunts me is of a student I had a few years back named Britney. She was a sweet and quiet little blonde and blue eyed girl- bright eyed and serious at the same time. She is one that I almost instantly bonded with. I realized quickly, though, that she had some academic problems: she was unable to write her name, didn't know the alphabet and didn't know some of the colors. She was also unable to name many numbers and was unsure of how to write them. I found out by checking her records that she had never been to school before and that she was almost 8 years old! During any extra time during the day I tried to work with her and I even got a special volunteer to come in to help her-my own mother! We both loved Britney and wished we could take her home. At Christmas time I submitted her name to the office to receive Christmas gifts from charitable organizations. The only time I ever met her mother was when she came to collect those presents. She was pretty and very young, and it was very obvious to all that she was using drugs. But, she also seemed grateful that she was going to have a Christmas for Britney and her younger sister. Not long after that Britney stopped coming to school. When I asked what had happened I learned that she had been met one day at home (a motel room where her mother, the mother's boyfriend and his child, also lived) by the police officer who had just arrested her mother for soliciting prostitution and for drug possession. The police took Britney and her sister to the local Home for abused and neglected children. I never saw her again.
Other teachers at Valencia Park will tell you of teaching children how to make a peanut butter sandwich so that the child can make their own lunch (the parents never filled out the paper work to get a free lunch) or of teaching a child how to use an alarm clock so that he/she can get up in time for school. We have a program run by the local Assistance League called Operation School Bell. This program supplies needy children with new school clothes and school supplies. It's a wonderful program and is truly appreciated by the children!
While we have our sad stories, there are many fun and exciting times at Valencia Park as well! We are famous for our annual Halloween parade. Every year there is a theme that is usually connected to a book or movie. One year it was The Wizard of Oz-imagine the surprise and delight of the children as our wonderful Principal, Marilyn White, came wheeling out on a bicycle dressed as the Wicked Witch of the East! Another year the theme was The Flintstones----- several of the teachers constructed a real Flintstones car from boards, chicken wire and butcher paper. They came trundling onto the parade ground to the cheers of the whole school! Each year the costumes and props get more elaborate and exciting--- it's a time anticipated by all of us.
Our Christmas program is also not to be missed. Of course, with over 30 classrooms participating, it takes nearly all day to put on--- but there are hundreds of parents there who cheer and clap for the children and teachers. Our small multi purpose room is too small for all the children to stay in when their parent's are also there--- so we have to come in one door of the stage, sing our songs, and then leave out the door on the opposite side of the stage! It takes a great deal of organization and more than a few prayers for good weather as we have to wait outdoors before going on stage.
In the spring we have our carnival, The Spring Fling, and a Chalk Art Festival. The carnival is almost completely planned and put on by the teachers as a moneymaking event for the school. We have it on a Friday afternoon when the children are able to go home at 12:30. We have lots of booths, games and entertainment and it usually draws crowds of what seems like thousands! The Chalk Art Festival is done the day of our annual Open House on the playground. Each class gets a 4ft. x 4ft. square to decorate w/chalk. Usually the class chooses a book, science or social studies theme with their artwork. With all the classes at Valencia Park, this is quite a sight and takes a while to walk through and admire.
Despite the problems and challenges of teaching at Valencia Park, it is an honor and a privilege to work there! We are blessed with good administrators, a caring and supportive district office and many wonderful families and children. It is the only school I have ever taught at and I intend to retire from there in about 10 or 11 more years. If you ever are in the neighborhood, drop on by! I'd love to show you around!