In Focus: Teachers.Net Community
by Nancy Salsman
---
Celebrating Dr. Seuss' Birthday
Lincoln Elementary in El Reno, Oklahoma celebrated Dr. Seuss' Birthday with quite a celebration. The morning started off with the students being served "Green Eggs and Ham" for breakfast. The morning assembly began with the honorable, Judge Ed Cunningham administering the reader's oath to all the students. Judge Cunningham told the students the importance of reading. If they wanted to go on a journey all they had to do was open a book. Fourth grade teacher, Nancy Salsman along with the help of her grandson, Tanner wheeled in a birthday cake to kick off the celebration. Students sang "Happy Birthday" before heading to class.
Activities planned throughout the day included high school students reading their favorite "Dr. Seuss" story to the elementary students in English and in Spanish, reading and graphing their favorite books, locating books published from all 50 states, as well as having State Representative Wayne Pettigrew visit the school. The Dr. Seuss celebration was tied into the school's year-long reading program as well.
Readers Oath

"I promise to read
Each day and each night.
I know it's the key
To growing up right.

I'll read to myself,
I'll read to a crowd.
It makes no difference
If silent or loud.

I'll read at my desk,
At home and at school,
On my bean bag or bed,
By the fire or the pool.

Each book that I read
Puts smarts in my head,
'Cause brains grow more thoughts
The more they are fed.

So I take this oath
To make reading my way
Of feeding my brain
What it needs every day.
The readers oath was taken from the NEA's Read Across America website.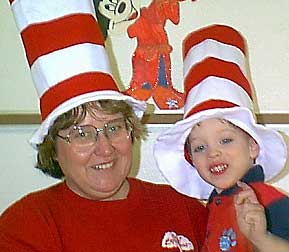 Nancy Salsman aka "nan" on Teachers.Net
& her Grandson, Tanner
---
Read Across America Resources...
Teachers.Net offers a Read Across America chatboard at http://www.teachers.net/mentors/raa/ and a mailring http://teachers.net/mailrings dedicated to discussion about ways to make Read Across America Day 2001 the most effective to date. The NEA offers a compilation of links to reading research, news and activities on their Read Across and Reading Matters sites at http://www.nea.org/readacross/ and http://www.nea.org/readingmatters.
Bookmark the Read Across America Chatboard.