Gazette Cover Story...
---
My Trip Around the Block
(or How I Discovered the 4-Blocks Literacy Model, was Published, and Went to The Leadership Conference)
by Cheryl Ristow

Who would think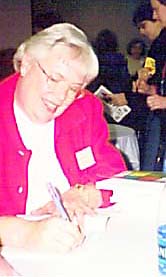 that one little mouse click could so change things in a person's life? I remember logging on to the Internet on my shiny, new computer 4 years ago. I was searching for primary teachers sites when I saw a message with a link for Teachers.Net. One of my favorite activities at that time was following links so, without thinking, I clicked on it and my life as a teacher was changed forever! At that time Teachers.Net was just the main chatboard - there were no chatrooms, mailrings, grade or subject boards, no meetings were held and there certainly was no Gazette! But I found a wonderful group of teachers there - all kinds of questions were asked and answered, greetings and discussions went on and almost immediately I felt accepted as a member of a caring community.
One of the things I found most interesting were the many discussions of teaching methods and practices that were going on across the country. Here in California Whole Language, which had been the "method of choice" for so long was now on the wane--- but I vividly remember a post on the board at about this time from a teacher on the East Coast asking just what this "Whole Language thing" was that she had recently heard about! I also began to see an occasional post asking about 4-Blocks - questions concerning writer's workshop or guided reading--- and I began to become intrigued about what this was. Then a teacher at my school did a demonstration lesson of Making Words--- it was wonderful! While I'm sure she told us the book was written by Pat Cunningham, that name didn't mean much to me. At the end of that summer, though, my principal gave me her copy of Classrooms That Work (also by Pat Cunningham) to read. I remember taking breaks from setting up my classroom to read another chapter of this wonderful book and beginning to plan how to use the ideas in my first grade classroom. I also began to see more and more posts about the 4 Blocks Literacy Model on the chatboards (now there were lots of chatboards!) and the suggestion was made that perhaps there should be one devoted entirely to its discussion. This was done (http://teachers.net/mentors/4blocks/) along with the formation of the 4 Blocks mailring (http://teachers.net/mailrings/) --- which has been a God send to so many of us trying to implement the model in our classrooms.
When the first day of school came along, I was so excited to try out all that I had learned and read about! I got a great group of kids that year - cute, sweet, funny - and really immature... They were also some of the lowest, academically, that I had had for many years. Only one student in the class knew all the names for the alphabet letters, none knew all the sounds, only one or two could read more than a few basic sight words and, when I read with them, I had 17 out of 20 classified as "U's" - unable to read. The 3 who could read were at the Kindergarten readiness level. To top it all off, like in the vast majority of CA classrooms, I had 10 who were learning English as a second language. I knew I had my work cut out for me.
Hoping like mad that this 4 Blocks thing would work for this challenging class,

I began implementing. While I had to use a lot of the ideas developed for Kindergarten teachers by Pat Cunningham, Dorothy Hall and Cheryl Sigmon (the 4-Blocks gurus as I came to call them!) slowly, slowly I was able to introduce the first grade activities and I began to see progress. At the end of the year, 12 students were reading at or above grade level, 4 were just below that and all of the children were reading at a recognizable level. They knew almost 100 sight words, could write on any subject and really enjoyed reading books. I felt good about sending this class on to 2nd grade!
During the spring of the year, while searching the 4 Blocks chatboard here at Teachers.Net, I found a posting about a census that was being taken. I followed the link provided (once again!) and found that it was Pat Cunningham et al looking for information on who across the country was implementing the model. I was happy to provide her the information on my class - I wanted her to know how much I appreciated the work she and the others had done to help teachers like me. I was totally shocked a few days later to find an email in my mailbox from her wanting even more information on my class! To thank me for giving this extra information she would send me an autographed copy of her latest book Guided Reading the 4-Blocks Way. I was more than happy to provide her with the information she wanted and was delighted to receive, a few weeks later, the book in the mail. I never dreamed that I would hear from her again.
In August of this past summer I was getting ready to go on a week's vacation. It had been a very trying summer for me and I was more than ready for a little fun. I was clearing out my mailbox (and deleting more emails than I was reading!) when, just seconds away from sending it to cyber heaven, I saw "pcunningh" (Pat Cunningham) and "wfu" (Wake Forest University) on the return address of a message! I opened it to read that Pat Cunningham and Dottie Hall were writing a new book about 4 Blocks to be called True Stories from 4 Blocks Classrooms - and THEY WANTED ME TO BE ONE OF THE STORIES!!!!!!!!!!! I nearly fainted - then began screaming! I couldn't believe that I was going to be a published writer! They needed my chapter in 2 weeks which meant that a laptop had to be packed for my vacation (I didn't mind). I was also sworn to secrecy about this project. While I could tell my family about it I was not to tell my principal (sorry, Pat! That secret was just toooooooo hard to keep!), staff or make any mention of it on the 'net. For the next 2 weeks, I wrote, rewrote and edited my chapter. It was a really interesting experience - I actually enjoyed doing this a lot.
Several weeks later I got a publishing contract (!) in the mail and an invitation to attend the 2nd annual 4-Blocks Leadership Conference to be held in Clemmons, North Carolina the weekend of January 13-15, 2001. I jumped at the chance to attend since I'd heard such fabulous stories about the conference held in 2000. During the conference, I read, everyone would receive a copy of True Stories and the book would be discussed. There was also a list of wonderful sounding break out sessions on various topics. There would even be an autograph party on Sunday afternoon where those in attendance could get their books signed by the authors! I booked my flights and motel room and tried to wait patiently for January to come! I also learned that one of my best chatroom buddies, REI, was also planning on attending.
Finally, January 12, the day I was to leave for NC, came. I really didn't sleep at all the night before-and I had to get up at 3 a.m. to get to the airport for a 6:30 flight. As soon as I arrived in Clemmons I called REI's room and arranged to meet her for dinner that evening. We had a great time talking - we acted like we'd known each other for years! By the end of the conference, we were really friends - I can't wait to meet and talk with this wonderful lady again.
The conference began the next morning. In my excitement, I got to the meeting room 30 minutes early. I was given a large envelope and a nametag - in the envelope was a copy of THE BOOK! On the nametag was an "A" that I later realized was for "Author"!! What a thrill it was to see my name and the chapter I'd worked so hard on in print! Teachers began to slowly trickle into the room, Pat and Dottie arrived and we got to work! One of the first things discussed was the agenda of events. While scanning the list of subjects and presenters, suddenly a name jumped out at me - it was my own!!!!!! I was scheduled to participate (along with Lisa Repaskey, a fellow Tnetter) in a discussion of how we use 4 Blocks in our ELL (English Language Learners) classrooms! This was unexpected and really scary for me as I am not one who does a lot of speaking or training either at my school or in my district.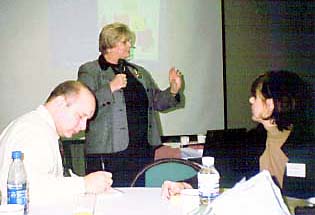 Dottie Hall


The rest of the day was just terrific - the morning's topic was on Guided Reading the 4 Blocks way. There were also break out sessions on Big Blocks (the modification of this model for upper grade students), Guided Reading in Kindergarten, plays and poetry, Book Clubs and using informational text. We all heard a fascinating presentation from Jim Cunningham ("Mr. 4 Blocks" and Pat's husband) on the different levels of reading comprehension. During the late afternoon and evening I fretted, wrote and worried about my session to be given the next day.

On Sunday afternoon we discussed working with words, systematic sequential phonics and coaching groups - and then it was time for my session! I had decided to speak on how I discovered 4 Blocks, how I had modified it for my ELL classroom, and a little about my school and community. While I was very nervous, I was prepared and, like most experiences in life, wasn't nearly as bad as I'd feared. I even received several compliments on it!

At 5:00 that afternoon the autograph party started. What a thrill it was to sign book after book for all those wonderful teachers. Pat and Dottie had everything organized for us - the authors sat 2 or 3 at a table and those wanting our autographs lined up. I had gotten special glitter gel pens (which everyone in the chatroom teased me about!) to use for this exciting event. I was so glad that, in the picture taken of me by REI, those silly pens were shown. I was especially happy to be asked to sign both Pat Cunningham's and Dorothy Hall's copies.

On Monday morning, the 3rd day of this conference, I was tired! I was ready to go home! But there was more to hear and learn and I didn't really want to miss a moment of it. I went to sessions on Building Blocks (the kindergarten program), intervention programs and, at the luncheon, Pat reported on the results of the first ever 4 Blocks census. Suddenly, at 1:00 it was all over and I was wishing it wasn't!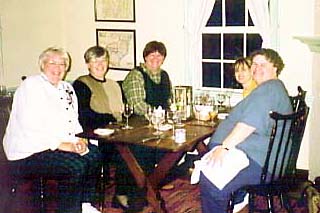 That night REI, her great traveling companions Kay and Shelley (more new friends!) and my sister and myself went to Winston-Salem's Old Salem Village (http://www.oldsalem.com) for a wonderful meal at The Old Tavern. It was a super ending to a fantastic weekend!

The next day we all traveled home. While I was sad that this most exciting event was over, I was anxious to get back to school to try out all the new things I had heard about. I was also anxious to tell my chatroom friends about the adventure!

And who knows if the adventure really is over yet? When my principal heard about my trip she suggested that I develop a district inservice on 4 Blocks. This will be the first time that many in my district have ever heard of this literacy model so it could be that I'll be asked to speak again. I was also asked to write this Gazette article - so who knows what the future has in store? Who would think that one little mouse click could change so much? I know I'm looking forward to whatever happens!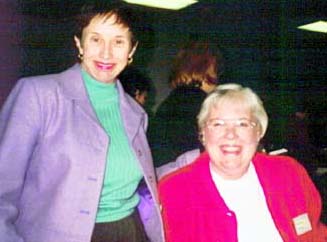 Pat Cunningham & Cheryl Ristow
---
Cheryl Ristow is a first grade teacher at Valencia Park School in Fullerton, California. She has been teaching for 14 years - 10 in first grade, 4 in kindergarten. Cheryl is a graduate of Chapman College in Orange, California. She has a much loved little dog - Agatha - which is why her chat name is "Aggie." She enjoys travelling, reading, crafts - "and I like chatting... ;-)"
---
Four Blocks Links:
Visit the web site of 4-Blocks creators Pat Cunningham and Dottie Hall for more information about the 4-Blocks Literacy Model: http://www.wfu.edu/~cunningh/fourblocks.
Sponsor of the 4-Blocks mailring and live chats is Apples 'n' Acorns http://www.applesnacorns.net where you can find all of the Cunningham, Hall, and Sigmon books, materials, and videos at the lowest prices possible.
Visit the Teachers.Net 4-Blocks Center http://teachers.net/mentors/4blocks/ where you'll find links to the 4-Blocks chatboard, mailring, and helpful publications.
Live Chats about the 4-Blocks literacy framework are a regular feature at Teachers.Net. Read transcripts of past chats at http://teachers.net/archive/4-blocksarchive.html .
Check the Teachers.Net calendar for upcoming 4-Blocks chats: http://teachers.net/chat/meetings.html or sign up for Events notices, delivered directly to you by e-mail: http://teachers.net/mailrings .
4-Blocks trainer/author, Cheryl Sigmon writes regular columns for Teachers.Net, based upon questions submitted by teachers, available at: http://www.teachers.net/4blocks/column.html .
A collection of lessons for use with the 4-Blocks framework is available in the Teachers.Net Lesson Bank http://teachers.net/lessons.
The 4-Blocks Goodies page is a collection of forms, notes, lessons, and other resources contributed by members of the Teachers.Net community: http://www.teachers.net/4blocks/goodies.html.