---
Send Us Your Web News...
Have a teacher news story or announcement you'd like to see published on our Web News column? Send it to us at editor@teachers.net and we'll include it in an upcoming issue of the gazette.
---
Software Mirrors State Assessment Tests

Optimum cuts down on teacher workload in preparing students.
Across Ohio and Illinois, as students prepare for the Illinois Standards Achievement Test (ISAT) and the Ohio Proficiency Test (OPT), those statesí teachers and parents are becoming aware of new software that helps students prepare.
Optimum Interactive Software, created by Photonics Graphics, has a new CD rom-based software tool that provides sample tests mirroring the state-mandated ISAT for grades 3, 4 and 5, and the OPT for grades 4, 6 and 9.
"Students can answer the questions on the computer screen and let the computer score their work," says Larry Pogue, technology coordinator. "Each CD is a valuable assessment tool." Developed with input from the Ohio and Illinois State Boards of Education, the Illinois and Ohio editions are the first two in a series of state editions.
Many say the sample tests are so similar to the actual state-mandated tests, that students gain confidence and are less nervous about taking the required test in the Spring. "The feedback on incorrect answers is excellent," says teacher Rosann OíReiley. "Itís put into words that (the student) would use."
Optimum founder Christie Brown introduced Ohioís state-specific software in 1997 to help teachers assess student needs as they relate to state-mandated tests. "This software allows teachers to troubleshoot problems while effortlessly tracking student progress," she says. "The computer does the grading and takes on the extra workload, leaving the teacher with a concise OPT or ISAT lesson plan for each student." The result is teachers are better able to address studentsí weak areas prior to administering the state assessment test in April.
Based in Cincinnati, Ohio, Optimum mirrors the ISAT and the OPT in content, length and format. With questions written by Ohio and Illinois teachers and tested by students, test-takers receive immediate feedback per question, or choose to be graded upon completion of each content area. Eventually, the state-specific practice tool will be available in all states where state assessment tests are required. For more information, call 1-888-281-5000, or visit Optimumís website at http://www.optimumtest.com.
---
Global e-Learning Conference
Global e-Learning 2001
Whistler, British Columbia, Canada
May 18-20, 2001
This ground-breaking event will be the first international conference to focus exclusively on the global implications of the international trade in e-Learning products and services and the growth of e-Learning in emerging markets and the developing world.
Leading speakers will focus on three areas:
Global e-Learning Technology Issues

Global e-Learning Regulatory / Political Environment

Global e-Learning Investment Opportunities
This event is targeted at senior executives, knowledge officers, government officials, education institution administrators, training managers, e-Learning professionals and venture capitalists / investors with an interest in the e-Learning sector.

To keep the format highly interactive, attendance will be limited so you will want to register early!

Click here for more information
---
New Resource Book For Teachers
With release of its book, Partnership Education in Action: A Companion to Tomorrow's Children, the Center for Partnership Studies focuses its effort to transform the educational system by providing a resource for all teachers, administrators, and homeschoolers who want to integrate Partnership process, content and structure into their existing curriculum. Discover how to place the concepts of Tomorrow's Children: A Blueprint for Partnership Education in the 21st Century by Riane Eisler into an accessible form for classroom use and find administrative direction in moving schools toward the Partnership model.
Partnership education is a new educational paradigm that embodies equity, environmental and social sensitivity, gender-fairness, multiculturalism, and a more accurate and hopeful picture of what being human means. This model of education reduces violence, supports a spirit of inquiry, encourages service, and makes learning come alive. By incorporating this model of education into the classroom, both girls and boys are helped to realize their untapped human potentials - and plant the seeds for a peaceful, caring, and sustainable future.
Partnership Education in Action: A Companion to Tomorrow's Children will be available in March 2001 for $15.
For more information, contact The Center for Partnership Studies at 520-546-0176 or e-mail cpsdel@aol.com. To learn more about Partnership, go to the web site at http://www.partnershipway.org.
---
Paint Can Camera Giveaway
Hi folks,
I'm a professor of photography at Hartwick College in upstate NY and have designed an innovative pinhole camera & darkroom kit. Instead of advertising I've decided to give away a camera to a school every week. Interested teachers should get in touch with a short note about their program and their school address.
Best wishes,
Jim Kosinski
zinski@telenet.net
Starlight Cameras
http://www.paintcancamera.com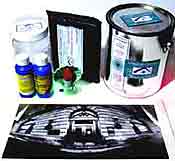 ---
This Month's Cool Site
This month's cool site is Merriam-Webster Online. This 100% free resources offers a fast and lean access to the world's most famous dictionary and its companion thesarus, along with a suite of other cool tools and mind-expanding resources. For those with a pasion for webpage programming, the site offers cut-and-paste HTML code which allows you to put a free dictionary search box on your web site. If you really want to be cool, you can add your own dictionary link to your browser's toolbar for light-speed access to definitions. Integrate the most powerful tool in the English language into your Microsoft Word, Windows and Macintosh programs, and even your Palm Pilot. Looking for a fun way to expand your vocabulary? Check out the site's Word Games, Word for the Wise, and Word of the Day resources.

Merriam Webster Online