Brain Awareness Week, March 12-18, 2001
by Kim Tracy
---
Over the last ten years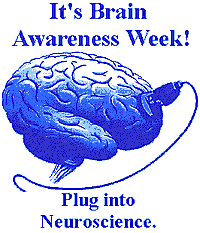 we have seen an increase in neuroscience findings in regards to how the brain learns best. Skeptics warn educators to not make generalizations over recent findings, yet educators scurry to place meaning behind the findings and using strategies to help improve learning. There are many conferences throughout the year to help educators relate neuroscience and education. Each year, Brain Awareness Week, organized by the Dana Alliance for Brain Initiatives, helps promote public awareness of the latest brain research and what we have to look forward to in the future. Many hospitals and health service groups plan activities to aid in helping community members understand the latest findings on brain related diseases and disorders.
Brain Awareness Week is celebrated in schools to help guide educators and parents in the best strategies for learning and in promoting healthy environments to protect ourselves from brain damage accidents, such as bike riding without a helmet or headbutting soccer balls. There are many activities that schools can do to help promote Brain Awareness Week.
Invite a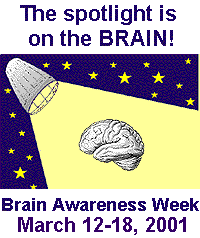 doctor or neuroscientist to the classroom to help the students understand what actually is rolling around inside their skulls. Many students do not fully grasp the understanding that their entire body relies on the brain. A doctor or neuroscientist can help students understand exactly what the brain is for and how it helps them learn.
Invite a nutritionist to explain why our bodies and brain need healthy foods and how that helps in the learning process. We often tell students to eat healthy, but never explain how it helps them to learn as well, or how some foods might affect their ADD or other chemical imbalances.
Conduct a poster contest on bike safety rules and helmet usage. Have someone from the local bike shop to do a safety lesson with students.
Ask the PE teacher to show students alternative ways to play soccer without using their heads to block.
There are numerous websites available to help educators promote Brain Awareness in students:
Brainy Kids for fun activities, lab activities and lesson plans
Numerous conferences are offered throughout the year on Neuroscience and Education:
Learning with a different brain in mind
How to identify and reach 27 kinds of special learners
From abuse, A.D.D. and autism to trauma and violence


HOUSTON, TX     March 29 - 31, 2001
CHICAGO, IL     June 21 - 23, 2001
BOSTON          March 22 - 24, 2001
SAN FRANCISCO   Oct. 18 - 20, 2001
6-Day Workshops - Teaching with the Brain in Mind


SAN DIEGO     July 9 - 14,  2001
SAN ANTONIO   June 4 - 9, 2001,
              June 11 - 16, 2001
CHICAGO       June 25 - 30, 2001
BOSTON        July 16 - 21, 2001
ATLANTA       July 30  August 4, 2001
WASHINGTON, DC May 2-4, 2001
SAN ANTONIO July 25-28, 2001
Read The Gazette's monthly column on Brain Compatible Learning or view the Brain Compatible Learning strategies chat for strategies to use in the classroom. For further information contact Kim Tracy at kimtracy@teachers.net.