Gazette Cover Story...
---
Teachers.Net Celebrates Its 5 Year Birthday!
by Tony Bott, Ed.D.
Dear Fellow T.Netters:
Welcome to our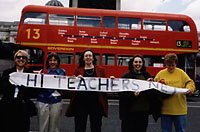 sixth year as a community of teachers supporting each other online at Teachers.Net. We are grateful to you for choosing to make Teachers.Net your home base in cyberspace! Since March, 1996, when Teachers.Net released some of the first teacher-specific bulletin boards and mailing lists on the Internet, we have remained committed to maintaining these resources for teachers at no charge to users. It is our strong belief that teachers need and indeed deserve free access to information and to each other. The Internet provides an excellent avenue for a unique form of peer support. We are proud to have kept our commitment to free teacher access, and we will continue to research and develop even more online applications for teacher support.
Bob Reap (co-developer)
asked me to reflect on some Teachers.Net hallmarks over the past five years for this issue of the Gazette. I think clearly the most outstanding element in the Teachers.Net history is the development of this wonderful support community. I recall a conversation I had with a teacher education professor at UCLA while studying the Teachers.Net community and their contributions to mailing lists, chatboard posts, and the lesson exchange. The disagreement we had was over the degree to which a bulletin board and mailing ring network can actually impact a teacher's development and job satisfaction. She could not imagine, in fact she insisted, that it would be "highly improbable" that teachers would spend their precious, limited free time voluntarily helping each other through the Internet. This professor clearly insinuated that if teachers were not paid for their time, they would not help each other in this medium. I gave example after example of how teachers were doing just that at Teachers.Net, but alas, I did not convince her. I think that if she visits the site today, she would have to concede the point, and become a true believer.
Teachers.Net was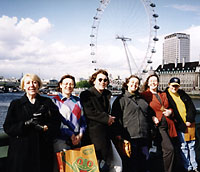 launched in March, 1996, with essentially three features: a bulletin board for teachers to talk to one another, a homepage generator for teachers to create (but not store) their own home pages, and a guest book for teacher feedback and suggestions. In April that year, Bob and I presented this resource to the national meeting of the NCTM (National Council for Teaching Mathematics) here in San Diego, California. Educators from around the country were getting their first look at what was to become the largest online community of K-12 educators. As a second year elementary teacher, I talked about the significance of asynchronous communication to teachers, and demonstrated the homepage generator. Bob spoke about the development of the Internet, use of mailing lists, and gave some suggestions for the potential of the medium. That was an eye-opening event for many, especially us.
Since that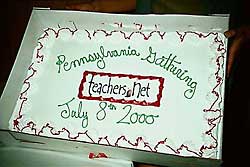 first presentation, Teachers.Net has grown immensely due in no small part to the contributions of our first employees, Kathleen Carpenter and Mary Miehl. Kathleen came on board initially as a volunteer after the first year and spearheaded the development of our live chat meetings and professional development center. Now a salaried member of the team, Kathleen monitors all our varied mail rings, contacts and enlists guest speakers, moderates professional development meetings, contributes new content, initiates new resource development, and does just about everything you can imagine to help this site succeed for teachers. Mary is our resident technical guru and chief cybrarian, maintaining our booklists and teacher resource sections of the site. She maintains archives for live meetings, and is the editor for the 4-Blocks authority Cheryl Sigmon and school psychologist Beth Bruno weekly columns. Without the contributions of these two wonderful teachers, Teachers.Net would not be what it is today. Both Kathleen and Mary remain as committed as ever to working on Teachers.Net, and we are most grateful for their hard work.
In 1998 Teachers.Net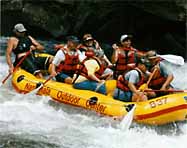 community members started a unique tradition when they hosted the first Teachers.Net Gathering in the Smokey Mountains. Teachers from across the United States gathered in the real world to share even more with each other and their families. This impromptu event was entirely planned, hosted, and documented by Teachers.Net community members. Since 1998, there have been at least a half-dozen gatherings of T.Netters across the United States and Europe. If you haven't yet made one of these gatherings, check out our Gatherings Chatboard and plan on attending one near you. Participants describe a pleasant "rush" when they put faces to their long-time colleagues, and the friendships forged may last for life.
Here comes the list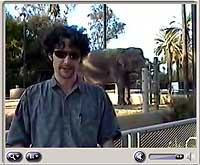 paragraph, take a deep breath. Teachers.Net has implemented some additional resources and services to date, including: a vibrant chatboard network of more than 70 specialized bulletin boards which receive more than a thousand posts from teachers each month; an information-packed live meeting center with events scheduled daily for teachers; a rich lesson plan exchange with over 2000 quality lessons submitted by teachers, for teachers; a searchable job center with regional and international listings of jobs for teachers; affiliate site for school administrators (Administrators.Net), regional/international affiliate sites (California.Teachers.Net, Texas.Teachers.Net, NewYork.Teachers.Net, Pennsylvania.Teachers.Net, Australia.Teachers.Net, Canadian.Teachers.Net, and UK.Teachers.Net), and of course the Teachers.Net Gazette (featuring articles from Beth Bruno, Jan Fisher, Alfie Kohn, Marv Marshall, Cheryl Sigmon, and Harry Wong.) But then again, you knew that from reading our homepage, where you will find yourself only one click away from any of these resources.
On our development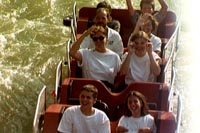 hot plate is another Teachers.Net survey (first since the UCLA study in June, 1999) which will be out in April (the next issue of The Gazette). We plan to profile our users and report back to you group demographics and some detailed usage statistics. Additionally, given the advancements in audio/video compression that move this feature closer to wide spread use, the development team here at Teachers.Net is looking into creative ways to implement audio and video applications for teacher support on the site. At this time, we are investigating video lesson development groups, extending our live chat meeting to include an audio/video component, and video interviews for The Gazette. We build new resources and grow based upon your feedback, and we would welcome any you have to offer on this or any issue.
What is our future?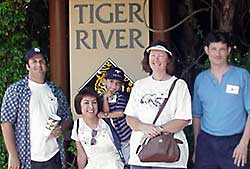 Given the climate of Internet company fall-out, tightening budgets, and corporate consolidation, one may question the ability of Teachers.Net to continue to offer these resources to teachers. I think it is most fitting to use the words of a great artist, Elton John, when I say "We're Still Standin'" and have no plans to close the doors to the Teachers.Net community, through which so many educators over the years have wandered. Thanks go out most of all to you, our community of teachers here at Teachers.Net.
We look forward to your comments and suggestions here at ground zero. Drop us a line at feedback@teachers.net. We remain committed to developing and maintaining free online resources for K-12 teachers.
Warmest regards,
Dr. Tony Bott
Founder
Teachers.Net