Retrieving and Carrying Electronic Devices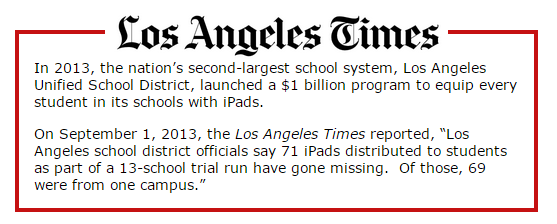 The loss and damage of digital devices is not unique to Los Angeles. It occurs in every school and school district.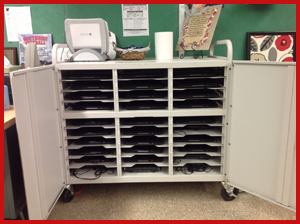 Oretha Ferguson, one of the co-authors of THE Classroom Management Book, teaches high school English in Fort Smith, Arkansas. In 2008, she was one of the first to have a COW rolled into her classroom!
No—a COW is not a steer. It is a cabinet of "Computers on Wheels."
Oretha says, "In the last six years, not a single netbook has been dropped, mishandled, gone missing, or needed maintenance. This is a direct result of procedures in action."
Technology surrounds us, and its use is integrated in our curriculum on an escalating scale. In many schools and classrooms, the students bring their own devices (BYOD). Other schools have various portable electronic devices provided in the classrooms. It is up to the teacher to ensure that the electronic devices are correctly obtained, carried, and returned to the storage location.
The use of equipment is not new to the classroom. In the past, we've written a column on "Dispensing Materials in Fifteen Seconds." From building blocks in kindergarten classrooms to digital microscopes in high school science classrooms, from tangrams in math classrooms to soccer balls in physical education classrooms, each piece of equipment is valuable and needs to be treated as such. The teacher must have procedures in place so that each piece of equipment is obtained, used correctly, and returned to its proper place for others to use.
You almost never hear of a microscope being stolen or broken. The procedure of how to get and carry a microscope is ubiquitous in every science classroom, and this procedure is no different for getting and carrying an electronic device.
The procedure for how to carry a device must be
taught,
rehearsed, and
reinforced.
These are the three basic steps of how to teach any procedure, as explained in The First Days of School and THE Classroom Management Book.
Getting and Carrying Electronic Devices Procedure
To maintain an organized environment and a productive classroom, teachers who incorporate electronic devices in students' learning need procedures for retrieving and carrying devices. These procedures will eliminate wasted classroom time, disorganized retrieval and storage of devices, random device usage, and damaged equipment.
Assign students a unique number that will stay with them throughout their time with you. This number will correspond with the number assigned to the electronic device students will use each day that devices are used. Number all electronic devices by taping a number to the device, engraving the number, or by writing a number on the device with a permanent marker. The number should be clearly visible for quick identification for retrieval and storage.
Before students retrieve an electronic device, teach students how to
unplug and remove the device from a charging station,
how to carry the device, and
where to place the charger cord to prevent dangling cords, if applicable.
Before using devices, students should rehearse the procedure for getting, carrying, and then storing devices. Monitor this procedure carefully the first few times it is done, and rehearse the procedure over and over again until it becomes an automatic response—a routine in the classroom.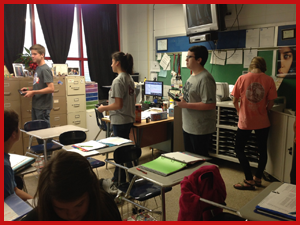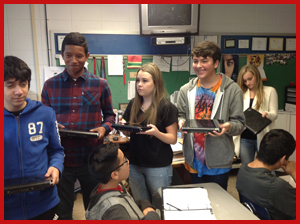 After students master the procedure, they are ready to use the devices.
During the retrieval or storage of a device, students should not have books, materials, or other supplies in their hands. This prevents devices from being accidentally dropped. When retrieving or storing a computer, explain the importance of leaving the computer closed. Demonstrate to students how to carry the device with both hands with the computer in front of the body.
Unless a specific procedure is in place for carrying a device, students will grab a device and hold it to their side in one hand or will carry a computer by the screen with the computer open. This can lead to dropped and damaged devices.
Procedure into Practice
After all of the practicing and rehearsing, the students are ready to use their devices as part of your curriculum strategies. Call small groups of students to retrieve their devices. If the students are seated in rows, call them by the row number. If the students are seated in groups, call the group number. If the students are in a random group arrangement, call them by their class numerical number.
Observe as students walk to the device area and get their assigned equipment as rehearsed. As soon as the last person in the group retrieves the device, call the next group, and then subsequent groups, until all students have their device.

When retrieving or storing devices, create a one way flow of traffic to prevent congestion between students getting a device and students returning to their seats with the device. This one way path will be unique to your room arrangement.
Depending on your use of the devices, you will need to determine who will shut down the devices at the end of the period or day. Will you keep them on all day and have the last group of students to use them be the ones to shut them off for the day?
How will the devices get recharged? Will students return them to the charging station after each use?
How will students leave devices for the next group to use? Returning the devices to their storage place eliminates students accidently knocking devices off a desk or workstation as they exit the room.
How will students return devices to the storage location? Just as students retrieved the devices in a pre-determined manner, students should return the devices in the same manner.
What is your procedure for ensuring all devices are returned at the end of the period or day? Will they be stored in such a way so that with once glance you can see if all devices have been returned?
These same procedures for using electronic equipment can also be used for any classroom materials. Teach students what they need to know about getting and storing materials. When teachers have expectations for retrieving, storing, and carrying devices and they are taught to students, an organized environment is created. Students can use the available technology to enhance their learning with little risk of damaged equipment or lost materials due to mishandling.
First Hand Experience
As we prepared this column, we turned to our technology guru, Oretha, to help guide us with how she has managed such an impeccable record with her COW. Through years of students and updates to technology, she has adapted techniques to keep the technology at the forefront of her curriculum, always keeping the students accountable and responsible for its safe use. Oretha shares her expertise with others and conducts a myriad of technology workshops. She can be reached at orethaferguson@cox.net.
Silicon Valley
We are most fortunate to make our home in the heart of world technology—Silicon Valley. We pass Apple, Google, Yahoo, Netflix, LinkedIn, Facebook, Twitter, Intel, and a myriad of other technology companies on a daily basis. We think nothing of it as it is a way of life for us. Our daily newspaper is like a gossip magazine—filled with the newest, latest, and greatest breaking news of the tech world.
While the purpose of schools is to prepare children for the future, the future is here and now and ever changing second by second. What little slice of the future we can put in our students' hands comes with a price tag. And with limited resources, schools are stressed to provide technology for all.
Developing safe and workable practices for students working with technology can prolong the life of the equipment and teach important lessons to students. Technology is valuable and needs to be handled respectfully—an insightful message to be honored in all aspects of our lives.
---

For a printable version of this article click here.
---