Effective Teaching...
by Harry and Rosemary Wong
May 2007
Effective Teachers End the Year Successfully
---
Beth Sommers is about to finish her first year teaching fifth grade in New Hampshire and by all accounts her year has been very successful.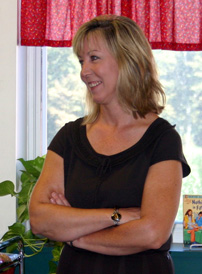 The three most important words to a painter, pilot, or chef are
preparation,
preparation,
preparation.
The three most important words to a teacher are
preparation,
preparation,
preparation.
The reference for this concept can be found in Chapter 12 of The First Days of School.
The effective teacher is ready on the first day of school. In the real world, you would be fired if you were not ready. In the competitive world economy, our students must be ready. We can teach readiness by modeling readiness in our work, in our class environment, and in ourselves. Teachers who are not organized send a loud message that they are not ready to teach.
Beth spent the summer preparing and over-preparing for her first day of school. She watched and re-watched the DVD series, The Effective Teacher.
She next took our eLearning course, Classroom Management with Harry and Rosemary Wong. See www.ClassroomManagement.com.
In conjunction with the eLearning course she used the book, The First Days of School, because a teacher friend told her it is a sort of "Bible" for teachers.
Upon completion of the classroom management eLearning course, Beth said, "I was so inspired by what the course modeled to me that I created a PowerPoint welcoming the children to school and explaining our classroom procedures."
To see Beth Sommers's first day of school procedures, please click here. (Please note: 1) Browsers other than Internet Explorer may not display the slides properly. 2) Hit the space bar to advance slides during slide show).
Parent Involvement
Beth created a tri-fold welcome brochure and sent it to her students' homes prior to the beginning of school. She developed this welcome letter to introduce herself and her job share partner to their students and parents. The brochure had these topics:
A message of welcome
Information explaining the teachers' backgrounds and expectations for the class
A list of needed materials/supplies
Topics of study/curriculum highlights to "whet their appetites" for learning in the coming year
Class schedule and "specials" schedule
Homework policy and procedures
Class meeting information
An explanation of how/when teachers can communicate with parents
Teachers' email addresses, phone numbers, contact information
To create parent involvement, Beth built a solid relationship with her students and their parents even before she met them. By doing so, Beth set the tone for the entire school year.
During the school year, Beth sent home a weekly newsletter discussing the week's activities. Each newsletter also included three pictures. Parents and children were eager to see whose pictures were in the newsletter. Constant communication not only keeps the parents informed, but also keeps the students accountable.
A Powerful Start
Beth started her school year with a PowerPoint presentation, which she gave over three days. She began with a warm welcome to her class by including each student's picture and addressing them individually during the presentation. This portion of her PowerPoint presentation is not included for privacy reasons, but it is mentioned and suggested as something you can consider in your first day of school presentation.
Her presentation also included
curriculum highlights, to show the students what they can look forward to,
introductions to the two teachers and other classroom helpers, and
classroom procedures, routines, and expectations.
Beth's class functions well because she uses a "No Mystery Approach." Beth's presentation revealed to her students exactly what she expected of them.
Students need to know the teacher is in charge and that the teacher knows what he or she is doing. When structure is provided, the environment becomes one that is focused on learning. Everyone can enjoy and benefit from such an environment.
Beth admits that although the creation of the presentation was labor intensive, the developmental process added to her confidence "exponentially as each day passed."
She states, "I feel so secure about what will happen at the beginning of the year. That will be the driving force behind a very effective classroom.
"The children loved the PowerPoint presentation of classroom procedures and expectations."
Beth shared a shorter version of the PowerPoint presentation with the parents at Open House, and they burst into applause immediately following the showing. "I was shocked!" she said.
Beth also created and played a DVD, put to music, with pictures from the first six weeks of school. The DVD was a hit at Open House, too.
Her Open House presentations served to involve the parents in the daily activities of their children. By sharing her procedures and routines, Beth allowed the parents to assist in carrying the procedures into their homes.
In later communications to us Beth wrote, "I have a wonderful group of fifth graders who have just responded so beautifully to the structure and routines I learned from you both. My class is so well-behaved on field trips and when I bring in guest speakers. It's really been a great year and I feel very blessed and fortunate to have taken your eLearning course on classroom management."
Structure Generates Creativity
Beth is a perfect example of a teacher who learns something and changes or adds to it to make it her own. As we like to say, she saw something she liked, stole the idea, and tailored or modified it to make it work for her.
We see no end to the creative measures Beth Sommers has taken in her presentations and publications. It proves true time and again: structure provides the means to creativity.
Most artists at work will tell you they need their materials laid out in a certain way. They must have all their tools to create work. A painter cannot paint if he does not have his brushes, canvas, and paints before him. Likewise, procedures and routines are the tools that allow the students to work and the teachers to create success for the class.
Educators need to invest in their careers, just like any other professional. A doctor who refuses to learn about new methods of practice or new revelations in his or her field will become obsolete. This is true for any profession. In order to be truly effective and successful in what you do, you must continue to learn.
Truly effective teachers never cease to learn.
We have commented time and again that there are teachers who have a career as educators and others that just have a job. Beth is obviously the former. She works to improve her skills and acquire knowledge so that she is at the top of her game. She would be successful in any career she chose if she applied the same work ethic.
Judgment Day
Beth's principal made these comments in his evaluation summary:
"Beth's classroom management was excellent and reflective of the good judgment and forethought she brings to all endeavors. Beth's pleasant and positive demeanor coupled with her confidence and timely assertiveness provided clear boundaries and expectations for her students at all times. . . . Beth gives excellent instructions, requires student attention, and checks comprehension regularly to ensure that all students are on track.

"Beth has clearly established routines and daily expectations. She utilizes a subtle ding type bell to gain student attention and always has materials prepared in advance and readily at hand. Beth moves instruction along at an excellent pace that is commensurate with the student's ability, understanding, and classroom productivity."
Each component of Beth's success is a result of her time and efforts
to constantly educate herself,
to constantly improve her craft,
to give her students a place of order in their lives that may not exist elsewhere, and
to give herself a calm and productive environment conducive to student learning
To be an effective teacher means to have a classroom management plan. Without procedures and routines in place from the very first day of school, the students will attempt to take over your classroom. Just as any professional has a plan of action or proposal, so must a teacher have a plan for their classroom.
Beth's Year-End Evaluation
As Beth comes to the close of her first year as a teacher, she shared with us her comments:
"My first year of teaching has been extraordinary! I was blessed to have a classroom of children and parents who embraced our core curriculum, the enrichment activities I planned, and all of the new ideas and energy that a beginning teacher embodies.

"My students frequently exceeded my expectations on special projects. I am so proud of them and all that we've accomplished together.

"The wheels of our success began turning the minute our routines, procedures, and expectations were explained and established during the PowerPoint presentations the first weeks of school."
Reflect on what Beth did as you spend a restful summer.
Jot down moments of "aha" inspiration as you prepare your script or classroom management plan for the next school year.
Doing What I Should Be Doing
Diana Greenhouse started her first year of teaching in August 2005 and began her first day of school with a script, or an organized classroom management plan. This plan can be seen in our October 2005 column, "Classroom Management Is Not Discipline."
At the end of her first year of teaching, she wrote the following:
"It all started with that very first minute of the first day. I started the school with a PowerPoint presentation of my classroom management plan.

"And I just ended the first year of teaching. I ended with another PowerPoint presentation, but this time the students helped me construct the presentation. Every student was asked to prepare one slide about himself or herself." Click here to see this presentation.

"What an incredible first year of teaching this has been. When I look back at all I accomplished, it takes my breath away. My students learned and I loved every minute of teaching.

"Thank you for giving me a gift that can never be taken away."
Diana Greenhouse is about to come to the end of her second year of teaching. She was recently offered, and she accepted, the position of organizing and being the only teacher in the school district's new Gifted and Talented Center.
She says, "I have model classrooms because of what the Wongs have taught me." Her classrooms are constantly observed by principals, administrators, and people who are in teacher preparation programs.
Diana says, "I don't think I'm that great. . . . I just do what I should be doing."
Shouldn't You Be, Too
There is not a person who does not understand the concept of what he or she should be doing. Should connotes a responsibility to do things right. For instance, we may say to a youngster, "Do you know what you should be doing? Or, we say to ourselves, "I know I should be exercising."
Just think what would happen to student achievement if every teacher just did what he or she should be doing.
Diana Greenhouse believes she is just an ordinary teacher doing what she should be doing. Yet, she is singled out for promotion. Chelonnda Seroyer wins school awards because she is doing what she should be doing. Heather Chambers is alive today because she was doing what she should be doing.
For the past 7 years we've been sharing with you those teachers who had the aha moment and tackled the "should" of being a teacher. These teachers used our materials, tapped their colleagues, and stole from other resources to construct their success and do what they "should" be doing in the classroom.
Steal from these teachers their classroom management plans. Just do what you should be doing.
Ask any teacher in any of our past columns the reason why they are successful teachers. They all will tell you, "It's because I do what I should be doing."
Use the months ahead to plan and prepare for what you should be doing in the next school year. Come August/September, shed the SHOULDS and just DO IT and BE the successful teacher you've always wanted to be.
---

For a printable version of this article click here.

---
Harry & Rosemary Wong products: http://www.harrywong.com/product/
Email Harry Wong: harrywong@teachers.net
---
Gazette Articles by Harry & Rosemary Wong:
---
Browse through the latest posts from the Classroom Management Chatboard...