Effective Teaching...
by Harry and Rosemary Wong
May 2001
How to Motivate Your Students
---
There are many ways to excite, influence, and motivate students and one of the best techniques is the use of a discrepant event. A discrepant event is something that doesn't make sense to the mind, even while starring at it in disbelief. This kernel of skepticism is enough to pique any student's curiosity.
In our video series, The Effective Teacher, we model the use of a favorite classroom discrepant event. The class is asked to place two books near the edge of a table, leaving a small space between the two books. The students are to place a piece of writing paper over the books. Then offer anyone in class $1,000,000 if they can blow between the books and blow the piece of paper off the books. It's impossible no matter how hard the students try!
When they can't, they all scream "why, why, why?" And as effective teachers know, you never tell them why, because once you have them involved and interested you can do anything you want with them. If you want to lecture and explain what happened, they will listen. If you want them to watch a video related to the topic, they will watch. If you want them to break into groups and solve the problem themselves, they will work in groups.
More Discrepant Events
In the field of science, one of the best resource books for discrepant events is Invitations to Science Inquiry by Tik Liem. Dr. Liem has passed away, but many who attended science meetings will remember his jammed packed sessions where even the most die-hard science teachers would whoop and holler, laugh and cheer as he regaled the group with one discrepant event after another. Discrepant events are fun and exciting to do. They cause the students to sit in absolute amazement and, of course, the students go home with a great sense of pride knowing that their teacher is even better than David Cooperfield in causing people to ponder and wonder-which are the seeds for learning. To find Tik Liem's book and other materials, access here (updated 1/1/15).
Every subject has its discrepant events. In language arts, there are palindromes. These are words, phrases, and sentences that spell the same backward or forward. Word examples include "mom" and "deed." A phrase as a palindrome would be "name no one man."
Free Probability Device
Math is full of discrepant events, number problems or events that are so amazing that the students will ask, "Hey, how did you do that?" Perhaps you have been to one of several science centers and seen a large-scale model of the probability device shown below. It is fascinating to observe crowds of people stand for great lengths of time, watching as one ball drops after another and no matter how often the activity is repeated, the question is always asked, "Why do the total of all the balls always wind up in a normal distribution or bell-shaped curve?"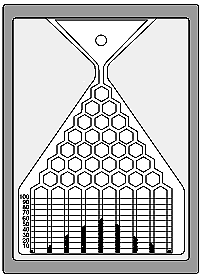 We have a few class sets of 15 of these Probability Devices for those of you quick enough to ask. They are absolutely free with the postage included. Just give us your name, school, address, and class or grade that you teach and email this to us at the address shown at the end of this column. These sets will not be available after June 15, so email us now if you are interested.

When you get your Probability Devices,
have your students hold the device vertically, upside down, until the some 256 small steel balls fall into the reservoir.

turn the device over and place the bottom flat against the tabletop.

watch as the balls each fall into one of the nine columns.

no matter how many times you repeat this procedure, the results will always be the same-a normal distribution curve. Why?
Blaise Pascal, the French philosopher and mathematician of the seventeen century, developed the basic laws of probability. He investigated the arrangement of numbers known as Pascal's triangle and this arrangement is shown on the front of the Probability Device.
The most basic law of probability says that each event is an independent event and does not influence previous or future events. For instance, each time you flip a coin, the probability of the coin coming up heads or tails is always 50 percent. Even if a coin has come up heads five straight times, the next time you flip the coin the odds are still 50 percent for either heads or tails.
Likewise, as each ball falls down the channels of the Probability Device, each has a 50 percent chance of falling to the right or left at each junction of the channels. Knowing this, why do more balls fall into the center columns than the far extreme columns?
Forming Support Groups
Now that the students have been duly motivated, the effective teacher knows how to structure the procedures for group work. We know that many teachers have given up having group work because each time they try, confusion and disorder reign. So, here are some practical points for the smooth running of groups.
Groups are to be divided by the number of jobs, not by the number of people. The number of people in a group must equal the number of jobs in the group. People do not go through life always working, say, in groups of four. The task always specifies the optimum number of people needed.
Learning is much more effective when it takes place within a support group of learners.
Instead of having groups or teams, organize your class into Support Groups with each member of the group known as a Support Buddy. The world is full of support groups, people helping people. There are support groups for senior citizens, alcoholics, cancer patients, battered women, abused children, and war veterans. Children are at an age when they need lots of support. Instead of isolating them with seatwork, surround them with support buddies and teach them how to support others.
Teach Group Procedures
Ineffective teachers divide students into groups and expect the students to work together. Effective teachers teach the group procedures and social skills needed for functioning in a group. All successfully run classrooms have procedures, and having group procedures is no exemption. Before you begin your first group activity, teach the following four procedures which will be consistent for all other group activities.
Group Procedures

You are responsible for your own work and behavior.

You must ask each Support Buddy for help if you have a question.

You must be willing to help any Support Buddy who asks for help.

You may ask for help from the teacher only when the group has reached consensus with the same question.
You Are Responsible For Your Own Work
The reason some students do nothing or copy from other students is that they do not have specific tasks or jobs. Determine the number of students you need to accomplish an activity, divide the class accordingly, and then spell out the assignments.
For instance, in a group of four
Student 1 is responsible for getting the materials and returning them to the appropriate place when the day or period is over.

Student 2 is responsible for seeing that the steps of the activity are followed.

Student 3 is responsible for making observations, recording data, and taking minutes as the activity progresses.

Student 4 is responsible for overseeing the writing of the group report.
For more information on how to work with groups, please consult Chapter 24, "How to Get Your Students to Work Cooperatively," in The First Days of School where you will learn in detail how to structure a cooperative learning activity. The basic format for all group activities is
Teach the PROCEDURES.

Specify the group NAME.

Specify the SIZE of the group.

State the PURPOSE, MATERIALS, and STEPS of the activity.

Specify and teach the COOPERATIVE SKILLS needed.

Hold the individuals ACCOUNTABLE for the work of the group.

Teach ways for the students to EVALUATE how successfully they have worked together.
Why Group Work?
Group work is really hands on work where the brain and the body are actively engaged.
The mind cannot forget
what the hand has learned.
However, we need to caution that having students do activities, just for the sake of doing activities, is not learning. It may be nothing more than "busy work" designed to keep the students occupied and out of mischief.
In his 42 years of studying children, Jean Piaget discovered
Students do not learn by doing activities. They learn by thinking about what they are doing.
So naturally, any group activity needs to include sharing and discussion of what each group discovered and learned. This is how the students think about or conceptualize the work of the activity.
Summary of the Year
It's been a wonderful first year with teachers.net and we look forward to our next year. We are most appreciative of those have who communicated with us. To summarize the year, our columns included
| | |
| --- | --- |
| June 2000 | YOUR FIRST DAY - Scripting the first day of school |
| July 2000 | APPLYING FOR YOUR FIRST JOB - Your first job and induction |
| Aug 2000 | THERE IS ONLY ONE FIRST DAY OF SCHOOL - The seven things students want to know |
| Sept 2000 | THE PROBLEM IS NOT DISCIPLINE - It's the lack of procedures |
| Oct 2000 | HOW TO START A CLASS EFFECTIVELY - Start with bell work |
| Nov 2000 | THE FIRST FIVE MINUTES ARE CRITICAL - High school examples |
| Dec 2000 | IT'S NOT THE STUDENTS; IT'S THE TEACHER - Teaching procedures |
| Jan 2001 | THE MIRACLE OF TEACHERS - You are a marvel |
| Feb 2001 | A JOURNEY OF THE HEART - Making a difference |
| Mar 2001 | WHAT SUCCESSFUL TEACHERS ARE TAUGHT - New teacher induction |
| Apr 2001 | NINETY-NINE PERCENT NEW TEACHER RETENTION - Keeping teachers in the profession |
| May 2001 | HOW TO MOTIVATE YOUR STUDENTS - How to do group work |
You can access any of these past columns by going to the end of the left margin and clicking on "Gazette Back Issues."
There Is a New Day Dawning For You
At the beginning of this column we mentioned our videotape series The Effective Teacher. It is fitting as we end our first year with teachers.net to share with you the singer and her song that ends our videotape series. The vocalist is Joyce Randolph, who teaches English at a high school in San Jose, California, and the song that she wrote and sings is My New Day.
MY NEW DAY
(Theme from Careers for Kids Curriculum Series)
Click here to listen to a sample!
I BELIEVE IN MY NEW DAY THAT'S DAWNING
AND THE PROMISES THAT LIE THERE FOR ME.
DEEP WITHIN, THERE'S A KNOWING THAT SOMEDAY
I'LL BE ALL I'VE DREAMED I CAN BE.
MY HOPES ARE PERCHED ON THE CREST OF THE RAINBOW
MY HEART IS HITCHED TO THE BRIGHTEST OF STARS
I WILL STRIVE FOR THE BEST
AND ACCEPT NOTHING THAT'S LESS
THAN THE FULLNESS OF WHAT MY DREAMS ARE.
I BELIEVE IN MY NEW DAY THAT'S DAWNING
I HAVE HOPE FOR THE FUTURE IN ME
THERE'S NO STOPPING ME NOW
I KNOW WHY-I KNOW HOW
I CAN BE ALL I'VE DREAMED I CAN BE.
I STAKE MY CLAIM ON THIS NEW DAY BEFORE ME
THERE'S NO MOUNTAIN, NO HILL I CAN'T CLIMB.
I CAN FEEL IN MY HEART OH SO CLEARLY
THAT THE SKY AND ITS LIMITS ARE MINE.
I BELIEVE IN MY NEW DAY THAT'S DAWNING
I HAVE HOPE FOR THE FUTURE IN ME
THERE'S NO STOPPING ME NOW
I KNOW WHY-I KNOW HOW
I CAN BE ALL I'VE DREAMED I CAN BE.
Music and lyrics by Joyce Randolph,
English teacher, Santa Teresa High School. San Jose, CA
Copyright Columbia Publishers (1997). San Francisco, CA, (1993-2001)
Reprinted with permission.

The song is available on CD from 2 different sources:
Joyce Randolph, PO Box 54038, San Jose, CA 95154
FAX: 408-448-2615
TEL: 408-723-7480
randolphmusic@sprintmail.com, or
"Careers for Kids Curriculum for Elementary Schools."
c/o Columbia Publishers, 1963 Hayes St., San Francisco, CA 94117.
TEL: 415-668-9561
FAX: 415-751-4336,
columbiapubs@earthlink.com.
Light Another Candle
As another school year comes to a close, don't let the mad rush to finish the curriculum, return the class work, and grade the papers detract you from the most important person in the room-you. You have given so much during the year, sometimes successfully and sometimes not so successfully. Focus on all of your successes and not your not so successful ventures. Revel in your successes! Do not leave bitter and disappointed as it will only affect your personal life. You did your best so be proud of what you did.
Most importantly, when you bid your students "goodbye," say it with meaning and love. Their life and your summer will be much happier if you both part with a happy and loving heart.
With each new year learn to build on to your old successes and add one new success after another. You dedicated yourself to making a difference in the lives of your students. Remembering this will help you to light more candles as you strive to brighten the lives of your students.
We believe that there is a new day dawning for each and every one of you. Have a great summer and know that the kids will be waiting for you to shine again in their lives.
---

For a printable version of this article click here.

---
Harry & Rosemary Wong products: http://www.harrywong.com/product/
Email Harry Wong: harrywong@teachers.net
---
Gazette Articles by Harry & Rosemary Wong:
---
Browse through the latest posts from the Classroom Management Chatboard...