The most important factor in improved student learning is with an effective teacher. Written ten times a year, Harry and Rosemary Wong feature effective teachers and administrators and what they do to enhance student learning. The columns provide specific strategies and activities that you can download and use. An archive of past articles can be found at the end of every column.
These strategies and activities are all based on the teachings and works of Harry and Rosemary Wong and they are happy to share with the profession the work of effective teachers. If you have an effective strategy or technique that works, please share this by sending it to hwong@harrywong.com. The Wongs will consider it for sharing in future Effective Teaching columns.
About Harry and Rosemary Wong...
Harry and Rosemary Wong are teachers. Harry is a native of San Francisco and taught middle school and high school science. Rosemary is a native of New Orleans and taught K-8, including working as the school media coordinator and student activity director.
Harry Wong has been awarded the Outstanding Secondary Teacher Award, the Science Teacher Achievement Recognition Award, the Outstanding Biology Teacher Award, and the Valley Forge Teacher's Medal. He was recently selected as one of the most admired people in the world of education by readers of Instructor magazine. Rosemary was chosen as one of California's first mentor teachers and has been awarded the Silicon Valley Distinguished Woman of the Year Award.
Harry Wong is the most sought after speaker in education today. He has been called "Mr. Practicality" for his common sense, user-friendly, no-cost approach to managing a classroom for high-level student success.
Nearly a million teachers worldwide have heard his message. Because he is fully booked for two years, he has agreed to and has invited his wife to join him in doing a monthly column for teachers.net so that more people can hear their message.
About Their Work...
Harry and Rosemary Wong are committed to bringing quality and dignity to the materials they produce. For this, they have formed their own publishing company, of which Rosemary is the CEO. They have dedicated their lives to leaving a legacy in education and making a difference in the lives of teachers and students.
Their latest contribution to helping teachers succeed is an eLearning course, Classroom Management with Harry and Rosemary Wong. The course can be taken in private at the learner's convenience. The outcome of the course is a 2 inch binder with a personalized Classroom Management Action Plan.
This Action Plan is similar to the organized and structured plan used by all successful teachers. Details for the classroom management course can be seen at www.ClassroomManagement.com.
The Wongs have written The First Days of School, the best-selling book ever in education. Over 3 million copies have been sold.
The third edition of The First Days of School includes an added bonus, an Enhanced CD featuring Harry Wong. The Enhanced CD, Never Cease to Learn, is dedicated to those teachers who know that the more they learn, the more effective they become.
The Wongs have also produced the DVD series, The Effective Teacher, winner of the Telly Award for the best educational video of the past twenty years and awarded the 1st place Gold Award in the International Film and Video Festival.
They have released a new set of CDs with Harry Wong LIVE, called How to Improve Student Achievement, recorded at one of his many presentations. He is the most sought after speaker in education and his presentations are legendary.
When the book, video series, CD, and eLearning course are used together, they form the most effective staff training tool for developing effective teachers. Staff developers and administrators who would like to know how to implement the aforementioned book, video series, and CD are encouraged to consult the book, New Teacher Induction: How to Train, Support, and Retain New Teachers. Information about these products can be found by visiting the publisher's website at www.EffectiveTeaching.com or www.HarryWong.com.
Best Sellers

The First Days of School with Enhanced CD, Never Cease to Learn
by Harry & Rosemary Wong
$23.96 from Amazon.com
More information


The Effective Teacher (Video Set)
Presented by Harry Wong
8 DVDs, with Facilitator's Handbook in PDF, book The First Days of School, and storage case, $695.00 from EffectiveTeaching.com (volume discounts available)
More information
Classroom Management with Harry and Rosemary Wong


eLearning course for individual use, CEUs available Preview the course and order at www.ClassroomManagement.com $124.95 (Group discounts available.)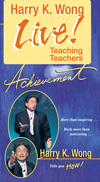 How to Improve Student Achievement
Hear Harry Wong Live! in this 2 CD set
$31.95
More information


New Teacher Induction: How to Train, Support, and Retain New Teachers
by Annette L. Breaux, Harry K. Wong
$24.05 from Amazon.com
More information