Effective Teaching...
by Harry and Rosemary Wong
August 2006
Effective Teachers Are Proactive
---
Barbara De Santis can get the attention of her students in less than five seconds. And she can do this just by saying three words accompanied with a smile—because she knows it works every time.
Currently teaching in the Sayreville Public Schools in New Jersey, Ms. De Santis only has to say, "Give Me Five" and the class quiets down immediately. This technique is explained on page 184 of the book The First Days of School, and in DVD 4 in the video series The Effective Teacher.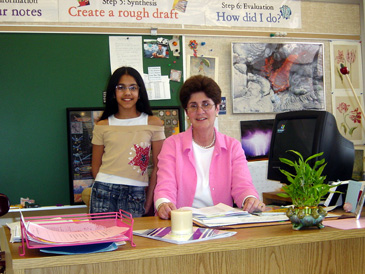 Her procedure to get the attention of her class works so well that her fifth grade student, Sejal Kapadia, wrote a poem that illustrates how well the class internalizes the procedure.
"GIVE ME FIVE"

When the teacher says, "Give me five"
It's just like the queen bee calling us to the hive.

When she says 1 it means
you have to look at her.

When she says 2
you have to be quiet.

When she says 3
still is what you'll be.

When she says 4
your hands are free.

When 5 is said,
just turn your head.
Then you'll have to listen, listen, listen.
Barbara has taught for five years and came into teaching from private industry on a career change through the New Jersey alternative certification program.
One of the traits of career changers is that they come from the private sector which is procedure and results-oriented. For the most part, they are intelligent, confident, mature, professional people who have come from a background that values results. Thus, producing student achievement is part of their culture of generating results. Student achievement is their forte!
Barbara Starts Her First Day of School With a Plan
Effective teachers have a plan for student achievement ready on the first day of school. To see Barbara De Santis' first day of school script, click here.
She meets her students in the hallway. This is an excellent management procedure as it prevents students from wandering around the room before they find their seats. She arranges them in alphabetical order and then welcomes her students with a message of positive expectations that they will have a wonderful year. For them to succeed, she encourages them to "Choose their attitude" toward each day.
She greets each student individually as they enter the room, checks their name off of the class list, and gives each a card with a student number. The desks have been numbered to match the student number. The students sit quickly and begin to work.
There is an assignment already on the board, called a "Do Now." Their first Do Now is to complete an information card and to also to draw pictures about their feelings on science and social studies.
While they are working on their assignment, classical music is playing and Barbara checks the class for vision problems and seating adjustments based on IEP/504 accommodations. (Google IEP/504 if you are not aware of this law and what your responsibilities are to accommodate children.)
After she collects the information cards, she introduces herself to the class and shares her mission with the class.
Her mission is to see that her students do the following:
Achieve strong academic skills
Build self-efficacy (Google this wonderful concept)
Cultivate conscientious citizenship
Orientation to the classroom and housekeeping follows. This includes room layout, homework board, garbage and recycle box, location of bathrooms, reference materials, and the teacher inbox. The inbox is for 1) early work, such as contracts submitted for grading and revision, 2) makeup work, and 3) mail for the teacher.
Barbara has a team goal: Be a BRAIN! She asks her class repeatedly what BRAIN means and if they are following the procedures of being a BRAIN.
Bring writing supplies
Ready to learn
Assignments at hand
Independent learner
Notebook/binder
Barbara Has a Classroom Management Plan
Barbara's first day of school script is really her classroom management plan for the first two weeks of school. With her plan, she teaches her students how to be responsible by building their self-efficacy and conscientious citizenship. It takes her two weeks to teach her class how to be responsible and in control of their own learning.
To help them, she has classroom procedures. Remember, as we have said repeatedly:
Students can only be responsible
if there are procedures
to which they can be responsible to.
~The First Days of School, p. 191
Barbara has a procedure for these activities:
At the beginning of the class
Daily homework review
At the end of class
When a guest enters the room
Traveling in the building
Passing papers
Coming to attention or "Give Me Five"
Fire drill
And many more
She presents her procedures as a PowerPoint presentation to her class. Click here to see a list of her classroom procedures.
In past columns, we have featured other teachers using PowerPoint to share their procedures with the students.
To help you develop a classroom management plan, you can review "A Successful First Day Is No Secret." (September 2005)
If you would like to learn how to develop your own classroom management plan,
please go to www.ClassroomManagement.com.
Barbara Builds a Classroom Community
Because her class is highly interactive, Barbara has discovered the efficacy of using sign language. For instance, the sign for "please" is made by placing the flat right hand over the center of the chest and moving the hand in a clockwise motion.
The sign for "thank you" is made by touching the lips with the front of the fingers of the right hand. The hand should be an "open-b." Move the hand away from your face, palms upward. Smile.
To see these and other signed words, go to http://www.lifeprint.com.

Building a classroom community is Barbara's goal. Using sign language is a part of the culture of her class. Signing gives both the teacher and students something else to have in common and since "please" and "thank you" are the most frequently used signs, she uses this to build a community.

She shares that using sign language is another way of communicating and breaks up the daily routine. It also encourages a person to look at the speaker. Some of her students, who do not do as well academically, excel in sign language! One year, she had the Spanish teacher teach them the correct phrase to use for going to the bathroom. If some of her students could not do it, she had some of her ESL students assist them, using mastery to build self-efficacy!
Barbara says, "As much as I want my students to take the content knowledge from my class, I also want to teach life skills, like manners." For instance, if a student wishes to go to the bathroom, she teaches them that "may" and "please" are the key words.
She likes the additional form of communicating in sign language. For a student who has done something for her, such as turning off the lights at the end of the day, she can sign "Thank you." During assemblies, she can often catch the eye of a student whose mind is wandering and sign "Pay attention, please."
Because there are some basic words that she uses over and over, she has created signs for these words. In time, the students become move involved and create signs of their own. They even made up signs for "Give Me Five." Many of her students are kinesthetic learners, and even Barbara feels that she is a kinesthetic learner, so both have profited from the experience.
At the end of the year, student feedback has been very positive in indicating to her the benefits of gestures and signs. "It makes it much more fun and animated for all of us," says Barbara.
Barbara Teaches Her Class to Celebrate Success
She teaches her class to celebrate the success of other students. The procedure is called
Get it; Got it; Good!
The teacher will ask one student if he/she "Get(s) it" (or understands the idea).
If the student understands the direction or idea, he/she will say "Got it" and the class responds with "Good" (as low as they can).
If the student does not understand the concept, he/she will say "No." The teacher will then ask a question about what part is not clear. The teacher will provide any additional information or example. When the student understands the information, the teacher will go back to step one.
In some schools and classrooms, peer pressure severely limits achievement. Students who DO NOT do well scorn those who DO well, and these students join together,
socially, to limit each other's success. It may even accelerate into bullying.
Barbara does not allow that culture to develop in her classroom by teaching her students to respect and celebrate the success of others.
Marvin Marshall (The First Days of School, p. 164 and www.MarvinMarshall.com) recently shared how a high school posted two signs, "respect" and "responsibility," on the walls of every classroom and halls. Some teachers greeted this procedure with rolling eyes and doubtful looks, but all were told that they did not need to do anything except to observe and make notes of any reactions the students had regarding the posted signs.
Within a few weeks, anecdote after anecdote painted a picture of positive reactions by students. At first, students asked why the signs were posted, and then they wanted to discuss the principles. Teachers, without being prompted, began to use the words "respect" and "responsibility" in class discussions and in some cases taught writing, language arts, and social studies lessons using the concepts.
Most surprising were the examples of students beginning to use the language of respect and responsibility in conversations. Several teachers related that they had heard students discussing these concept and in a few cases reminding their peers to be more respectful or responsible. One teacher said, "They were actually using the words."
In Barbara's classroom, the students get into the habit of saying "Good."
Testing the Classroom Management Plan
Barbara has a test she gives her students to assess their understanding of the Classroom Management Plan. To see her Classroom Procedures Test, click here.
Because she wants her class to do well on the test, she gives the students an opportunity to show her how much they have learned after two weeks of being taught the procedures. The test counts as two grades, one for science and one for social studies.
The procedures have been rehearsed and rehearsed, thus everyone does well on the test and the class starts the year off in a positive manner.
Barbara Is Proactive
Effective teachers are proactive teachers. They have a plan to prevent problems. Then they work the plan. They proactively have a plan to forestall problems from occurring.
Ineffective teachers are reactive. Ineffective teachers do not have a plan. They react to each problem as they occur. Then they rely on gimmicks and single shot tricks, such as shrill sounding whistles, to use on a hit or miss process to confront the problem.
Read the chat board that follows this column and note the number of teachers looking for simplistic, quick-fix gimmicks to solve classroom problems. And when the quick-fix gimmick does not work, they react and seek consequences or punishments to control the classroom or, as one teacher wanted, "make an impact" on the class.
Effective teachers can see the big picture. They are ready on the first day of school with a big picture of a complete classroom management action plan. See www.ClassroomManagement.com for an explanation of this term.
Barbara is ready and organized for the first day of school. The students immediately see and sense this. It's comforting to know that you are in the classroom of a competent teacher.
She has a classroom management plan.
She has a class theme or goal: "BRAIN."
She has a class mission: "ABC."
What a way to start!
Even With a Plan, Think Gumby
Barbara shared with us her thoughts on the first day of school.
"Think Wong"

Procedures are what will make your students (and you!) successful and reduce your stress. It seems difficult at times to practice (and practice, and practice), but the benefits are enormous – so stick with it!
"Think Darwin"

Teaching, to me, is undoubtedly, an evolutionary process. It is full of constant change at irregular pace. The last lesson of the day does not always look like the first. I've made great leaps and then there have been a few extinctions, yet, I still keep growing and refining my craft.
"Think Gumby"

You really need to be flexible—not only from day to day or class to class but also minute by minute! This does not mean you change your rules or procedures, but you have to consider the instructional methods, assessments, and interests of your students. One size does not fit all! And Gumby was not a solo performer; you shouldn't be either. Seek others for help and support.
"Think Disney"

Remember the magic. I think that's why we have chosen this profession. I cannot explain the wonder of seeing a student really get it! I have my students complete a survey each June with the question: "What class activity really helped you learn this year?" Sometimes it is my carefully prepared labs and detailed lessons. Or it can be a small moment (that was not detailed in my lesson plan) that made all the difference.
And What Do You Think?
Who will you think about as the school year begins? Wong? Disney?" Gumby? Darwin? All have wonderful symbolism associated with them for your happiness and success as a teacher.
"Think the Fox" from The Little Prince.
The soul of the book is embraced in a line uttered by the fox to the little prince. The fox says, "It is only with the heart that one can see rightly; what is essential is invisible to the eye."
That statement is the quintessential essence of classroom management—what is essential is invisible to the eye. Barbara De Santis works for weeks with her students on classroom management and then gives them a test for grade. Yet, to walk into her classroom, one would see students working and learning—the classroom humming with excitement and curriculum. The classroom procedures that have been taught and made part of the fabric of the classroom environment are invisible to the eye, yet vital for the smooth operation of the classroom. The casual observer would spot the learning and completely miss the classroom management.
The time spent to establish your procedures at the start of the school year will pay dividends that are clear and observable—more time for teaching, greater responsibility by the students for their behavior, a sense of calm and ease in the classroom, and respect by students for one another.
The fox from The Little Prince also says, "You become responsible, forever, for what you have tamed." The opportunity to make a difference in the life of a child begins with organizing your classroom.
Gumby's friend Pokey often got dragged into situations against his will, but ended up always appreciating the experience. Resist the temptation to ignore procedures and begin teaching subject matter during the first days of school. It may seem like a waste of valuable learning time, but in the end you and your students will appreciate the atmosphere created in the classroom. There is more time for student success after procedures are in place.
Procedures are just like the ABCs. They are deceivingly simple, but when combined, they transform into powerful imagery.
"Think ABCs"
Achieve strong academic skills
Build self-efficacy
Cultivate conscientious citizenship
"Get it?"
"Good!"
---

For a printable version of this article click here.

---
Harry & Rosemary Wong products: http://www.harrywong.com/product/
Email Harry Wong: harrywong@teachers.net
---
Gazette Articles by Harry & Rosemary Wong:
---
Browse through the latest posts from the Classroom Management Chatboard...