About Effective Teaching...



Harry and Rosemary Wong have been writing columns for Teachers.Net for over 13 years and the columns all have a distinctive style. They write about effective teachers, administrators, schools, and school districts featuring techniques that are immediately replicable and at no cost. More importantly, they work to enhance student learning. An archive of past articles can be found at the end of every column, with an abstract of all articles at the end of the most recent June column.


For over 30 years, helping teachers become effective has been the passion of the Wongs. Writing for Teachers.Net is just one of the many ways they reach out to educators with their ideas on how effective teachers improve student learning.



About Harry & Rosemary Wong...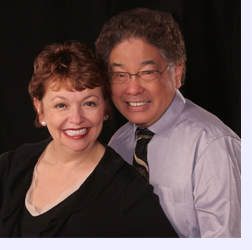 Harry and Rosemary Wong are teachers. Harry is a native of San Francisco and taught middle school and high school science. Rosemary is a native of New Orleans and taught K-8, including working as the school media coordinator and student activity director.

Harry Wong has been awarded the Horace Mann Outstanding Educator Award, the National Teachers Hall of Fame Lifetime Achievement Award, the Science Teacher Achievement Recognition Award, the Outstanding Biology Teacher Award, and the Valley Forge Teacher's Medal. He was selected as one of the most admired people in education by the readers of Instructor magazine. Rosemary was chosen as one of California's first mentor teachers and has been awarded the Silicon Valley Distinguished Woman of the Year Award. She was also honored as a Distinguished Alumnus from her alma maters, Southeastern Louisiana University and Louisiana State University.

Harry and Rosemary have been awarded the Upton Sinclair Award and were nominated for the Brock International Prize in Education. They have built and sustain a school in the jungles of Cambodia.
The Wongs are the most sought after speakers in education today, booked two years into the future. Their presentations are practical, offering a common sense, user-friendly, and no-cost approach to managing a classroom for high-level student success. Over a million teachers worldwide have heard their message. In spite of their heavily booked schedule, Harry and Rosemary have agreed to write this monthly column so that more people can hear their message.



How They Develop Effective Teachers...



Harry and Rosemary Wong are committed to developing effective teachers, one teacher at a time.
To do this, they have formed their own publishing company, of which Rosemary is the CEO.


THE Classroom Management Book is what everyone has been waiting for. It is an exhaustive extension of Unit C on classroom management in The First Days of School.
Turn chaos into student achievement
Reduce behavior issues; increase learning
Step-by-step plans to a well-managed classroom
50 procedures in detail
40 QR codes with additional resources
320 pages in full color
Complete first days of school plans
Suitable for all grades, all subjects, all teachers
Costs no money to implement
How to Be an Effective and Successful Teacheris an audio CD set that was recorded live before 800 teachers in St. Louis. Listen as they walk you through classrooms that hum with learning and share how you can replicate the same success in your classroom. In 2 hours and 40 minutes, Harry and Rosemary can transform you into a very effective and successful teacher at no cost!
This presentation has transformed the lives and teaching success of hundreds of thousands of teachers.Learn how to
Begin the school year with a plan
Start class immediately
Have a well-organized and structured classroom
Reduce discipline problems
Have students who are engaged and working
Teach procedures and responsibility
Maximize classroom instructional time
Use lesson objectives so students know what they are to learn
Use rubrics to assess for student learning
Deal with at-risk students
Improve student learning and achievement

The Wongs have written The First Days of School, the best-selling book ever in education. Over 3.8 million copies have been sold. It is used in 120 countries, 2,114 colleges, and most every new teacher induction program. The fourth edition has been translated into five foreign languages and includes:

An additional chapter on procedures
A new chapter on assessment with rubrics.
A new chapter on Professional Learning Teams
A new chapter for administrators on implementation
Additional information in Going Beyond Folders
A new DVD, Using THE FIRST DAYS OF SCHOOL, presented by Chelonnda Seroyer

The Wongs have also produced the DVD series, The Effective Teacher, winner of the Telly Award for the best educational video of the past twenty years and awarded the 1st place Gold Award in the International Film and Video Festival.

They also have a successful eLearning course, Classroom Management with Harry and Rosemary Wong. The course can be taken in private at the learner's convenience. The outcome of the course is a 2 inch binder with a personalized Classroom Management Action Plan.

This Action Plan is similar to the organized and structured plan used by all effective teachers. Details for the classroom management course can be seen at www.ClassroomManagement.com.

You can hear Harry Wong LIVE on a set of CDs, called
How to Improve Student Achievement, recorded at one
of his many presentations. He invites you to steal from him the secrets of effective teaching for all grade levels.

Never Cease to Learn has the power to transform your
attitude and your life. In this DVD, Harry shares his journey on the road to success and tells listeners how to become the educators they were meant to be.
When the books, video series, CD, DVD, and eLearning course are used together, they form the most effective professional development training tool for producing effective teachers. Staff developers and administrators who would like to know how to implement the aforementioned book, video series, and CD are encouraged to consult the book, New Teacher Induction: How to Train, Support, and Retain New Teachers. Information about these products can be found by visiting the publisher's website at www.HarryWong.com.

Helping you produce effective teachers is our passion.