Cover Story...
---
The Hole in the Wall Gang Camp
by Francine Harcourt Caplan

Since 1988, The Hole in the
Wall Gang Camp has provided a special camp experience for over 9,000 children, ages seven to fifteen, with cancer, sickle cell anemia, HIV/AIDS and other serious blood diseases, free of charge. Founded by Paul Newman and a group of generous, talented people, the camp is located on over 300 acres in Ashford, Connecticut. The campers enjoy nature, swimming, theatre, art, poetry, singing and horseback riding. There is a medical clinic providing round-the-clock care. Programs for parents, campers and professionals continue throughout the year.
In 1985, Mr.Newman and the founders set out to build a good, old-fashioned camp, a camp for children who couldn't camp anywhere else because they suffered from cancer or serious blood diseases, a camp where 7 to 15 year old boys and girls could laugh and play, sing and shout, meet other children with similar problems, and-at least for a while-forget about being sick and "raise a little hell."

And it wouldn't cost the children, or their families, a dime.

The founders named their camp after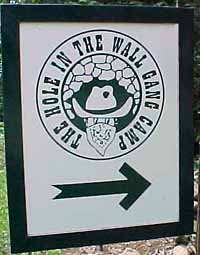 The Hole In The Wall Gang, the band of bandits led by Paul Newman and Robert Redford in the film "Butch Cassidy and the Sundance Kid." In the fall of 1986, Paul Newman and his group bought a 300-acre farm, with lots of trees and a 44-acre pond, straddling the borders of Ashford and Eastford-two small towns in eastern Connecticut.

The head of Yale-New Haven Hospital's Pediatrics Department, Howard A. Pearson, M.D., became medical director and made sure the camp could provide daily care and emergency treatment for very ill children. He set up shop in the "O.K. Corral"-named by a camper because it's okay to go there." This fully equipped clinic operates round-the-clock with two doctors and five nurses. For the parents, the infirmary provides quiet reassurance that every medical need is well covered.

The dean of Yale University's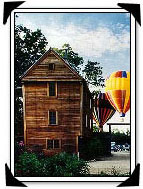 School of Architecture, Thomas Beeby, made sure the buildings were as much fun as the program. He designed an award-winning Old West frontier town complete with a general store, theater, dining hall, recreation center, swimming pool, boathouse, stables, petting zoo, and log cabins. The children hardly notice that the walkways end in access ramps, that forest trails are smooth enough for wheelchairs, and that washrooms contain emergency buttons that can summon instant aid.
Construction began in the fall of 1987, doors opened in the summer of 1988, and children have been coming ever since. With the generous financial support of many thousands of caring people from across the country, and with ties to more than 100 medical institutions, such as the Dana-Farber Cancer Institute, the Memorial Sloan-Kettering Cancer Center, and Yale-New Haven Hospital, we welcome each summer, free of charge, over 900 children from across the United States and from abroad.
Hole in the Wall Gang campers experience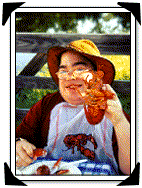 more than a joyous holiday. Camp is a critical experience in their lives, encouraging the heart, enlarging the spirit, empowering the will, all year long.
For teachers: If you are aware of a child that fits the criteria for The Hole in the Wall Gang Camp please share information about the camp with parents or guardians. There is an application process that begins each fall and winter for the following summer.
Through all these years, The Hole in the Wall Gang Camp has relied on the generosity of individuals, corporations and foundations to support and fund the camps programs and medical component. Throughout the year, programs for campers and special C.O.P.E. weekends for parents are part of the entire experience that help camp families.
Please visit our web site at: http://www.holeinthewallgang.org You will find more information on the camp and its programs, photos and a secure web page to make a donation.
Now in the year 2000, we are celebrating our 13th summer and again are welcoming nearly 1,000 seriously ill children to The Hole in the Wall Gang Camp.
Wish List
If you can donate or help us find donations of any of these items, please contact Karin Jacobs at The Hole in the Wall Gang Fund office - 203.772.0522, E-Mail: Karin@holeinthewallgang.org. You can also leave us a message in the comment section of our Guest Book. NOTE: We have a constant need for items that are bolded.
Area Rugs (bound, 80sq.)
Art supplies: glue, markers (assorted colors), paint brushes, paint pens, Sculpie art clay, etc.
Arts & Crafts kits
Backpacks
Balloons
Basketball frames - new
Bathing suits
Batteries (AA,C,D)
Beach towels
Beads
Benchpress
Cameras - Polaroid and film (600 series)
Canoe paddles
CD/Cassette players
Cellular phones with service
Clay slab roller - 14" by Brent Company
Computers - laptop or desktop: PC, Win95, Pentium, or better
Cordless microphones
Costumes - big fruit or animal
Duffle bags/gym bags
Electronic games (hand-held)
Fishing poles
Flashlights
Games -board (travel size or regular)
Goggles - Aqua Safety
Journals
Lamps (clamp-on variety)
Love seats (15 needed for cabins)
Lumber for workshop (unlimited)
Monitor - large Macintosh monitor (for desktop publishing)
Nerf sporting equipment
Paddle boats
Paper goods - napkins, plates (all sizes) and hot cups
Paper - rolls
Pillow lap desks
Playground - vertical for tower
Playground set-up (high quality recycled plastic and metal)
Playing cards
Postage stamps (books of)
Rain boots
Rain ponchos
Row boat oars
Scissors (adult)
Shoes-Tap
Sleeping bags
Sneakers for older campers (13-16 yrs. old)
Socks & underwear (children's - new)
Sports drink bottles
Sweatpants (size 8-Adult)
Tents - Northface 3-person
Tents - Northface 6-person
Tents -Two-person
Toiletries (toothpaste/brushes, shampoo, etc.)
Top hats (collapsible)
Umbrellas
Vacuum cleaner (electric) for pool
Vacuum cleaners - industrial size
Video tapes & cassette tapes - BLANK
Videos for all ages
Walkie talkies, high quality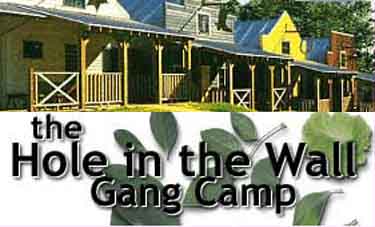 Click here to visit the Hole in the Wall Gang Camp.
The Hole In The Wall Gang Fund, Inc.
555 Long Wharf Drive
New Haven, Connecticut 06511
Tel: (203) 772-0522
Fax: (203) 782-1725
---
About Francine Harcourt Caplan...
Ms. Harcourt Caplan is Director of Communications and Grantwriting for The Hole in the Wall Gang Camp. She oversees all communications which include brochures, newsletters, all written materials and press releases. She is responsible for media relations, both print and non-print. She seeks funding from corporations and foundations that will support the summer and off-season programs of the camp. Each year she volunteers at the camp as a counselor and loves going into the cabin with the children! She says,"I am fortunate to be able to help this wonderful place for seriously ill children both professionally and personally. When I see the smiles on the children's faces and see what a difference The Hole in the Wall Gang camp has made in their lives, it gives me enormous pleasure."
---
About Paul Newman's Charitable Work...
In 1987 Paul Newman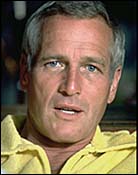 launched the Newman's Own line of food products, beginning with salad dressings and spagetti sauces, to provide income for charitable efforts. Among the philanthropic endeavors created by Newman and his wife, actress Joanne Woodward, are the Hole in the Wall Gang Camp for children with terminal diseases and the antidrug Scott Newman Foundation, established in memory of Newman's son who died as the result of an accidental drug overdose in 1978. Newman is low-key about his philanthropic efforts, preferring to remain in the background, preferring to highlight the children and adults who participate in and benefit from the camp and other programs.
Quote, Paul Newman: "The embarrassing thing is that the salad dressing is out-grossing my films."
In 1988, the Oscar-winning screen legend decided to channel growing profits from the sales of his "Newman's Own" specialty foods into a unique foundation. Newman saw it as a way to give kids, aged 7-15 with cancer and other serious illnesses, getaways where they can enjoy themselves in a summer camp setting and still receive the medical attention they need. Today, The Hole in the Wall Gang Camp and its foundation continue to help brighten young lives and fund other charities. And a devoted philanthropist has found a creative way for kids having a tough time to just have fun.
---
Related Links
The National Children's Cancer Society
http://www.children-cancer.com/
Pediatric AIDS Foundation Elizabeth Glaser's non-profit foundation that works primarily to raise funds for ongoing pediatric AIDS research.
http://www.pedaids.org/
Sickle Cell Disease Association of America
Education, advocacy, and patient care for Sickle Cell Disease
http://www.sicklecelldisease.org/
Sickle Cell Society home page Sickle Cell Society - UK based charity which provides care and information on sickle cell anaemia (anemia) and other sickle cell disorders to sufferers, health professionals, students and everyone interested in understanding this genetic disease.
http://www.sicklecellsociety.org/
---