Handy Teacher Recipes
by The Teachers.Net Community
---
On St. Patrick's Day your young students might enjoy these two "magic" treats which are the result of Leprechaun intervention.
---
Green Mashed Potatoes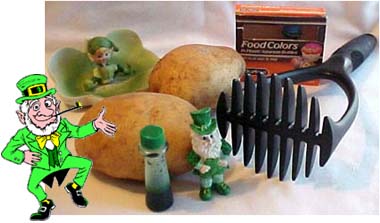 Peel, slice and cut enough potatoes for the group then cook until tender. After draining the water off the potatoes (out of sight of the children) squirt some green food coloring at the bottom of the pan and cover it up with potatoes. You will mash the potatoes with some added milk in a position which allows the children to see the potatoes while you mash. You can do so while looking at the children and talking to them so they will be the first to notice the potatoes turning green. As you mash, the green color will appear and the children will call out excitedly for you to note what's happening and you will be as surprised as they are to find that a leprechaun has performed his magic. ;o) Season the potatoes, serve, and enjoy!
Kathleen Carpenter
---
Magic Green Powder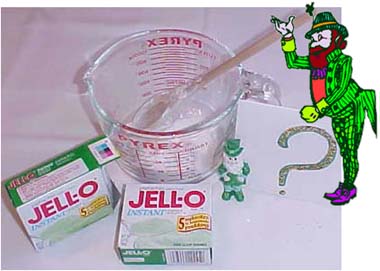 Before the children arrive, empty boxes of Jell-O brand (instant) pistachio pudding mix into a clear bowl or other container. The Jell-O brand works best because the powder appears white before milk is added. With the powder leave a note with the following clue:
Magic powder can be seen,
White right now,
Soon will be green.
Add some liquid
That comes from a cow,
Stir it up and eat right now!
Add the amount of milk corresponding to the amount of pudding mix, stir and watch the children's faces as it turns green. Serve and enjoy another magic leprechaun treat.
Kathleen Carpenter
---
Glob
You need this for each group of 4 children;
4 oz. bottle of white glue
2 containers that hold 1 pint or more
any color food coloring
measuring cup
1 pint (2 cups) distilled water
1 teaspoon borax powder (found in supermarket in detergent area)
measuring teaspoon
something to stir with
Pour glue into pint container.
Fill empty glue bottle with distilled water and pour into the container that now holds the glue. Add 10 drops of food coloring and stir well.
In other container put 1 cup of distilled water and 1 teaspoon of borax powder. Stir until powder dissolves.
Slowly pour the colored glue into the bowl containing the borax. Stir as you pour.
Take the thick glob that forms out of the bowl.
Knead the glob with your hands until it is smooth and dry.
Divide the glob into 4 pieces, one for each member of your group.
Play with the glob. You can store it for a long time in a plastic bag and take it home at end of day.
The kids really loved this. We did it our first science class of the year, to get them to think that science was going to be neat. The borax is expensive, but this will give you a lifetime supply. (about $5 a box) The glue is also expensive; not a real cheap lesson, but it's worth it if you can afford it. I have pink plastic tubs (from a hospital) that I use for messy stuff like this--they are about a foot long and several inches deep. Do not put the glob on paper towels or any other paper to help dry it out in the initial messy stage. It will adhere and make an even worse mess. Just hold it in your hands and keep working it. There is at least one kid in every group who won't mind and will think it is the greatest.
Eleanor in Vermont
---
Oobleck
Measure 1 1/2 cups of cornstarch and put in a pie pan or container. If you want a color of Oobleck add the coloring to the water first.
Then gradually add approximately 1/2 cup of water to the cornstarch. Stir well (this will take some time).
Add small amounts of water or cornstarch until you get a mixture which 'tears' when you quickly scrape your finger through it AND THEN 'melts' back together again.
Oobleck is often referred to as a 'non-Newtonian' substance because it does not behave as Newton's Third Law of Motion states; for every action, there is an equal and opposite reaction. Applying this principle, you would expect Oobleck to 'splash' when you 'smack' it with your hand. (Smacking is the action, splashing is the reaction.) However, when you try this out. Oobleck does not splash, in fact, it becomes a solid substance for a few moments. Why?
Scientists explain this as follows. Uncooked corn starch particles are structured in both crystalline and noncrystalline arrangements. When slowly mixed with water, the non crystalline structures of corn starch absorb most of the water. When you smack or stir it rapidly, you increase the temperature and pressure on the mixture which causes more non crystalline structures to form. These new noncrystalline structures absorb more water and the mixture becomes thicker, hence the appearance of a solid. When you discontinue the pressure, the number of noncrystalline structures decrease and water is released, creating the 'soupy' mixture.
Janet on the early-childhood chatboard
http://teachers.net/mentors/early_childhood
---

Send your favorite recipes to recipes@teachers.net