---
Intelligence
by
Brian Hill
The more cells which are connected the more information we can work with and the more ideas we can come up with, providing we haven't killed off our creative right brain intelligences by an over abundance of left brain training at school or by many university courses...
Click for

Full story
---
The Montessori Mystery
by
Kathleen Fedele
After some time, and because of her medical training, she observed that when these "defected" children were introduced to a new environment rich with sensory input, they would seek out and soak in as much new input as possible...
Click for

Full story
---
Playing Baseball in the Classroom - A Flexible, Adaptable Game to Motivate Your Students
by
David Slutz
Games are popular with students because they break up the normal routine and give everyone a chance to have some fun...
Click for

Full story
---
Whither Not Social Studies!
by
Tom Lucey
Your Social Studies students may be getting good grades, but they are not learning what they should...
Click for

Full story
---
When Bright Kids Say, "I'm Bored!"
by
Sylvia Burke
"I'm bored!" These are two little words that teachers hope never to hear from students in their classes...
Click for

Full story
---
Book Review - Comprehension Instruction: Research-Based Best Practices
by
Kendra Wagner
In the last decade the term "being strategic" has emerged, when referring to reading comprehension. This goes a step beyond what was previously defined as gaining meaning...
Click for

Full story
---

Teacher Social Groups A Way to Relieve and Prevent Stress
by
Dave Melanson
One thing I have come to realize after working in the field of inservice training with elementary teachers is that for the most part, there are very few teacher social groups organized to allow colleagues to do various activities together on evenings and weekends...
Click for

Full story
---

Today I Learned
by
Juvie
Working in a juvenile hall has taught me that kids know where they need to go and are just waiting for someone to clue into this and provide the tools. ..
Click for

Full story
---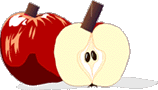 Apple Seeds...
by
Barb Erickson
It's what you learn after you know it all that counts.
~ John Wooden
Click for

Full story
---

Third Annual Music Education Survey Gets Underway
by
Debbie DiMaio
"In 2000 and 2001, we found that there are great music programs all over the country, in large communities and small," says AMC Executive Director Joe Lamond...
Click for

Full story
---
Retaining Principals
from
ERIC Clearinghouse on Educational Management
Many principals exit their profession because of the long hours, the workload and complexity of the job, the unending supervision of evening activities, the minimal pay difference between top teachers and administrators, and increasingly complex social problems...
Click for

Full story