| | |
| --- | --- |
| Teachers.Net Feature... | |
| | The Cat in the Hat TM & (c) 1957 Dr. Seuss Enterprises, L.P. All Rights Reserved. |
Every Day is Read Across America Day!

by Kathleen Carpenter, Editor
---
Don't let the date stop you from celebrating books and reading! Though Read Across America Day comes but once a year, you can keep the spirit alive by implementing the good ideas shared on Teachers.Net forums during every month of the year.
Door decorating (or bulletin board) activities can be used to extend the spirit of Read Across America Day throughout the school year. Here are some ideas shared on Teachers.Net Read Across America forums:
---
We are doing the door decorating contest, too. My kindergarten class did The Rainbow Fish. We decorated fish patterns by tearing colored paper and used glitter for the colored fin. We used paper bags to represent the sand, green streamers for seawood and a red paper plate as a crab. It came out cute. We put it on a sky blue paper.
Submitted by Carrie
---
I put a large picture of The Cat in The Hat on my door, then I added an invitation to all to read a book on March 1st. I included two poems about reading, and pictures on my students reading books in various poses.
Submitted by Penny Allen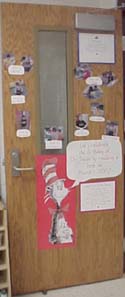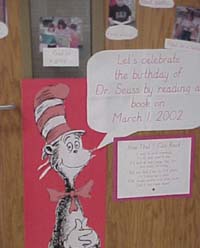 ---
Our entire school chose one of the 50 states and decorated their doors for the state they drew from a hat. I got Arizona, but we are a small school in Mississippi. My students and I learned a lot about Arizona and other states too because of the other door decorations throughout the school. The theme Free To Read was carried out on each door. We learned as we read across America! I teach 3rd grade. We also planned Wear Green Day (Mr. Grinch). Crazy Socks Day (Fox in Socks), and Dress Up Day like your favorite storybook character. Hat Day (Old Hat, New Hat), Free to Read, Patriotic Day (wear red, white and blue).
Submitted by Lisa Cornelson
---
We took pictures of each student.They made red and white cat hats to put on their pictures and wrote a sentence to tell where they are going. This went with the book Oh the Places You'll Go.
Submitted by Jean
---
I do a rhyming activity with my kids after reading The Cat in the Hat. They have to come up with a pair of rhyming words. They then cut out a hat and on 2 strips of white paper write each rhyming word. The white strips become the stripes on the Seuss hat. I hang them on the bulletin board with a picture of the Cat in the Hat in the middle with the saying
Hats off to Dr. Seuss
Submitted by Lisa Marie/1/PA
---
Here's an activity you can use during any month of the year to extend the influence of Read Across America Day:
I'm reading the book My Many Colored Days and having my students pick one color that describes them the most and write about why it does. Then they can watercolor a self portrait, using only that color and it can be put up next to the writing.
Submitted by Monica/CA/1

My Many Colored Days by Dr. Seuss
$6.99 from Amazon.com
---
A week of plans for Read Across America in first grade
Centered Instruction
These are the Seuss Centers running next week [RAA Week] Monday-Friday and culminating with a Dr. Seuss birthday party for Friday Fun:
Reading: Children will read a Dr. Seuss book of their choice to one of the classroom bears and complete a page in the classroom journal to document their work.
Games/Reading: The children will match four dialog cards with each of five Dr. Seuss books: Green Eggs and Ham, The Lorax, Hop on Pop, Fox in Socks, and The Cat in the Hat.
Science/Art: Children will experiment with colors using test tubes and colored water to make shades of the color green. This will correlate with our study of Green Eggs and Ham.
Big Books: Horton Hears A Who and The Lorax.
Listening/Reading: Children will listen to The Cat in the Hat Returns.
Mini Page/Reading for Meaning: Children will circle the sentence whose content matches what is seen in six Dr. Seuss illustrations.
Lego/Blocks/Math: Children will use Lego blocks to make a 'Seuss-like' block animal in 2-D and will then draw the animal in 3-D to correlate with their math. The book If I Ran the Zoo will be available in the center for the children's use.
Math: The children will solve an addition and a subtraction problem using a Cat-in-the-Hat worksheet. The problem must be read, illustrated and solved with a number sentence. The children will write a sentence describing their strategy.
Keyboarding/Language Arts: Children will type their first name and the following sentence: "I like it here. Oh, I like it a lot!" Said the Cat in the Hat to the fish in the pot.
Art/Language Arts: The children will complete their Dr. Seuss hats for Friday's celebration of Dr. Seuss' birthday.
Overhead/Problem Solving: Children will find nine Dr. Seuss rhyming words in a word search.
Submitted by Mary Waldrup NC/1st Grade