Around the Block
by Bridget Scofinsky
---
Around the Block With Gail Gibbons
---
In late November, I had the opportunity to attend the Trumbull County Literacy Conference in Ohio. The day was jam packed with featured speakers and break-out sessions. The featured speakers were Sharon Taberski, author of On Solid Ground, Eric Kimmel, of the Anansi stories, and Gail Gibbons, a noted non-fiction writer for children. Sharon Taberski's presentations were so powerful, I actually snuck into one for which I wasn't scheduled just to continue soaking up her calm, assured style of teaching. The notes I took from her talks are so in depth and connected that they require a book. Fortunately, she wrote the book, On Solid Ground. Gail Gibbons, however, is quite a story herself. The mood for her talk was set when Sharon told us of her extreme back pain and mentioned that Gail had given her something to take and weird things were starting to happen. Sharon Taberski finished her presentation and the stage began to change. Away went the overhead projector and in came a slide projector.

Enter Gail Gibbons.

"You can get this podium out of here. I don't use them."

Gail wasn't exactly how I pictured her. She was so wonderfully retro and nonchalant about her needs and preferences right down to an on-going dialogue with herself about the brightness of the stage lights. Wonderfully retro. Okay, she is straight from the 70s. However, as I assimilated the real Gail into the presupposed picture I had of her in my mind's eye, I began to truly appreciate her craft, talent, and ability to remain unabashedly, wonderfully retro.

She is truly quite a story herself. But, what I didn't realize was that she has written 107 books. She showed us one in progress and talked about some of them that are due out soon. Most of her topics come from things in her life, but she also responds to children who say, "Hey Gail, why don't you write a book about…". She begins her books with what she knows, what's around her. Then she begins researching at libraries and when she's read all she can, she talks to experts about the topic, then she travels to experience the subject.

She has a 300 acre home in Vermont and she also owns a home on an island near the island of the puffins she wrote about in The Puffins are Back and Christmas on an Island. Her husband, Kent, is a photographer and does the business part of her books including typing the manuscripts on the computer because she doesn't use one. Their home in Vermont has a working maple sugar house. They tap maple trees (600!) and use their sugar house for making maple syrup. Each gallon of syrup requires 30 gallons of sap. The profits from online purchases of the syrup at www.gailgibbons.com are donated to charities. Kent, built their home with help from just one other person. It took a while. That's when she wrote the book, How a House is Built. There were so many tools laying around that she wrote The Tool Book.

My students were intrigued to learn that she and Tomie dePaola have the same agent. To think of Gail with a agent, and Gail as a graphic designer for various television programs paints one picture of her. However, listen more closely to hear that she writes mainly for the publishing company, Holiday House, because they are the last of the family owned and run publishing houses, shows the full spectrum of this modern day, retro-renaissance woman.

She is very attentive to detail and is thoroughly involved with each book. In every book, on the copyright page, she always thanks the expert who helped her to learn more about the subject area. In order to research her book about making movies, Lights! Camera! Action!, she talked with Steven Spielberg and George Lucas. Beetlejuice was being filmed near where she was living so she spent time on the set and sent the producer the book when it was done. He bought 200 copies because each job was labeled and everyone could sign it as a souvenir of their movie making.

She tells of a contractor who helped her with Up Goes the Skyscraper who did the same thing, only without the signatures. He said he was giving it to his employees so they would know how to build a skyscraper.

The more I listened, the more I internalized how the process of a real writer is that which I should be sharing with my students during the Writing Block each day. It is natural because real writing is the purpose. Fortunately, Gail recognizes this and addresses her process in her conversation with teachers.

So, once she has gathered all the research, the next step is the writing, or the manuscript. She writes and writes and writes. She says that Fire! Fire! went through fourteen rewrites until she was happy with it. Oh, that my students would be driven to make one revision!

Gail tells that most books for children are thirty-two pages long because sixteen pages make up what is called a signature and books for children typically have two signatures. Once the manuscript is complete, she makes "dummy books" that are that length in order to decide how she wants the book to look. The blocking process, made up of galleys (similar to storyboards) and dummy books, contain quick sketches on each page. When she puts the manuscript into the form it will take to the editor, art director, and publisher, she uses overlays to make notes and directions for them.

She sometimes uses combinations of art media (watercolor, colored pencil, and black pen)--sometimes more, sometimes less). When the books go to the publisher, they are color separated into four sheets of film (one each for red, yellow, blue, and black) which are then transferred to printing plates. Typically the first print is 30,000 books which means there are 30,000 printing plates.

Next, the print is sent to the bindery where it is sliced into pages and either sewed or glued together. The hard cover is put on last.

My classroom collection of books by Gail Gibbons continues to grow and the non-fiction features included in my students' writing reflect their appreciation of her craft. I am daily reminded of her influence on my teaching. It's late in January as I revise this article for publication. Julie, hard at work researching leopards, has finished her manuscript. She smiles when I ask her if she's ready to publish and reminds me that she'll need to layout her galley first. Ahhh…warm fuzzy retro sigh of content.

Now if I could only get Eric to think about revising something, I'd know I was beginning to internalize the writing process!




---
Gail Gibbons Books


The Puffins are Back
by Gail Gibbons
$15.95 from Amazon.com
More information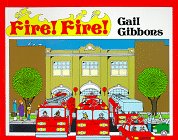 Fire! Fire!
by Gail Gibbons
$6.95 from Amazon.com
More information




Penguins
by Gail Gibbons
$6.95 from Amazon.com
More information




St. Patrick's Day
by Gail Gibbons
$6.95 from Amazon.com
More information