| | |
| --- | --- |
| Teachers.Net Feature... | |
| | The Cat in the Hat TM & (c) 1957 Dr. Seuss Enterprises, L.P. All Rights Reserved. |
Teachers.Net Signs Up for Seussational Reading Excitement
NEA's Read Across America:
Too Much Reading Fun for Just One Day!

by Kathleen Carpenter, Editor
---
Teachers.Net will again support NEA's Read Across America, the National Education Association's annual multi-purpose reading motivation and awareness campaign that calls for every child in every community to celebrate reading on March 2, Dr. Seuss's birthday.

With March 2, 2002 on a Saturday, NEA has decided to make it easy for everyone to celebrate by holding the official Read Across America Day on March 1. Of course, readers of all ages are encouraged to celebrate on either March 1 or March 2---or both!

That's not all: While traditional "reading parties" will take place at the beginning of March, NEA will be working with teachers, librarians, parents, caregivers, volunteers, children, and others to keep reading on the calendar 365 days a year. Teachers.Net will support that effort through its Read Across America chatboard http://teachers.net/mentors/raa and mailring http://teachers.net/mailrings.

NEA's Read Across America includes a variety of programs, like the Youth Leaders for Literacy program, co-sponsored by Youth Service America, which recognizes and rewards literacy service among America's young people. Through Reading Matters (www.nea.org/readingmatters), the NEA offers year-round news, expert advice, classroom and home activities, and resources for adults to help children improve their reading skills and develop a love for literacy.

In addition to Teachers.Net, many national Read Across America partners, including the International Reading Association, the Village Foundation, and the American Library Association also offer programs and activities during the course of the year that will help build momentum toward the best ever Read Across America day event.

Honorary Chairman Garth Brooks is at the helm of the 2002 celebration and expects to help inspire even more than the 35 million readers, young and old, who were found in the company of a book last March 2. These included readers of renown First Lady Laura Bush, 2001 Read Across America Chairman Morgan Freeman, author Mary Higgins Clark, women's soccer players Kristine Lilly and Kate Sobrero, NBA star Michael Finley, and a whole reading team of NFL players including Luther Elliss, Sam Gash, Kevin Mawae, and Trace Armstrong.

Teachers.Net and NEA know that you have already been working hard to make gains in children's literacy, so NEA's Read Across America materials include lots of resources and ideas to boost interest in reading in your schools, libraries, homes and communities. Access this information and pledge to participate on the Read Across America Web site at www.nea.org/readacross. Materials, including Cat in the Hat hats, costumes, ties, buttons, posters, stickers, and bookmarks can also be ordered through the Web site.

For further information about NEA's Read Across America, including Spanish language materials, contact: Read Across America, c/o National Education Association, 1201 16th Street, NW, Washington, DC 20036.

And don't forget to check in regularly at the Read Across America forum at http://teachers.net/mentors/raa.
---
A Cat in the Hat Pin for Read Across America Day
http://teachers.net/gazette/FEB02/crafts.html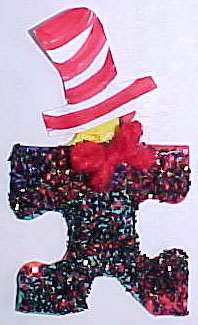 Click here for: "Why Can't I skip My Twenty Minutes of Reading Tonight?"
http://teachers.net/gazette/FEB01/raa.html
Click here for: Transcript of Read Across America Chat
http://teachers.net/archive/raa021301.html
Click here: Why Read 30 Minutes a Day?
http://teachers.net/gazette/FEB01/raa.html
NEA Reading Matters web site with ideas and activities for year-round use in the classroom and home, research and resources. Click here:
http://www.nea.org/readingmatters/index.html
---
Read Across America Day Activity Sampler
Collected from Teachers.Net Mailrings
http://teachers.net/mailrings
We're celebrating [Read Across America Day] on March 1. We're having firemen, policemen, the mayor, parents, principals, administration, etc. coming in to read. All of the participating teachers purchased the official "Cat in the Hat" hat. We also asked PTO for $ to purchased an adult Cat in the Hat costume (worn by a retired teacher) to greet the kids with RRA stickers and our readers. Children will be reading all day. They will wear pajamas. We are soliciting our local grocery stores for cupcakes, cookies, etc. to sing "Happy Birthday" to Dr. Seuss. Amy/IN/1-2
---
This idea was in our newspaper and I wish I had seen it sooner. The teacher used the egg shaped jell-o mold and made GREEN jell-o eggs! Disney Cathy
---
We will culminate our week-long Dr. Seuss activities by assembling a VERY large cake. Each class will contribute a cake in a 9x11 pan that they will decorate however they want and have a letter on the top of the cake - one that has been assigned to them. We will assemble all 22 cakes in the front foyer to spell Happy Birthday Dr. Seuss. We are inviting the local paper to come and take a picture and will have the whole school file by to see the creation. We will then give back the cakes to the respective classes to be cut up and enjoyed. Anne
---
We are inviting parents in to read with their children, we'll make green eggs and ham either on that day or sometime that week prior. We are also going to send a paper bear home to have the children decorate as their favorite book character. Our school is also using a 50 state theme but I don't have the specifics here at home. Kayleen
---
In my school, each class selects a Dr. Seuss book and decorates their classroom door. We have guest readers come in during the day and a pajama party at night hosted by our principal. (This only lasts about an hour and a half) We also purchased a Cat in the Hat costume. The Reading Recovery teacher dresses up in it and visits each classroom. In the afternoon, each hallway has a huge decorated sheet cake. We sing happy birthday Dr. Seuss and then all have cake. Also each class teams up with another class for special projects. It is a really big day at our school. Candice in NJ
---
On Read Across America Day, my fourth grade class will be reading with their first, second and third grade buddies. We'll do a SSR period and then we'll do some buddy reading. We'll make some special bookmarks to remind of our time together too, which we get laminated for saving. Beth
---
We are having a "Snuggle Up with a Good Book" day. Everyone will come to school in their PJ's and we will have a reading celebration day with lots of fun literature activities. Barbara
---
My school has a family reading night each year for Read Across America (although we're having ours on February 28 because we didn't think attendance would be as high on a Friday night). We have theme rooms that families visit on a rotating basis. They get to choose two theme rooms to attend. Mine will be "Reading in the Rain Forest." I'm building an enviro-bubble and decorating it like a rain forest. My friend "Einstein" (a monkey puppet) will help me read The Great Kapok Tree in the bubble. Then we'll make a rainforest mural. Other theme rooms include: the Olympics, Survivor (complete with tents, "torches," challenges, etc. in the gym), Bill Nye the Science Guy, dinosaurs, balloons, scary stories, Harry Potter, Sponge Bob, Chicken Soup books, and more!
We also have a book giveaway. Each child who attends the family reading night receives a free book (preschoolers included) and the following day at school each child receives a free book of their choice. Local businesses help pay for the books.
We have a storyteller (usually from the Children's Museum) during the day for an assembly. We have rocking chair readers in the lobby all day long. Our principal always challenges the students to read a certain amount of time or number of pages. One year he kissed a pig. Last year he did the Tooty-ta Dance in front of the entire school. This year we think he'll work in the cafeteria for a whole day serving lunch in a hair net and apron.
The cafeteria is serving green eggs and ham. In my room, we'll have a Cat-in-the-Hat cake and sing Happy Birthday to Dr. Seuss. We'll read Bartholomew and the Oobleck and make oobleck! We'll all dress in red and white like the Cat in the Hat.
Can you tell we really love Read Across America? *ha ha* Sandy