Handy Teacher Recipes
by The Teachers.Net Community
---
Graham Cracker Flag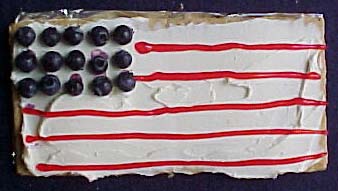 Get one long graham cracker and put it on a paper plate.
Spread with white cream cheese.
Section off a rectangle in the upper left corner and place blueberries. (The white showing through are the stars)
Add thin red licorice for the stripes.
eat!
Cheryl Rosemary Abbott
Editor's note: The model created by the editor and pictured here was created using red frosting rather than licorice. The editor likes red licorice too much to have it in the house.
---
Pretzel Stick Snow People

Melt 1 cup of white chocolate bits in a double boiler.
Dip large (about 8 inch) pretzel stick into the melted white chocolate and spread it over about two thirds of the pretzel stick.
Place on wax paper, then add eyes and buttons of tiny chocolate bits or decorator frosting. The nose can be orange to suggest a carrot.
Let the white chocolate harden.
Tie a strip of fruit leather around the "neck" of the snow person to make a colorful scarf.
The hat is formed from an inverted gum drop pushed into a gummy ring.
Attach the hat to the snow person's head with melted chocolate.
Linda Lewis, Connecticut
---
Groundhog's Day Cupcakes
To celebrate Groundhog's day, I usually fix a treat for my class. After baking (chocolate - like dirt) cupcakes and frosting with green or white frosting (depending on what the ground is like that year), I decorate a Nutter Butter cookie (they are shaped like large peanuts) by putting a face on one end - with brown gel icing - to resemble a groundhog. I then insert the cookie into the cupcake so that it looks like a groundhog popping up out of the ground. In the past, I have let the children color a groundhog line drawing and then laminated it and put that in the cupcakes. Either way, they get a kick out of it. The kids could help bake the cupcakes and frost them, but I have always enjoyed the surprise factor.
Rwgood425
---
Another Groundhog's Day Cupcake
I got this from Mailbox magazine years ago. I make cupcakes, the kids put chocolate icing on them, then add vanilla wafers for ears, m&ms for eyes, and mini marshmallows for teeth.
Sherri McWhorter
---
Cherry Turnovers For President's Day
Ingredients 1 can (21oz) cherry pie filling
2 tsp grated orange rind
1 pkg (15oz) refrig. pie crust
1 egg yolk
1 tbsp milk
1 tbsp sugar
1/2 tsp ground cinnamon
4" round cookie cutter
Preheat oven to 375
combine pie filling and orange rind
roll 1 pie
crust on floured surface into 12 inch circle
Cut out 6 (4") circles with cookie cutter
cut out 6 hatchet shapes from pastry trimmings
Repeat with second crust
combine egg yolk and milk in a small bowl
combine sugar and cinamon in another small bowl
spoon tablespoons of pie filling onto center of each pastry
brush edges of pastry with egg yolk mixture
fold pastry in half and enclose filling
Press edges together with fork to seal
Place on ungreased baking sheet
brush tops of turnovers with egg yolk mixture
place one hatchet cutout on each turnover
sprinkle with cinnamon sugar
bake 18-20 minutes or until golden brown
cool on wire rack
serve warm
makes 12
Teresa/CA
---
Valentine Kisses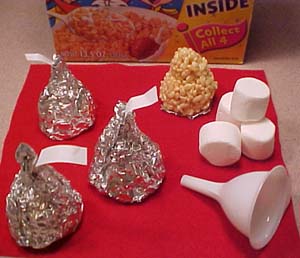 Ingredients 6 cups Krispy Rice Cereal
1 pkg of marshmallows
3 Tbsp. margarine
vegetable cooking spray

Utensils and Supplies:

Microwave oven
Large micro-safe bowl
funnel sprayed with cooking spray (approx. 4 1/2 in in diameter)
12" square of aluminum foil for each child
1" x 11" strip of paper per child
waxed paper
mixing spoon
Label each strip of paper to say "A Kiss For You!"
Follow directions on Krispie box for making treats
Allow the mixture to cool until easy enough to handle
Have children mold it in the funnel
Place on waxed paper to cool completely before wrapping
Wrap kiss and strip in aluminum foil
Give as gifts to a special someone
Makes 4-6
Teresa/CA
---

Send your favorite recipes to recipes@teachers.net