Teacher Feature...
Classroom Photos
contributed by
Members of the Teachers.Net Community
---
Sherri McWhorter, gr. 4
Hephzibah Elementary School, Hephzibah, Georgia

My computer area and book bins. On the right wall is our photo gallery.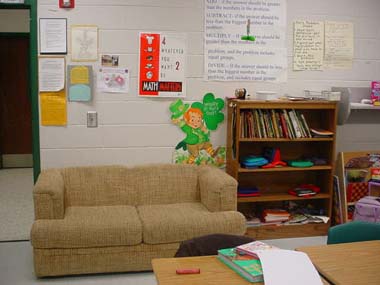 Our loveseat to be used during group work or silent reading.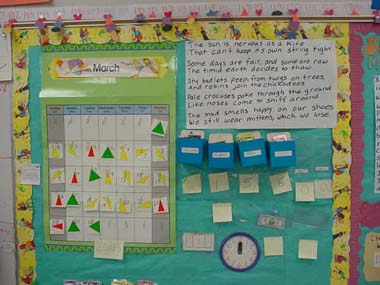 Every Day counts calendar...I love it...so much math in so little time!!!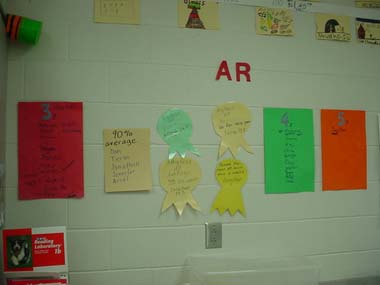 AR wall. They write their names when they pass to their 3s, 4s, and 5s book level. I also record the highest AR average and points for the 6 weeks and year, and those who have a 90% or higher average. I am one of those who LOVE AR..but it is in addition to my guided reading.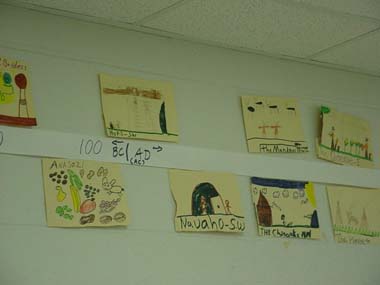 N. American Timeline. Whenever we finish a chapter in SS, we make pictures to go on our timeline. We review the timeline after every chapter too.
---
David J. Holland
Spurgeon Intermediate School, Santa Ana, CA
David J. Holland teaches English Language Arts in a Middle School in Santa Ana, California. He has about 110 students spread over three classes in the seventh grade. Every week or two David assigns a book report, with each report being a different format to stimulate interest and motivation. Each student seems to enjoy working with the various formats.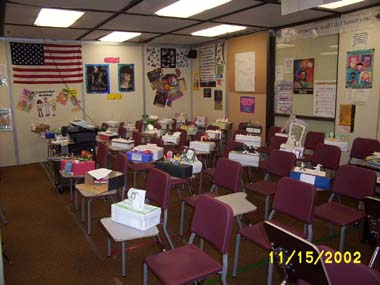 These photographs represent, in addition to my very crowded classroom, book floats which were received as part of a book report project.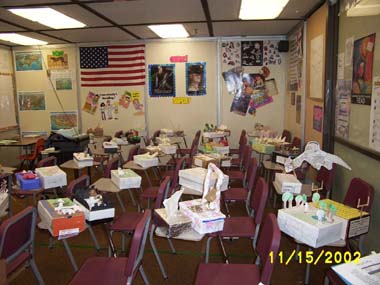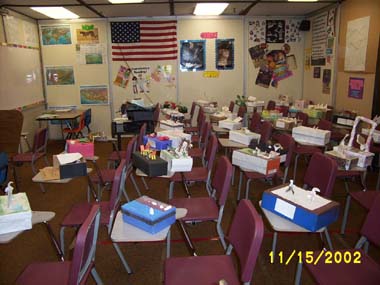 In this picture I have displayed some of their reports for their parents during an open house. The children swelled with pride over what they and their parents saw and said.
---
More photos
Hatching Eggs