Apple Seeds...
by Barb Erickson
---
Every morning Barb/MI posts an inspiring or thought-provoking quotation we refer to as an "Apple Seed" on the main chatboard
http://teachers.net/chatboard.
In each issue of the Gazette we'll post a compilation of the seeds from the previous month.
---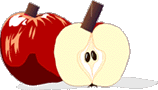 March 2002
03-01:
Be not afraid of growing slowly; be afraid only of standing still.
~ Chinese proverb
03-02:
You can't cross the sea merely by standing and staring at the water.
~ Rabindranath Tabore
03-03:
The way to get started is to quit talking and begin doing.
~ Walt Disney
03-04:
The secret of getting ahead is getting started.
~ Sally Berger
03-05:
He has half the deed done who has made a beginning.
~ Horace
03-06:
Trust the still, small voice that says, "This might work and I'll try it."
~ Diane Mariechild
03-07:
Every accomplishment starts with the decision to try.
~ Unknown
03-08:
The best angle from which to approach any problem is the try-angle.
~ Unknown
03-09:
We cannot do everything at once, but we can do something at once.
~ Calvin Coolidge
03-10:
Ideas won't keep; something must be done about them.
~ Alfred North Whitehead
03-11:
The distance is nothing; it's only the first step that is difficult.
~ Marquise du Deffand
03-12:
Do not despise the bottom rungs in the ascent to greatness.
~ Publius Syrus
03-13:
Some books are to be tasted, others to be swallowed, and some few to be chewed and digested.
~ Francis Bacon
03-14:
It is not enough to stare up the steps -- we must step up the stairs.
~ Vance Havner
03-15:
There is no advancement to the person who stands trembling because s/he cannot see the end from the beginning.
~ E. J. Klemme
03-16:
There comes a time in a person's life when to get where s/he has to go -- if there are no doors or windows, s/he walks through a wall.
~ Bernard Malamud
03-17:
Trouble hates nothing as much as a smile.
~ Irish proverb
03-18:
There is nothing in a caterpillar that tells you it's going to be a butterfly.
~ R. Buckminster Fuller
03-19:
You can fly . . . but that cocoon has to go!
~ Unknown
03-20:
Spring is when you feel like whistling, even with a shoe full of slush.
~ Doug Larson
03-21:
Begin -- to begin is half the work; let half remain; again begin this, and you will have finished.
~ Ausonius
03-22:
Spring is nature's way of saying, "Let's party!"
~ Robin Williams
03-23:
Knowledge speaks, but wisdom listens.
~ Jimi Hendrix
03-24:
Don't despair of a student is s/he has one clear idea.
~ Nathaniel Emmons
03-25:
"No" can be one of the most positive words in the world. No, I will not be defeated. No, I will not give up.
~ Martha Williamson
03-26:
Who begins too much accomplishes little.
~ German proverb
03-27:
Happiness is neat. I wish we could all be happy.
~ Charles Schulz
03-28:
If at first an idea is not absurd, then there is no hope for it.
~ Albert Einstein
03-29:
Keep in mind that neither success nor failure is ever final.
~ Roger Babson
03-30:
There is all the difference in the world between having something to say and having to say something.
~ John Dewey
03-31:
The only thing we never get enough of is love; and the only thing we never give enough of is love.
~ Henry Miller
---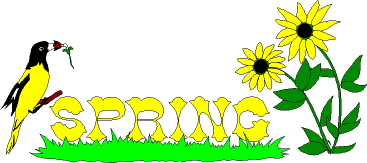 ---
Song of a Second April
APRIL this year, not otherwise
Than April of a year ago
Is full of whispers, full of sighs,
Dazzling mud and dingy snow;
Hepaticas that pleased you so
Are here again, and butterflies.
There rings a hammering all day,
And shingles lie about the doors;
From orchards near and far away
The gray wood-pecker taps and bores,
And men are merry at their chores,
And children earnest at their play.
The larger streams run still and deep;
Noisy and swift the small brooks run.
Among the mullein stalks the sheep
Go up the hillside in the sun
Pensively; only you are gone,
You that alone I cared to keep.
Edna St. Vincent Millay