Handy Teacher Recipes
by The Teachers.Net Community
---
April Showers Bring...Skittles Rainbows!
Items needed:
1 graham cracker
1 portion blue frosting (I use "Swish Cups" which are those small plastic cups sort of like medicine cups)
1 individual pack of skittles
1 small reeses peanutbutter cup or any other candy with "gold" wrapping on it (for those that may be alergic to peanuts)
1 paper plate
1 popcicle stick for spreader
Directions:
Put a graham cracker on the paper plate. Use the spreader to spread blue frosting (the sky) on the graham cracker. Put on Skittles in the shape of a rainbow. Don't forget ROY G. BIV That's the way to remember the colors of the rainbow in order so you're rainbow is "Beautifully Correct"! Add your reeses peanutbutter cup at the end of your rainbow for good luck then eat and enjoy!
Posted by Deborah Dees in a Teachers.Net mailring
---
Dental Health Activity and Recipe
Here is a "tooth" recipe for dental health month or any time of year during a health unit. Use apples and sugar smacks type cereal for teeth that are not healthy.

Apples and mini marshmallows represent teeth that are healthy. (Last year we used peanut butter as a "glue" but it was messy so we didn't use it at all this year.)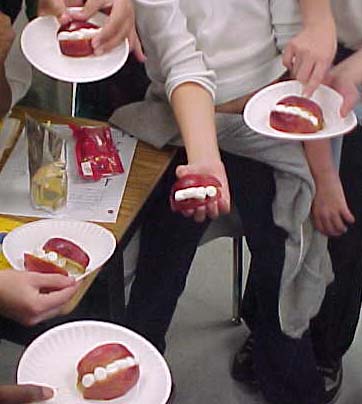 I halved the apples and then quartered them and then slit the quarters in two to form two lips. Each child got two lips and about 10 sugar smacks. They opened the lips and put the the smacks inside to form "rotten" teeth. They did the same thing with 2 more "apple lips" and mini marshmallows to form "healthy teeth".
Submitted by Sherri McWhorter, Gr. 3
---


About Handy Teacher Recipes...

If you have a favorite recipe that would be of particular interest to fellow teachers, please consider sending it to recipes@teachers.net.
---
Best Sellers

Recipe Hall of Fame Quick & Easy Cookbook : Winning Recipes from Hometown America (Quail Ridge Press Cookbook Series.)
by Gwen McKee (Editor), Barbara Moseley (Editor), Tupper England (Illustrator)
$19.95 from Amazon.com
More information

Pillsbury One-Dish Meals Cookbook : More Than 300 Recipes for Casseroles, Skillet Dishes and Slow-Cooker Meals
by The Pillsbury Co. (Editor)
$17.46 from Amazon.com
More information

Quick Meals for Healthy Kids and Busy Parents : Wholesome Family Recipes in 30 Minutes or Less from Three Leading Child Nutrition Experts
by Sandra K. Nissenberg, Margaret L. Bogle, Audrey C. Wright
$11.96 from Amazon.com
More information
---

Send your favorite recipes to recipes@teachers.net