Printables
You need Adobe Acrobat Reader to open these files. If you don't have it, get it here - Adobe Acrobat Reader - Download
Tic-Tac-Toe Homework
from Jennifer Poe
aka jenny/2/oh
---
This idea for tic-tac-toe homework was contributed by Tina/OK. The teacher fills all nine squares of the grid with homework activities, and the children must choose three to complete which connect in a "tic-tac-toe." Some children will complete all nine. The homework is sent home on Friday and returned on the next Friday to give parents some flexibility.
Something that Tina suggested which has proven beneficial is to try to keep the squares the same from week to week. For example, the top left square always contains science homework. This will make it easier to fill the grid each week. I always try to make the homework as meanigful and open-ended as I can, as opposed to sending worksheets all the time. I use the "Homework Series" book [Creative Teaching Press] for my grade level for homework ideas.
Parents in my classroom were very happy with the flexibility which tic-tac-toe homework gave them, and were full of compliments.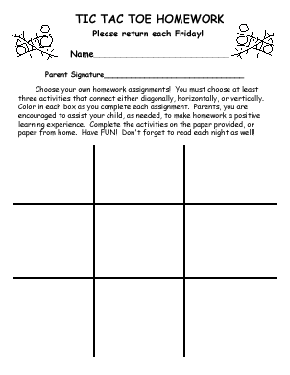 click the image for the printable file
---
Literature Circle Role Sheets
from Donna Baker
---