Teacher Feature...
Meet our Antarctic Guide
A conversation with
USCG LT Marshall Branch
by Kathleen Carpenter, Editor in Chief
---
Coast Guard LT. Marshall Branch is the officer and helicopter pilot who initiated and will be coordinating the e-mails from Antarctica Project with Teachers.Net and classroom teachers who sign up to participate. Teachers can sign up for Operation Deep Freeze e-mails until October 20, 2002 by writing to LT Branch: jbranch@atc.uscg.mil. Following is the transcript of an interview Gazette Editor Kathleen Carpenter conducted with LT Branch.
Editor: Lt. Branch, what prompted you to initiate contact with Teachers.Net seeking alliances with teachers for Operation Deep Freeze in Antarctica?
LT Branch: My mother and wife are both elementary teachers so I have a soft spot for supporting projects that can make learning more interesting for the students. And both have done Antarctica lesson plans in the past. It seemed like it would make it that much more interesting for the kids if they could get news from someone actually there.
Editor: Has a large scale liason like this happened in the past?
LT Branch: I am not sure about large-scale liaisons from the past. In talking with other pilots, I believe that some of them have written letters to local Mobile [Alabama] area schools. I thought this would be a great opportunity given the access websites like yours provides to a nation-wide classroom audience.
Editor: Other than the articles you will contribute to the Teachers.Net Gazette each month, what will be your involvement with participating teachers and classrooms during Operation Deep Freeze?
LT Branch: I will be one of the helicopter pilots assigned to the project, so I will personally answer correspondence from classrooms and send photographs of interesting sights. I'm really just a pilot who wanted to volunteer our experiences to the kids, with the endorsement of my command.
Editor: You've shared that your mother and your wife are teachers. Have other teachers influenced your development in any significant way?
LT Branch: I had some incredible teachers that played a major part in my development. I was fortunate to grow up in a very academically oriented public school system in Houston, TX (we had all of the astronauts and rocket scientists from NASA in our neighborhood). In particular, Mr. Glenn Bridges (5th Grade) and Mrs. Rita Johnson (10th Grade World History) took a special interest in ensuring that I lived up to my potential. They got to know me as a person and went the extra mile to develop my abilities as well as my self-confidence and sense of potential. With their encouragement, I had no doubts about collegiate success and I will never forget the genuine interest they had in my life. That's the great thing about teachers, ask anyone out there who has experienced any level of success and they will be able to tell you the name of at least one teacher that helped them attain that success. And the amazing thing is, they do it with incredible enthusiasm, with little pay, sparse recognition, and almost no appreciation from the general public for how much time, energy, and money they spend on their kids.
Editor: Where did you receive your Coast Guard training, and what have been some of your assignments?
LT Branch: I graduated from the Coast Guard Academy (http://www.cga.edu) in New London, Connecticut in 1995 with a B.S. in Management, and a commission. I spent two years as a Deck Watch Officer (ship driver) and Law Enforcement Officer (led boarding teams on counter narcotics stops in the Caribbean) aboard the 210-foot Coast Guard Cutter DAUNTLESS in Galveston, Texas from 1995-1997. I attended Navy Flight School in Pensacola, FL from 1997-1998 and was assigned to fly the HH-65A Dolphin Helicopter in Port Angeles, Washington from 1998-2002. I was transferred to Mobile to join Polar Operations in July. I have approximately 1500 hours of flight time and continue to love my job.
Editor: What inspired you to pursue a career as a Coast Guard pilot?
LT Branch: I grew up in Houston, Texas just down the street from Johnson Space Center. Ever since I could remember, I have always wanted to be a pilot. A lot of my friend's fathers were associated with NASA, a couple of them even astronauts. I believe that the heavy military presence, including Coast Guard, in the area, combined with my father's strong sense of civic duty and honor, facilitated an undeniable desire to serve in the armed forces. The mission of the Coast Guard (search & rescue, law enforcement, etc.) greatly appealed to my sense of service and the aviation opportunities closed the deal.
Editor: There must be people who will miss you while you're away for Operation Deep Freeze.
LT Branch: I have been married for 6 years to the most amazing woman and we now have a 1-year old boy.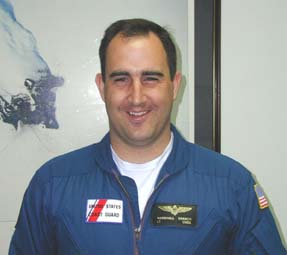 ---
Operation Deep Freeze Gazette Articles:
---
Browse the latest posts from the High School Chatboard: