Teacher Feature...
Operation RubyThroat: The Hummingbird Project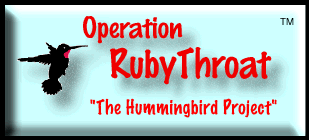 by Bill Hilton Jr. Executive Director
Hilton Pond Center for Piedmont Natural History
---

"Everybody loves hummingbirds, and they are wonderful tools to excite students about learning."
That quote from a classroom teacher is the basic premise of Operation RubyThroat: The Hummingbird Project, an innovative, international, cross-disciplinary initiative through which students, teachers, and others collaborate to study behavior and distribution of Ruby-throated Hummingbirds (Archilochus colubris).
The project is an outreach endeavor of Hilton Pond Center for Piedmont Natural History, a 501(c)(3) non-profit education and research site near York, South Carolina. Since its founding in 1982, the Center has been the most productive bird banding station in the Carolinas and one of the most active in the southeastern U.S. It is also a popular field trip location for K-12 students, education interns, teachers, college classes, conservation groups, garden clubs, and civic organizations from across the region and beyond. The extensive education and research work of the Center is described in words and photos at www.hiltonpond.org.
Bill Hilton Jr., founder and executive director of the Center, is the facility's primary research scientist. Hilton is Principal Investigator for Operation RubyThroat and is licensed by the federal Bird Banding Laboratory to capture wild birds, place bands on their legs, and release them unharmed.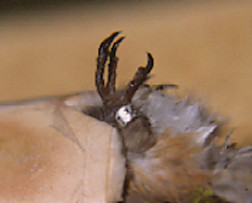 a band on the leg of a Ruby-throated Hummingbird
"Banding is one of the most important tools in helping us learn about bird migration," Hilton said, "and about other things we wouldn't know about birds, including longevity, site fidelity, and population dynamics. But bird banding is also a useful educational tool, and nothing I've ever done with students excites them more than catching a bird, banding it, and releasing it back into the wild. Learners of all ages can benefit from banding birds, and since everybody loves hummingbirds, I see working with these tiny feathered creatures as the ultimate bird banding experience."
It was this dual interest in bird banding and hummingbirds that gave Hilton the idea for "Operation RubyThroat: The Hummingbird Project," a unique initiative that challenges, connects, and teaches student observers through the Internet. In Operation RubyThroat, participants observe the Ruby-throated Hummingbird in their home countries and share information with peers across North and Central America. Students make observations on such hummingbird behaviors as early arrival dates during spring migration, numbers of visits to hummingbird feeders, and species of native and cultivated flowers that are visited by hummingbirds. Data are submitted to Hilton Pond Center, which then assists participants in disseminating write-ups of their work through scientific and education publications and/or the Operation RubyThroat Web site (www.rubythroat.org). Participants learn about natural history; reinforce skills in math, science, writing, geography, art, language, and other disciplines; AND gain deeper understanding of the need for environmental cooperation among people of the Americas.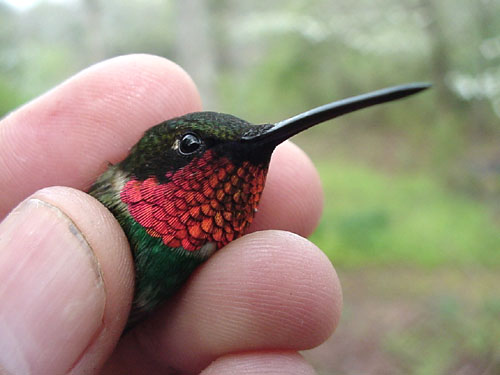 an adult male Ruby-throated Hummingbird showing a full red gorget. (Females and young males lack the red throat.)
Because hummingbirds tolerate humans and are drawn to feeders and flower gardens, these tiny birds are ideal subjects for observation and research. In addition, the general mystique of hummingbirds makes them a stimulating topic for study and discussion among children and adults of all ages. Operation RubyThroat capitalizes on such interest to raise in its participants an awareness of natural history and of the interconnectedness---and mutual conservation needs---of countries in the Western Hemisphere.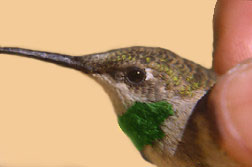 a banded female Ruby-throated hummingbird from Hilton Pond in York SC. She has been color-marked with green dye on the throat to enable re-sightings away from Hilton Pond.
In Year One (2001-2002 academic year), participants in Operation RubyThroat were at schools in the Carolinas and New York. In Year Two, the project expands to include participants in 38 states and Washington DC, and in Year Three to Canada, Mexico, Belize, Costa Rica, El Salvador, Guatemala, Honduras, Nicaragua, and Panama---everywhere Ruby-throated Hummingbirds regularly occur.
Although many teacher/student groups are using Operation RubyThroat to enhance science learning, Hilton is quick to point out that this is "not just a science project." Operation RubyThroat is, by design, a cross-curricular project that encourages teachers to incorporate science into other disciplines, and vice versa. For example, when a science class studies hummingbird migration, students also learn about geography; or, when they generate graphs showing how many times a hummingbird visits a feeder in a day, students master math and computer skills. Likewise, when an art teacher has students observe hummingbirds and make sketches, her students will learn about hummingbird morphology, as will a drama teacher who assigns his students to write and perform a play based on hummingbird behavior. In keeping with current trends in education, Operation RubyThroat activities are correlated with Howard Gardner's theory of "Multiple Intelligences."
One of the most compelling aspects of Operation RubyThroat principles is that they can be used with students at any grade level. Students in elementary school learn to make simple observations about hummingbirds, while advanced high school biology students conduct hummingbird research projects worthy of publication. Teachers have used Operation RubyThroat report that project principles excite students about science, yield demonstrable improvement in science learning, AND "align perfectly with state and local curriculum standards."
The main goals of Operation RubyThroat are the "Eight E's":
Enhance K-12 learning in science, particularly conservation & natural history
Enlighten students about environmental factors that affect hummingbirds (and humans)
Excite students about field research & potential careers in ecology & related areas
Emphasize integration of natural science learning into all science disciplines, as well as into math, arts, and humanities
Establish "Schoolyard Hummingbird Habitats" to demonstrate the value of small-scale conservation efforts
Expand student use of technology, especially in the natural sciences
Encourage international understanding by building student & teacher networks in the Western Hemisphere
Export an exemplary program that serves as a model for other cross-disciplinary and technology-related projects that focus on new topics (other than hummingbirds)
In March 2002, exciting new animal behavior protocols designed through Operation RubyThroat became available for worldwide use by schools participating in The GLOBE Program, an established on-line environmental learning project. Students at GLOBE-certified schools make scientifically valid observations about behavior and ecology of Ruby-throated Hummingbirds and submit them to the GLOBE Web site via on-line forms. Students in countries where ruby-throats breed (U.S. and Canada) or overwinter (Mexico and Central America) also submit data about more traditional GLOBE protocols, including atmosphere/climate, hydrology, soils, land cover, and phenology. All this information is examined on-line for possible correlations, perhaps allowing students and cooperating scientists to see the impact of environmental factors on hummingbird activities. For more information about The GLOBE Program, visit its Web site at www.globe.gov.
Hilton Pond Center has received nearly $300,000 in grants, corporate donations, and individual gifts to begin implementing Operation RubyThroat. Primary donors include The Christensen Fund and Agilent Technologies Foundation ($35,000 each), National Fish & Wildlife Foundation and Phillips Petroleum Bird Conservation Fund ($17,500 each), Foundation for the Carolinas Impact Fund ($6,000), and Perky-Pet Corporation ($2,000). The National Science Foundation recently awarded a 42-month grant of $180,000 to strengthen the ties between Operation RubyThroat and the GLOBE program. General funds also will allow Hilton to visit a number of schools in the U.S. and---if "Schoolyard Hummingbird Habitats" are in place and attracting hummingbirds---to involve local students in the capture and banding process.
Details about how to join this exciting Internet-based learning initiative are outlined on the Operation RubyThroat Web site at www.rubythroat.org and---for GLOBE-certified schools---at www.globe.gov. Teachers may contact Hilton Pond Center via e-mail at info@rubythroat.org for more information about Operation RubyThroat. (Anyone can request a free subscription to a regular series of photo essays called "This Week at Hilton Pond" by sending a blank e-mail to info@hiltonpond.org with "Subscribe' in the subject line.)
Photos and logos courtesy of Bill Hilton Jr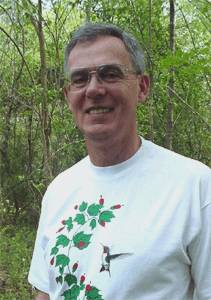 ---
Browse the Science Teacher Chatboard at
http://teachers.net/mentors/science