In Focus...
---
Planetary Society Launches Campaign For New Pluto Generation
"Wouldn't it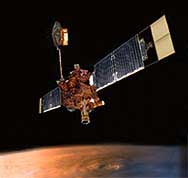 be cool to go to Pluto?" asks a new Planetary Society web site that helps kids let Congress know what they think about sending a spacecraft to visit the last planet in our solar system.
The Planetary Society has been campaigning for a Pluto mission ever since work on NASA's Pluto-Kuiper Express mission stopped in fall 2000. Now the Society invites young people to express their views about exploring Pluto.
"Pluto is cool -- actually very cold," notes Bill Nye the Science Guy, a member of The Planetary Society's Board of Directors. "But there is a lot about it we don't know, and that is why we should go now. Kids today will be coming of age and reaping the benefits of our new knowledge when a spacecraft reaches Pluto."
The Planetary Society wants to introduce Pluto to the generation that will be supplying future planetary scientists. Even if NASA funds a new Pluto mission to launch in 2004, the soonest the spacecraft could reach Pluto is 2012. Some of the kids sending messages to Congress today could be part of that mission science team in the future.
The Society has not forgotten the grown-ups either. It continues its long-running web campaign where Pluto supporters can log in to send messages to Congress. It has also turned up the heat by asking its 100,000 members to write to Congress on postcards included in the latest Planetary Report, the Society's bimonthly magazine. A different campaign last year elicited 10,000 post cards in support of a Pluto mission.
That strong response helped convince Congress to ask NASA to keep the option of a Pluto mission alive. In December, 2000, NASA issued an Announcement of Opportunity for principal investigators and institutions to submit proposals for a new mission to Pluto. NASA is now evaluating those proposals.
The reason it is urgent to send a mission to Pluto now rather than later is that some scientists believe the thin atmosphere of Pluto will freeze to the surface as the planet moves in its orbit further from the Sun. We'd then have to wait over 200 years for the next thaw to occur some time around 2230. The longer a mission is delayed, the more likely it will be that we will lose the opportunity to study Pluto's atmosphere.
Nye added, "Pluto is a planet, and the things we learn there will help us better understand and take care of our home world here."
Children and adults can log on to The Planetary Society's website at http://planetary.org to send their messages directly to Congress.
THE PLANETARY SOCIETY:
Carl Sagan, Bruce Murray and Louis Friedman founded The Planetary Society in 1980 to advance the exploration of the solar system and to continue the search for extraterrestrial life. With 100,000 members in over 140 countries, the Society is the largest space interest group in the world.
MEDIA INFORMATION: THE PLANETARY SOCIETY
For more information or to arrange interviews, please contact Susan Lendroth at (626)793-5100.