In Focus...
---
Lucas Series Documents Importance Of Comprehensive Teacher Prep Programs
San Rafael, CA -- Teacher shortages in urban and rural areas have resulted in many new teachers entering classrooms on emergency credentials with little or no experience and few support mechanisms. The George Lucas Educational Foundation (GLEF) has released a new series documenting the importance of comprehensive teacher preparation programs. The series, available at http://www.glef.org/tphome.html, includes articles, numerous strategies and resources for program reform, and four short videos profiling exemplary programs where student teachers practice in real classrooms, connect with mentor teachers, and develop technological expertise.
"Many organizations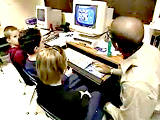 and reports have called for reforming the preparation of new teachers, to both meet the teacher shortage and prepare teachers who know their subjects well, are skilled in the use of technology, and can teach students from diverse backgrounds," explains GLEF Executive Director Milton Chen. "Our new Web content and videocassette help educators and the larger public visualize what these new Digital Age teachers look like and what schools of education can do to produce more of them. "
Over 20 national experts and program representatives participated in interviews for the series. Visitors to the GLEF.org Web site can hear from the leaders of the National Education Association, American Association of Colleges for Teacher Education, National Council for Accreditation of Teacher Education, and others. Linda Darling-Hammond, a professor at Stanford University's School of Education explains, "In the last 10 years there's been a lot of research done about what makes a difference for student achievement, and it's now clear that one of the most important determinants of what students learn is what their teachers know." Among the programs profiled in the series are: a five-year graduate program at the University of Virginia's Curry School of Education; Colorado State University's Project Promise, a one-year program for career-switchers; and Generation www.Y, where elementary, middle, and high school students help veteran and prospective teachers use technology in their lessons.
About The George Lucas Educational Foundation (GLEF) The George Lucas Educational Foundation (www.glef.org) documents and disseminates exemplary models of K-12 teaching and learning in the Digital Age. The Foundation serves this mission through the creation of films, books, newsletters, CD-ROMS and Web-based materials. Because school reform requires the collaborative efforts of many groups, GLEF creates media to be used as tools for an audience that includes teachers, administrators, parents, school board members, researchers, policymakers, and business and community leaders. Short videos and selected interviews from the "Teacher Preparation" series are available on videocassette and can be purchased through the GLEF online store (http://www.glef.org/products.html).