Handy Teacher Recipes
by The Teachers.Net Community
---
Caterpillar Cake
Ingredients:
1 cake mix (any flavor)
Vanilla icing
Green food coloring
Candy to decorate
Tube of pink, yellow decorating frosting (Betty Crocker)
Make cake according to directions on the box in a bundt pan.
After cake cools, cut cake in half and put in an s shape.
Mix green food coloring in the vanilla frosting. (I used a whole little bottle of food coloring in one can of frosting).
Spread frosting on cake.
Decorate with candy. I used red licorice for the antennaes and chocolate chips for the eyes.
[Editor's note: Use red frosting for the head segment to make it look like Eric Carle's Very Hungry Caterpillar.]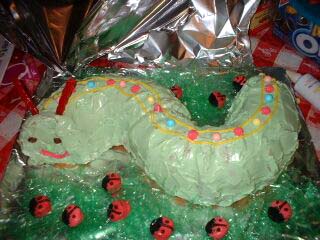 Ladybugs
Ingredients:
Mini oreos
Vanilla frosting
Red food coloring
Tube of Chocolate decorating frosting (Betty Crocker)
Mix red food coloring into the vanilla frosting until it is the color desired.
Put in microwave for about a minute.
Dip the mini oreo in the frosting 3/4's of the cookie. Rock the oreo from side to side until covered.
Put a stripe in the middle of the red frosting and two dots on either side with the chocolate decoraters frosting.
I put mine in the freezer to let harden.
Enjoy!
from: Kelli Wilson
---

Mrs. Ferguson's Snickerdoodles
(This recipe makes 3-4 dozen cookies.)
Cookie Ingredients
2 ¾ cups all-purpose
1 ½ cups sugar
1 cup real butter
2 eggs
2 teaspoons cream of tartar
1 teaspoon baking soda
1 teaspoon vanilla
¼ teaspoon salt
Sugar-Cinnamon Ingredients
3 TABLESPOONS sugar
1 ½ teaspoons ground cinnamon
(stir this together in a small bowl)
Cookie Ingredients Sugar-Cinnamon Ingredients
Utensils Needed
1 large mixing bowl
large spoon for mixing
1 medium mixing bowl
measuring spoons
measuring cups
ungreased cookie pans
cooling racks
kitchen timer
fork
This is what you do:
Make sure an adult is around when you bake these!!!
Wash your hands with soap,
And if you have long hair, tie it back.
Preheat oven to 400. In large mixing bowl, cream the butter, then add the sugar and cream again till mixture is nice and smooth. Put the eggs in a little cup and beat with a fork, then add to the creamed stuff in the bowl, then add the vanilla, and cream again.
Using a fork, stir the cream of tartar, baking soda and salt together in the medium bowl, then add it to the creamed mixture about one cup at a time, and mix it well.
Take a hunk of cookie dough, roll it between your palms till it's about the size of a large marble, then roll it in the sugar-cinnamon mixture and put it on the cookie pan. (Place the cookies about 2" apart.)
Bake at 400 for 8-10 min. till edges of cookies are just lightly browned.
Let cookies sit on the pan for a few minutes, then remove to cooling racks.
Try hard not to eat too many before you bake up all the dough.
Be sure to wash up everything that needs it, and wipe off the counter, too.
These cookies are GREAT for dunking in a cold glass of milk, or (in the winter) a cup of hot chocolate.

YUMMY YUMMY YUMMY IN THE TUMMY TUMMY TUMMY

Magoo
---
Dirt pudding
from Clay Robinson, Ph.D., CPSSc (alias Dr. Dirt)
Associate Professor of Soils, West Texas A&M University
http://wtfaculty.wtamu.edu/~
crobinson.anns/soils/dirtpud.htm
Basic Recipe
3½ cups cold milk
2 pkgs. (4 serving size) JELL-O® Instant Pudding
1 tub (12 oz) COOL WHIP® Whipped Topping, thawed
1 pkg. (16 oz.) Chocolate sandwich cookies, crushed
HINT: Crush cookies in zipper-style plastic bag with rolling pin or in food processor.
MAKE pudding as directed on package using 3½ cups milk; let stand 5 minutes.
STIR 3 cups of the whipped topping and ½ of the crushed cookies into the Jello OR alternate layers of crushed cookies and Jello/whipped topping.
SPOON into 13" x 9" dish. Sprinkle with remaining crushed cookies. Refrigerate 1 hour.
Robinson's modifications:
Use a glass bowl to allow the profile characteristics to show.
Use a variety of food items to get different colored layers (horizons):

crushed vanilla sandwich cookies
crushed vanilla wafers,
crushed graham crackers
Grape-Nuts
Use coconut mixed with green food coloring for grass.
Put the pudding mixture in the center and the dry ingredients around the outside. I often make one for eating and one for display. The display versions are drier.
Use raisins, chocolate chips, etc. for rock outcrops. Gummy worms, frogs, etc. add animal life. Some will put a flower in the top.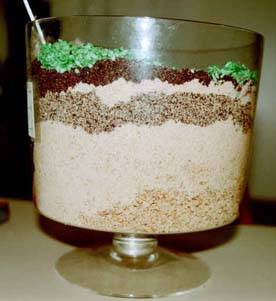 For additional information see - http://wtfaculty.wtamu.edu/~
crobinson.anns/soils/dirtpud.htm
---
Gazette Recipes:

Send your favorite recipes to recipes@teachers.net