What's New at Teachers.Net...
by Bob Reap
---
Soliciting Letters to the Editor!
Teachers.Net wants to hear your thoughts about vouchers, homeschooling, gun safety, educational legislation, politics, and more. Every month Teachers.Net provides space for you, our teachers, to express your ideas and feelings about the current state of education in your community or around the world. Visit and bookmark our Letters to the Editor section, and contribute your thoughts each month. Help push the dialog and be a positive force for change!

Send Us Your Stories and Photographs!
Teachers.Net is actively soliciting stories, photos, and articles from teachers everywhere. Teachers, now's your chance to get your name in the Teachers.Net Gazette, and help support the only on-line publication by teachers, for teachers. Send original stories and articles, press releases, image and video files, and other items of interest to our community to Bob Reap at editor@teachers.net.

Teachers.Net Adds English Center to Line-Up
This month Teachers.Net released the new Teachers.Net English Center, an on-line networking center dedicated to teachers of reading and writing at all levels. New resources included in the English Center include the High School English Chatboard, the Reading & Writing Chatboard, the new Book Talk Mailring, and we've assembled all of the reading and writing resources on Teachers.Net in one easy location, found at http://teachers.net/english/. Reading and writing teachers are encouraged to bookmark this URL and spread the word to colleagues everywhere.

Upcoming Featured Speakers and Workshops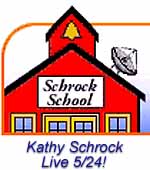 This month Teachers.Net is proud to announce a special visit from renowned ed-tech guru Kathy Schrock. Ms. Schrock, creator of the hit website "Kathy Schrock's Guide for Educator's", will be live in the Teachers.Net Conference Room Wednesday, May 24, to answer teachers' questions about integrating technology in the classroom. Jot down your most challenging ed-tech questions and join us for a fun and informative evening.

Other exciting live events this month include student and beginning teachers mentor Emma MacDonald on Thursday May 11, Isabell Cardonick, co-author of Kid Writing on Tuesday May 23, Teachers.Net columnist Beth Bruno on Thursday May 25, School Legal Issues with Sarah E. Redfield, (Education Law Institute) on Tuesday June 6, and Author Mary Ann Kohl (Art in the Early Childhood Classroom) on Tuesday June 13.
Click here for complete schedule of live meetings this month.
New Release - Ed Advocacy Chatboard
Announcing the latest addition to the Teachers.Net teacher network - the Ed Advocacy Chatboard. Plug into the latest issues in teaching and educational legislation. Education is a hot topic in local and national elections this year - help direct the dialog by making your voice heard in the teacher community. Visit the new Ed Advocacy Chatboard and contribute often.
Gatherings in CO, PA, No California, San Diego, and the U. K.!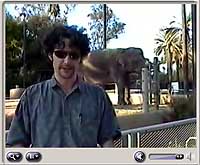 Teachers are making plans for Summer gatherings in idyllic locations, read our article and attend one near you! This Summer Teachers.Net teachers will be descending on locations in the beautiful Rocky Mountains, in scenic Pennsylvania, northern California, San Diego, and even "across the pond" in the U. K.! Click here for full details, links to our Gatherings resources, and to watch a quick RealVideo clip from Bob Reap at the San Diego Zoo!
New - Private School Teachers Mailring
Private school teachers, we've just created a new resource just for you! Join our new Private School Teachers Mailring, and share ideas and support with other teachers in private school environments everywhere. Subscribing is a snap - just visit the Teachers.Net Mailrings Page, select the Private School Mailring, supply your email address, and full mailring instructions will arrive by email. Join a network of your colleagues around the globe - hope to hear from each of you on the new Mailring!
Using Sign Language in the Classroom
This month

New Management's Rick Morris helps teachers explore using sign language in the classroom. Rick covers some basic concepts and provides illustrated examples of simple signing for the beginner. Find out why Rick says "Sign Language is one of the five things I would never teach without." Read the full article here.

Enter to Win Judy Clock from EducatorsMarket.com
Enter to win the famous

Original Judy Clock from EducatorsMarket.com, the official K-12 Supplier for Teachers.Net. The Judy Clock makes learning to tell time simple and fun for children. Visible functioning gears maintain correct hour hand and minute hand relationships. Easy-to-read numerals show elapsed time in five-minute intervals. The permanently assembled wood clock is 12 3/4 x 13 1/2. Handy metal stand and teaching guide are included. For details on how to win, visit our K-12 Supplies Center and enter to win today!


Coming Soon
Stay tuned to Teachers.Net for some exciting additions in the weeks ahead. New additions to the Gazette include plans for more interactive content, including hot-topic chatboards and polls, classroom software and products reviews, best of the Web guides, and much more. Subscribe to the Gazette Mailring and tune in each month for the latest word from Teachers.Net.