Teacher Feature...
---
Class Plans to Reunite after 21-years to Review Year 2000 Predictions
St. Louis, MO - April 20 -- Many teachers make a point of planning their lessons well in advance. However, in 1979, Jackson Park Elementary teacher Linda Green took her lesson plan straight into the 21st Century! On June 20, 2000, at 2 p.m., members of Green's 1979 fifth grade class, now adults, some with children of their own, will reunite under the Gateway Arch, just as they planned twenty-one years ago.
Green said she picked the date, June 20, 2000 because she thought the 10-year-olds would remember a date with so many zeros! Organizing the meeting in June also seemed to be more likely to fit into the busy adult schedules that Green knew they would have down the road. After all, Green was exactly 32-years-old when she agreed to the rendezvous in 2000. This year, some of those students will be turning 32. She added, "I also knew that as a teacher I would not be working on June 20!" Green said the January 10, 1979, issue of the Weekly Reader encouraged readers to write their own predictions what the world would be like in the year 2000.
At the time, Green was a new teacher, just starting out at Jackson Park in the School District of University City. As part of her homeroom exercises, she thought it would be great fun to ask approximately 31 fifth graders to write down their predictions. The class speculated about what they would be doing, what they would be like, how the world may have changed and even, what type of fancy car the sporty, Corvette-loving Ms. Green would be driving! "Then we made a special pact." Green said, "We all agreed that on June 20, 2000, wherever they were in life, they would try to make it back to class to review their original writings and see just how close they were."
In many cases, their predictions were surprisingly accurate. They foresaw video telephones, televisions that "come out of the wall" (Consider the new flat screens!), computers in homes, and teachers coming into homes to give homework. (Through computers, this is now possible.) They also predicted advances in the use of solar power when they wrote of glass bubble homes and "homes that would have sun shining through the house to make heat" and spacesuit clothing. (Have you seen some of the designer clothes today?) Some of the more imaginative predictions include plastic money, homes in the air, child robots and rocket rides to the Moon, Pluto, Venus and Mars.
These students, now doctors, lawyers, and parents and more are planning to keep their promise and return to meet their class and open a virtual time capsule of discussion. Green, herself a product of Jackson Park and a graduate of University City High School says, "I have not made even one reminder call, yet students have been calling me and parents will stop me to ask if the meeting is still on for June!"
"I have seen many of these kids over the years. One even has a student at Jackson Park right now." She added, "I see them in the community and all we have to do is look at each other and they immediately look as if to ask, "when?" Green said she received a call at school recently from one of her students who is now living in Denver and planning to put in for vacation time so that she can come into town for the reunion.
Following their meeting on the Arch grounds, Green has arranged for the group to walk to the Spaghetti Factory where they will be able to have a leisurely lunch and talk over old and new times. Green said, "I don't plan to call them up to remind them. That's part of the exercise. I want to see if they remember."
And, if any of those classmates are still speculating, the still sporty Green drives a 1998 silver Corvette!
Excerpt of Predictions from Green's Fifth Grade Class of 1979
Please note the following are in the students' exact wording (and spelling).
The Year 2000 by Robert
"The year 2000 will be a good year. People will be dancing in the air. People will be able to see the person they are talking to on the telephone by looking at a screan. Schools will be for children and for children robots. The cars will be able to fly like airplanes. There will be rockets to take you to other planets. There will be televisions that will be in the wall. There will be computers in your homes. Homes will be up in the air. There will be people movers to take you from on place to another when you are shopping. Vans will have jet powered engines. People will have space suits on while walking on the street. When Ms. Green sees me in the year 2000 I will be an atchitect that designs bulding and homes. My transport will be a van and two cars. I will have my own house. I have a boy and a girl and I will not be poor."
The Year 2000 by Greg
"In the year 2000 vehicles will not have wheels. They will have lazer beems at the bottom of them. You will have houses made out of balloons and they will float in the air so no robbers could steal anything out of your house. All you have to do is say your magic word so your house could some right to you and not the robber. In your house you have a television that comes right out of the foot of your bed. For food when you are hungry an animal comes to your house and lets you eat him.
People might be in space suits with a jet pack on back of the person. Beds will just come out of the walls.
In the year 2,000 I will be 32 or 33 years old. I might be a truck driver and I'm going to be married and have about 1 Or 2 kids. I'm going to be driving a Transam car."
The Year 2000 by Joey
"I will predict that the education will be on tapes on television instead of school. I think the food will be in little tablets. I think the styles will be wearing spacesuits. I think fuel will be gasoholic. I think transportation will be in helicoptors. I think crime will be up, because the United States will have bigger and better equipment. I think that we will have computer telephones where you can see who you are talking to. I think the money will be the same as today. I think the homes will be huge glass bubbles. The cost of houses will increase. The toys will be the same. The sports will be the same. I think my looks will be the same. The art will be more detailed. The jods will be the same. There might be rocket rides to the Moon, Pluto, Venus and Mars."
The Year 2000 by Catherine
"Education - I think the teachers will just to the kid's home and give them schoolwork. That way the city would have more room for buildings.
Homes - The homes would have sun shining through the house to make heat. The homes will also be one large room.
For transportation - I think there will be a different kind of bike. You could go any mile you like below 20 m.p.h. If you became tired you would turn a switch that made the pedals move.
Entertainment - A new game made form these sports: baseball, basketball and soccer. Those games would be mixed into one different complet new game.
Economy - Instead of paper dollars made from wood, people would use plastic squares for dollars. For nickels, dimes, pennies and quarters, they would be round and made out of plastic.
Styles - The styles for ladies will be a gib top of curly hair. The girls could wear short, long, curly, or strait hair. The men and boys would wear long, middle or short hair.
My future - In the year 2000 I think I will have one child. I hope I'll live in a nice neighborhood and arpartment. My neighborhood will have children and parks. I hope I'll be a scientist or chemicals. My apartment will have two bedrooms. The living room, dining room and kitchen will be a nice size. My furniture will probably not be modern. To keep in shape I will run or go biking."
---
Linda Green (back row: far left) along with her 1979 fifth grade class at Jackson Park (listed below). Now 31- and 32-years old, the students will reunite under the Gateway Arch on June 20, just as they planned twenty-one years ago.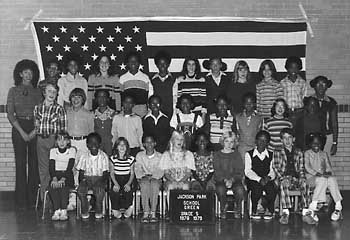 (Front row: left to right) Becky Klein, Phil Hendricks, Catherine Luzkow, Robert Hall, Tracey Bannes, Rae Morrow, Suzy Crew, Paul Brown, John Lammert, unknown; (middle row) David Zuckerman, John Belone, Debra Hurd, Ivan Hudson, Robert Jackson, Cheryl Hicks, unknown, Greg Gibson, unknown, unknown; (back row) Derek Williams, Darren (Duke) Johnson, Shana Cohen, Michael Brownley, Wayne Combs, Debra Feldacker, Kim Dudley, unknown, Bridget Lithicum, Joey Bonner, and Tasha Conelly.