Teacher Gatherings Spreading Like Wildfire!
by Bob Reap
---
Teachers.Net teachers everywhere are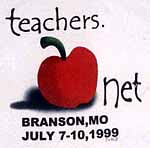 gearing up for gatherings this Summer, embarking for destinations in Colorado, northern California, Texas, Pennsylvania, San Diego, and even across the pond in the U.K.! The excitement is building as longtime friends will finally come face to face with their colleagues they know so well.

These teacher gatherings are planned and funded entirely by the teachers who will attend. With no prompting or assistance from anyone, these teachers have already planned and hosted gatherings for Teachers.Net teachers in such destinations as the Smokey Mountains in North Carolina, the showplace capital Branson, Missouri, Old Sacramento, California, the Gold Coast of Australia, and half a dozen other locations around the country and globe.

To encourage these community-building adventures, Teachers.Net has provided a chatboard dedicated exclusively to teachers planning and attending Teachers.Net gatherings. Teachers are encouraged to visit and bookmark the Gatherings Chatboard at http://teachers.net/mentors/gatherings/. There is also a companion mailring which can be joined at http://teachers.net/mailrings/.



U.K. Teacher Gathering May 27th!
---
U.K. teachers, pack your bags and converge on London Saturday May 27th. The effervescent Skippy! will be coordinating this event, and promises "a day of food, drink, laughs, site-seeing and of course chat :-)". Those who are able are encouraged to stick around and meet up again on Sunday for "more of the above." For complete details, bookmark the U.K. Gathering Switchboard below, and subscribe to the Gathering Mailring at the top of the Gatherings Chatboard.


San Diego Gathering July 13-16!
---
Not to be left out of the fun,. Teachers.Net is planning a gathering of our own, hosted here in our hometown, beautiful San Diego, California. Events slated for the July 2000 San Diego Gathering include a Padres baseball game, a visit to Sea World, dinner in the historic Gaslamp District, a picnic on the beach, and a day at the world-famous San Diego Zoo! Tentative dates for this event are Thursday July 13 - Sunday July 16, 2000. Stay tuned to Teachers.Net for complete details including itinerary and hotel, camping, and restaurant accomodations in the San Diego area. Mark your calendar now, and we'll look forward to seeing you in Teachers.Net hometown, San Diego, California!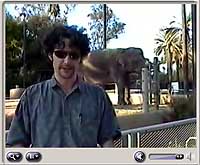 View the San Diego Gathering promotional RealVideo clip.
(Hi-Res/2.2 Mb; Low-Res/142 Kb
Northern California Gathering Mid-July
---
Plans are being forged for a gathering of Teachers.Net teachers in Northern California for mid-July. Longtime T-Net regulars Marcia and Linda will be coordinating and developing the the itinerary and act as the switchboard operators for this event. For more details, check the Northern California Gathering Switchboard, linked below, and subscribe to the California Teachers Mailring and the Gathering Mailring, linked at the top of the Gatherings Chatboard.


Teachers.Net Gatherings Sprouting Up All Over!
by Kathleen Carpenter
---
Teachers.Net isn't just the most active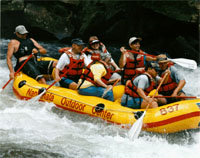 and popular Internet gathering place for educators, it also is a suprisingly effective community-building influences off the Internet as well. Since its creation in 1996, the site has spawned numerous real-life gatherings of educators eager to extend their virtual friendships to real-life encounters. Beginning in 1998, a crew of intrepid Teachers.Net teachers gathered in majestic Cherokee, North Carolina. Since that day, many enclaves of "T.Netters" have breached the cyberworld and endured interpersonal contact, at restaurants, museums, there's even talk about a Teachers.Net wedding this spring down under!

"These are spontaneous activities, planned entirely by the Teachers.Net teachers," says Bob Reap, site administrator. "We haven't done much more than list the events as we get word from the planners, and provide a fixed link on our chatboard. The teachers take it from there, adding information about accomodations, attractions, airfares and other information, and updating the group itinerary on-line as it develops."

Director of Promotions Kathleen Carpenter agrees. "These people are so enthusiastic that they are practically doing my job for me by spreading the word from coast to coast that there is something truly unique about Teachers.Net. And it isn't just the dozens of terrific free resources we offer. The warmth and vigor of the tens of thousands who rely on the site for professional and social interaction set Teachers.Net apart from other Internet sites for educators. This is a real phenomenon!"

During this Spring, a proliferation of posts on the Teachers.Net "chatboards" rallied educators by region to "Join us!" as organizers in Florida, Missouri, Texas, California, Virginia posted information about meeting places, accommodations, and activities that made each gathering unique. Mostly social in nature, some itineraries have included organized "field trips" to take in local attractions. Colonial Williamsburg, Old Sacramento, Branson, Missouri were among the sites that saw groups of T.Netters and their families enjoying their various attractions.

The 1999 gatherings found inspiration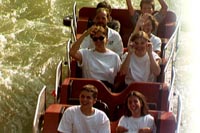 in accounts of the 1998 event in Cherokee, North Carolina which drew participants from that state as well as Michigan, California, Ohio, Missouri, Texas, Oklahoma, Georgia, and Saudi Arabia and featured a full schedule of activities, including white water rafting. Cyber-friends who admitted to some anxiety before meeting in "the real world," discovered that all came together with a surprising sense of familiarity.
"It was as though we'd known one another for eons," marveled the organizer, known on the Teachers.Net site as Bill T/3/NC. "Any traces of doubt or anxiety I had were swept away and the following days were filled with fun, fellowship and, yes, real adventure, involving everything from riding the rapids in a raft to one of our group winning $800 at Harrah's Casino in Cherokee."
The only obstacle that created a temporary problem for the group in Cherokee was the confusion caused by aliases many of the teachers use when posting on Teachers.Net message boards or chatting in the chatrooms. As is customary on the Internet, many people are known by pseudonyms, or in the case of Teachers.Net, little more than first name with grade level and state abbreviation attached.
"I received a telephone call at home in Connecticut from Cherokee, N.C. during the first morning of their gathering," laughs Kathleen Carpenter. "It was "Jude," frantic that car trouble prevented her from arriving on time for the group's initial meeting place. There she was in a hotel lobby, surrounded by people, any of whom could have been the T.Netters she went to meet. But Jude didn't know what any of the other people in her group looked like, nor did she know any of her cyber-friends' real names! 'I can't very well ask to have the desk page Goose, YENDOR and Dr. Doolittle!'"
Stay tuned to Teachers.Net throughout the Summer to keep up to date on Gathering events and breaking news.