Teacher Gatherings Spreading Like Wildfire!
Teachers.Net Gatherings are spreading like wildfire, and chances are there's one near you this Summer. In the months ahead, Teachers.Net teachers will be gathering in San Diego, Pennsylvania, Colorado, northern California, and even "across the pond" in the U.K.! Click on the link below for more details and dates, and mark your calendar for fun this Summer - come meet the people who you've come to know so well!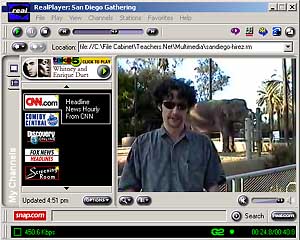 Full story
---
Signing in the Classroom
Rick Morris discusses using sign language in the classroom. Find out why Rick says "Sign Language is one of the five things I would never teach without." Full story
Are We Better Off?
Kathleen Carpenter takes it to the streets, asking the Teachers.Net community, "Are we better off now?" Check out the answers you provided to this thought-provoking question in this month's Chatboard Poll. Full story
---
Also in this issue:
---
The Teachers.Net Gazette is a cooperative publication by the members of the Teachers.Net community. If you would like to submit an article or story for publication, write webmaster@teachers.net.
---