Teacher Feature...
Gadget Lovers of the World Unite!
by Skippy
---
If you do a lot of digital photography this is a must have gadget!
New on the market in the last month this new gadget is FANTASTIC!
The Disc Steno CP100!!!!!!!!
Read all about it at one of the 3 sites I have listed here for a 'real' review and all the details of this wonder gadget...but in brief, it is a standalone and totally portable CD writer that is a card reader for 6 different cards (it supports all major memory card standards, including CompactFlash (CF) Types I/II, Secure Digital (SD), MultiMedia Card (MMC), Memory Stick (MS) and SmartMedia (SM)).
It runs from battery, AC power adaptor, or car cigarette lighter adaptor.
It does multi session recording...keep burning onto same CD R/RW until it is full.
It is ideal for digital photographers who may be away from their computers for while (on a trip/holiday etc) but want to be able to keep taking more photos on their storage cards!...burn the photos onto CD and clear the card and take more photos!
I read reviews of this gadget in photo magazines last month and have finally managed to get my hands on one today...and it really is as good as it sounds in the reviews!
This is one gadget the reviews claim will disappear off the shelves quicker than people can stack them..and I agree.
http://www.dpreview.com/news/
0304/03040401jobostenocp100.asp
http://www.meritline.com
/apmp3playmem.html
http://www.mobilemag.com/
content/100/336/C1616/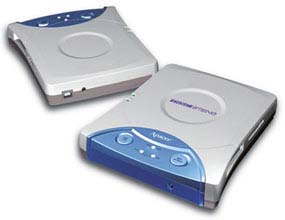 ---
Browse through the latest posts in the Mentor Center...