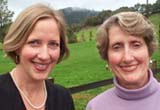 Instant Ideas for Busy Teachers...
by Barbara Gruber, M.A. & Sue Gruber, M.A.
Barbara Gruber Online Courses for K-6 Teachers www.bgrubercourses.com

(Good news! We're Approved Professional Development Providers in many states and Canada---see information on our website!)
---
Summer---the Best Time to Reflect, Gain New Ideas, Get Organized and Re-energize!
---
Yippee! You made it! It's summer! We love teaching! However, we really love the opportunity summer provides us to step away from the classroom and relax! Think about your non-teacher friends when they are on vacation. Do they have to work extra-hard to be ahead of the game before they leave for a one or two week vacation? The whole time they're gone their desks are filling up with work to be tackled upon their return. When they go back to work, it's necessary for them to put in long hours to dig out from under the piled up work. Isn't it nice to know that when we're off from school everything truly does stop? Not only do we have time to unwind; we get a fresh start every fall!
Have you made the shift from the overload mode of the hectic last weeks of school to the blissful, unhurried summer groove? We have! There's nothing like sleeping in a bit later and enjoying all those things you never have time to do! We think the best way to stay energized and enthusiastic about teaching is to use the summer break as a time to rejuvenate and relax!
Summer is also the perfect time to reflect upon your teaching, gain new ideas, get organized and re-energize! Here are our top ten favorite ways to make that happen so you can head back to school this fall recharged and ready to go!
Reflect on the school year

Spend some time reflecting upon the year you just finished. Now is the time to savor those world class teaching moments where everything was perfect! Analyze any areas that you feel need improvement. Begin to ponder any changes you would like to make next year.

Debrief with some of your teacher friends

No one but another teacher can really understand the demands of the classroom. Give some of your favorite teacher friends a call and set up a date to get together and debrief! Kick off the session by having everyone share his or her best moments. Be sure to swap a few horror stories about the year too! (Sue still can't believe she overslept and showed up on the fourth day of school an hour late!! Come to think of it, the parents probably still can't believe it either! Thank goodness for understanding administrators!) Sharing the highs and lows with friends is a terrific way to put some closure on the year.

Set a few goals for yourself for next year

Don't make yourself crazy by trying a million new things next year. Choose one or two attainable goals for the next school year. Maybe this will be your year to focus on one area of the curriculum you feel needs an overhaul. This could be the year to promise yourself you'll clean out your supply cupboards once and for all.

One of our goals for next year is to only eat food that we bring to school from home. Teacher treat days in the staff room began to have way too much meaning last year! Wait…this doesn't sound like an attainable goal!

Plan for next year

Make a general plan for the year! Here's an easy way to do it:
Get a hold of the grade level standards for your school/state. Don't get caught up in the tiny details...just familiarize yourself with the big picture of where you need to be by the end of the year. Keep a photocopied set of the standards inside your plan book next year. As you cover each of the standards, highlight them. At a glance you can figure out what you've covered and what you still need to teach.

Divide a big blank piece of paper into 10 squares. Label them with the months of the year. Start roughing out the different concepts you need to cover in each curriculum area and start spreading them out over the course of the year. Don't go into great detail. For example, science in September; electricity, October;November plants, etc. Plug in any field trips, read aloud books and big projects you want to do.
Start a next year file
Label a file folder "Next Year." Any time you get an idea that you'd like to try next year, jot some quick notes. Stash your notes in your "Next Year" file so they'll be handy in the fall.
Read a book or two
Tuck one or two professional books into your pile of summer reading material. Why not find a teacher friend or two to read the books also? Plan to get together for lunch and discuss what you've read.
Check out professional development opportunities
Why not scout out professional development opportunities to gain some new ideas and to earn units for salary advancement? Summer is a more leisurely time to take courses than during the school year. We think teachers should be well compensated. Take a look at your salary schedule and start earning units to move up the ladder. If you're looking for courses that offer incredible flexibility while you're gaining new skills and ideas, consider taking them online. Online courses are designed to fit your schedule without losing valuable time commuting to and from universities. Of course, we encourage you to take a look at our 100% practical courses for teachers at www.bgrubercourses.com.
Tackle your pile of teacher magazines
Who has time to read teacher magazines during the busy school year? Do you have piles of magazines to go through? Summer is the perfect time to tackle them! There are so many great ideas sitting in all of those magazines! Here are a couple of ways to store your magazines and keep those good ideas at your fingertips!
Rip apart the magazines as you go through them and file ideas by skill, month, or theme. Make copies of anything on the backside that you want to save. Recycle the dissected magazines.

Buy 4 cardboard magazine boxes. Label them Fall, Winter and Spring. Label the 4th one back-to-school or summer if you teach in a year round setting. Now when you're looking for great winter ideas you can grab your winter box and ignore the others.

Here's Barbara's favorite! Put your magazines in chronological order, number them, and photocopy the table of contents of each one. Number the photocopied table of contents so it corresponds with the number you wrote on the front of the magazine. As you receive new magazines number and photocopy the table of contents. Sort your photocopied pages into three piles---fall, winter and spring. Staple all of the photocopied tables of contents into the appropriate folders. Highlight the ideas on the tables of contents that you can't wait to try. When you plan, grab the indexes you created! It's so easy to scan the photocopied pages and then EASILY grab the magazine you need.
Do your least favorite back to school job tomorrow
Identify the number one project you dread most when you're setting up for the new school year. It may be agonizing, but go ahead and complete that project tomorrow. There's something so wonderful about sitting back and realizing that the hardest part of getting ready for school is already behind you! It's much easier to really relax and enjoy your summer when you've already made a dent in your back to school preparations!
Check out the chats
Are you a Teachers.Net chatboard junkie? We are! If you haven't given the chatboards at Teachers.Net at try, do it now! They're all linked from http://teachers.net/mentors. You won't believe the wonderful ideas and terrific support available there. As you scroll down the posts, you'll be anxious for school to start so you can put the ideas into action in your classroom! The chatboards instantly put you in touch with teachers everywhere.
Here's to a wonderful summer! Enjoy every moment! You deserve it!
Best wishes ~
Barbara Gruber & Sue Gruber
---
Barbara and Sue Gruber
Barbara Gruber Online Courses for K-6 Teachers
http://www.bgrubercourses.com
Copyright 2003: Barbara Gruber Courses for Teachers
---

For a printable version of this article click here.

---
Gazette Articles by Barbara Gruber & Sue Gruber:
---
Browse through the latest posts from the Upper Elementary Chatboard...