Postcard from Planet Esme
by Esmé Raji Codell
Planet Esmé (www.planetesme.com)
---
This Summer's Coolest Classroom Idea: Cinema Club
---
When I became a public school teacher, I made reference to "Somewhere Over the Rainbow" and was met with blank stares and the sound of crickets. I asked how many children had seen The Wizard of Oz, and only half of the class raised a hand. I began to realize I was dealing with a lot of kids who thought Peter Pan was a brand of peanut butter and that The Hunchback of Notre Dame and Tarzan were written by Walt Disney. I decided that since they didn't know history, I would doom them to repeat it, and started a Cinema Club. Friday afternoons the classroom was transformed into a movie theater, complete with popcorn. We sent tickets to other classrooms and teachers gave them to deserving students who came as our special guests. Permission slips were signed so children could stay until the end of the movie, which sometimes ran close to two hours past the last school bell. We always had a full house, and many parents joined us. Start your own cinema club and visualize a summer of blockbuster books with their filmic follow-ups...and visualize some air-conditioning, too, while you're at it!
A big hurdle in the children's initial enjoyment was that many of the movies were black-and-white. This proved traumatic for a couple of shows, but then the audience got used to it. Watching Anne Bancroft fist-fight with Patty Duke over the dining room table in The Miracle Worker, well, you just didn't need Ted Turner's colorization to keep your eyes glued to the screen. The other hurdle was that movies were sometimes black-and-white in other ways; racial stereotypes were rampant, even in movies that were otherwise wonderful and sophisticated. This afforded a great opportunity to discuss what we were watching and to put it into historical context. I loved showing the movies, warts and all, because nearly all of them could be integrated into both American and World history, geography and social studies. Musicals were painful, especially for the boys, until I showed Oliver! and West Side Story, and then at least they saw that if singing and dancing was cool enough for the Artful Dodger and the Sharks and the Jets, it was palatable enough for them. Some of the movies had strong language, some had mild violence or romance. I was concerned until I started watching the prime-time television shows that my students recommended. I noticed there was more innuendo and violence in the commercial breaks than there was in any one of the entire movies I was showing. Characters who made poor choices or said or did inappropriate things did so in a developed story rather than a show in the midst of a ratings war or an advertisement desperately trying to soak the viewer for money. Cinema Club was about narrative and dramatization, and proved to be a great and natural extension to our literature-based learning. The content of the movies should be no problem so long as you are available to discuss or clarify what you are watching.
Many children took an interest in reading the book after seeing the movie on which it was based. Further, the older movies tend to have more challenging vocabulary and fast-paced dialogue, which I believe contributed to increased attention spans and listening skills...to say nothing for sense of humor and timing. Even low-achieving students were introduced to the timeless plots, characters and the language of classic literature without excessive frustration. I also found that it helped first-generation immigrant children feel affection for their new country; children who were struggling to read or write in English did not have to struggle to be entertained, and filmic knowledge seemed to usher them into the culture.
Children live in an increasingly visual society, so it's only fair that we prepare them to be media literate; the books and movies below pass the screen test and will make stars out of all your summer school students.
Hints for Cinema Club
Have tickets, serve popcorn.

Expand horizons by showing movies that the children may be less likely to see or choose on their own.

Watch the move yourself first, to anticipate ways you may support your audience and to determine appropriateness for your particular group.

Offer incentives for itchy kids to make it through movies; for instance, get your ticket stub punched at the end of the show, and turn in five stubs for a homemade award/t-shirt/gift certificate to the local movie theater (would they donate?)

Discuss historical context every time.

Point out and discuss racial and gender stereotypes every time.

If you show the film in a school, take care to notify families beforehand what movies are going to be shown and what their ratings are, and get signed permission slips so you are less likely to get an earful about content later.
Cinema Club picks (and read-aloud tie-ins):
Treasure Island (I like the 1934 version with Wallace Beery and Jackie Cooper)
(Treasure Island by Robert Louis Stevenson, I like the editions illustrated by Robert Ingpen or N.C. Wyeth)

Anne of Green Gables (1987)
(Anne of Green Gables by Lucy Maud Montgomery)

Babe (1998)
(Babe: The Gallant Pig by Dick King-Smith)

The Borrowers (1998) (My students and I liked the newer one with John Goodman, despite shameless and distracting brand-name plugs at the beginning, which should be pointed out)
(The Borrowers by Mary Norton)

Oliver! (1968)
(Oliver Twist by Charles Dickens; an especially beautiful edition is illustrated by Don Freeman)

Dinotopia (2002)
(Dinotopia by James Gurney)

The Iron Giant (1999)
(The Iron Giant by Ted Hughes)

The Princess Bride (1987)
(The Princess Bride by William Goldman)

Matilda (1996)
(Matilda by Roald Dahl)

The Little Princess (Shirley Temple did the 1939 original, which is terrific, but the one produced in 1995 starring Eleanor Bron is actually even more exciting and beautiful!)
(A Little Princess by Frances Hodgson Burnett; picture book version illustrated by Barbara McClintock)

Willy Wonka and the Chocolate Factory (1971)
(Charlie and the Chocolate Factory and Charlie and Charlie and the Great Glass Elevator by Roald Dahl...be sure to pass out chocolate to eat while you view the movie. Maybe one of them can have a golden ticket, with the lucky winner receiving their own copy of the book?)

The Wizard of Oz (1939)
(The Wonderful Wizard of Oz by L. Frank Baum; make sure you look at the 100th anniversary commemorative pop-up illustrated by Robert Sabuda)

The Black Stallion (1979)
(The Black Stallion by Walter Farley)

Camelot (1967)
(King Arthur and His Knights of the Round Table edited by Sidney Lanier, from Sir Thomas Malory's Le Morte d'Arthur; also, try The World of King Arthur and His Court : People, Places, Legend, and Lore by Kevin Crossley-Holland and the picture books about young Genevieve, Arthur, Lancelot and Merlin by Robert San Souci)

Chitty Chitty Bang Bang (1968)
(Chitty Chitty Bang Bang by Ian Fleming)
You'll be president of the AV club yet!
Happy reading...and viewing!...always,
Esme Raji Codell
Site Director, PlanetEsme.com
Also of Interest:
That's the Ticket! Where to Find Great Movies
If you are not located near a good video store, you can still rent classics via post through what I consider the greatest movie store in the world, Facets Multimedia, 1-800-331-6197, www.facets.org. Ask about receiving a complete video catalog, with about 35,000 tapes in the collection, including many beautiful foreign films that are suitable for children. Subtitles count as reading!

A great selection of hard-to-find children's videos can also be purchased through Library Video Company, 1-800-843-3620, www.libraryvideo.com. They put movie rental places to shame, offering hundreds of quality productions as well as wonderful children's shorts that you would be hard pressed to find anywhere else, including the celebrated Weston Woods award-winning animation productions of picture books. Many of the children's videos have shorter playing times which may prove more manageable for younger audiences. Library Video Company also offers children's programming from PBS and cable on video. Most of the selections have the potential for literature tie-ins, and the catalog is arranged thematically. The company is also an excellent source for literature-based CD-roms, if you are that multi-media minded.

And finally, take your class on the ultimate field trip to Chicago, Illlinois for the Cannes for kids! The International Children's Film Festival takes place every fall at Facet's Multimedia Center and is every young movie-lover's dream come true. Visit http://www.cicff.org or call 1-800-331-6197 to sign up for the festival mailing list and to find out how your students can audition as critics.
Roll Out the Red Carpet! Screen Actors in the Schools
Whether through streaming video, sizzling phone lines or in-the-flesh visits, real live actors can come to your classroom and share favorite stories! Explore http://www.bookpals.net/storyline to check out this very exciting initiative that adds a whole new level of glamor to storytime.
Hooray for Hollywood...and Reading!
For children's books that celebrate the glitz and glamour of La-la land, grab your boa and sunglasses and visit
http://www.planetesme.com/hollywood.html
Also, for more Cinema Club ideas and a variety of multi-media inspiration, the Oscar goes to How to Get Your Child to Love Reading, a new debut and where these suggestions were first auditioned! Check it out at http://www.planetesme.com.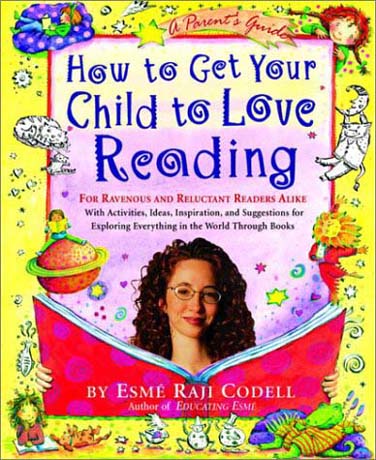 How to Get Your Child to Love Reading: For Ravenous and Reluctant Readers Alike
by Esme Raji Codell
---

For a printable version of this article click here.

---
Gazette Articles by Esmé Codell:
---
Browse through the latest posts from the Librarian/Media Specialists Chatboard...