Teacher Feature...
Journal Writing in Pre-K
by Vanessa Levin
---
What is the purpose of using journals in Pre-K?
Journals can serve a variety of purposes. Most importantly, journals give the child a sense of ownership over his or her work. It is very empowering for a four year old to have something that is their very own where they can write or draw anything they choose. Giving the child ownership of the journal makes the journal writing process more meaningful. Children learn best when what they are learning is meaningful to them.
Journals can also serve as a continuum that the teacher can use to show progress. I like to use journals in parent conferences. I show a child's journal from the beginning of the year in comparison to his or her current journal. This is a quick way to show real growth to parents and requires little explanation as the journals speak for themselves.
Journals are NOT a place to practice penmanship.
Journals are NOT worksheets or coloring pages stapled together to make a booklet.
Journals are NOT to be used as a punishment or a reward.
How often do you have students work in their journals?
We have a Journal Time every day in our class. You will see the best results with journals when you use them on a daily basis. Also, children crave consistency so sticking to a routine is really not a problem. I find that having a journal time first thing in the morning makes for a smooth transition into the classroom from home. One thing I have found that helped reinforce our routine was the magnetic picture schedule. It is much easier for both the teacher and students to keep to a routine when it is pictured on the board.
Do you require your students to write or draw about a certain topic?
No. Requiring students to draw or write about a topic of my choosing would not be empowering or meaningful to the students. We want the children to be excited about what they are doing in their journals and to view it as a fun and creative experience. For example, if I required them to all draw or write about pumpkins in October then it would become a tedious task. Instead, I might say something like, "If you need an idea for your journal, take a minute to think about what we are learning about now." I would also encourage them to visit the theme word wall, class word wall, morning message, or book boxes for ideas or spelling help. We see the best results with journals when the students are allowed to choose their own topics. Of course, there is one simple rule we use at journal time: no guns or violence of any kind may be portrayed in journals.
When should you begin journals in Pre-K?
We are encouraged to begin journals on the first day of school in Pre-K. However, with out a full-time assistant it is more realistic to begin journals the second, or sometimes even the third week depending on your class and their level of independence.
What do your journals look like?
Our journals are made with plain white construction paper folded in half and stapled in the middle. A laminated sentence strip with the child's name is attached to the top of the journal with a clothespin. The clothespin helps to attach the name card and also ensures that the child does not write on every single page in one sitting. After I have scribed in a child's journal, I turn the page and attach the name card and clothespin to the top of the next page. The journals are stored in a milk crate.
Why don't you use lined paper?
According to our district Best Practices, lines are not appropriate at the Pre-K level. One reason is that visual acuity is not developed enough for most four year olds to see the lines. Another reason for using blank paper is that the journal is the child's very first experience with writing in a school setting and lines may detract from that experience. Some children may focus on the lines in the journals and not the product, thus causing frustration and defeating the whole purpose of journals.
How do you introduce journals to your students?
I model the journal writing process daily for the first two weeks of school. I show the students the journal and repeat its name several times each day. We discuss the journal's purpose and importance in large group. I walk them through each step of the process in a whole group while individual students model. We model how to take the journal to their seat, get crayons and a pencil, sit in their seat, raise their hand when they're done, clean up after themselves, etc. My instructions to the children are to write their name at the top of the page with a pencil; all drawing is to be done with crayons. The reason for this rule is that in the beginning of the year we are not able to discriminate what marks on their paper are attempts at drawing or at writing.
On the first day of journals many children will hold the crayon in their fist and just scribble, or even cry. It is very important to praise each and every attempt the student makes in their journal, no matter how slight. After they are finished they raise their hand and I come around to scribe for them. I simply label their pictures or record whatever they have to say about their picture.
At first managing journal time can be challenging; having another adult in the classroom with you would be the ideal situation. However, journals can be done alone if you have the patience. It takes several weeks for things to settle down and for the students to get into the routine, but just take comfort in knowing that journals will be very rewarding later in the year.
What do the children do when they are finished?
When a child finishes his or her journal entry they are to go to the circle area and read books quietly. This is another way to get in more D.E.A.R. or B.E.A.R. time (Be Excited About Reading) as we refer to it in Pre-K.
Once the routine is down, how do you start them writing?
As the year progresses, I start encouraging more writing at journal time. When I scribe in a journal, I will have the child help me sound out the words as I am writing them. Then slowly, I will transition into asking the student to make the writing attempts independently. Of course, we are doing things in the classroom at the same time to support independent writing attempts such as learning to use the word wall and morning message as resources and learning letter sounds. For example; if a student wrote a letter shape next to a picture in his or her journal on Monday, on Tuesday I would then encourage them to go even further. I praise any and all attempts I see at writing.
Here are 2 pictures of journals for a side-by-side comparison from beginning of the year to the end. The first one is from September 18 (date stamped at top) and it says "mountains"; the second one is from late April and says "I like to watch fish".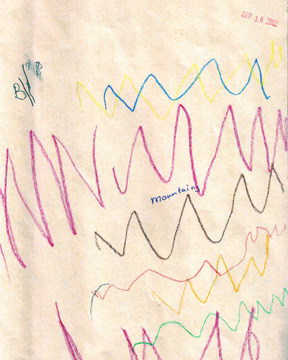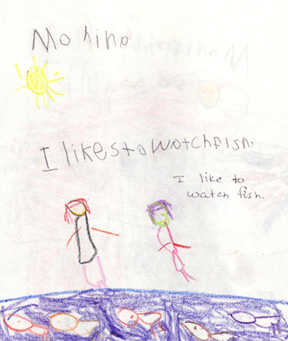 ---
Browse through the latest posts on the Pre-School EC Chatboard: