Pennsylvania Gathering
by Number404
With user-submitted July Gatherings Photologue

---
The entire class of teachers at the Pennsylvania gathering has obviously failed to turn in their final assignment: Write a composition of five hundred words or more and publish to T-Net on the subject "What I Did the Weekend of July 8."

The gathering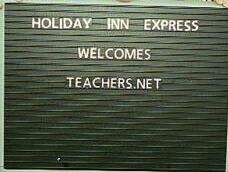 started mid-week with a lone soul staring at the walls of a Greyhound bus terminal and another lone soul spending the night at the headquarters Holiday Inn Express. "Express" in this case means "if you blink you will miss it," as it is cleverly hidden behind a Cracker Barrel Restaurant, right under the big post with no sign on it.
By Friday morning, things began rolling along as the early birds took off for a full day of smelling chocolate at Hershey Park along Chocolate Avenue. Most of the gang had their fill with one trip per coaster, but it took Skippy! ("Yipppeeeeee!") three to four trips per coaster. Everyone returned thinking that everything smells like chocolate. The group then met at Cracker Barrel for a leisurely dinner.
Headquarters was Frackville,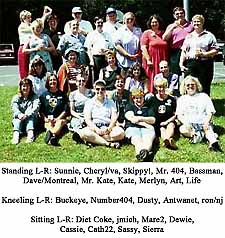 Pennsylvania, coal country. Some think perhaps moonscape country, so they built a beautiful miniature golf course. The netizens started gathering in the lobby about two hours before tee time, trying to guess who everyone else was before a word was said. Guesses were amazingly accurate. Many came without spouses. The spouses had a variety of agendas, from traveling on business, to private agendas in metropolitan Frackville, to monitoring social interactions, to just being company. One became official photographer at the first photo-op as the group gathered near the first tee and he tried to learn about ten cameras before everyone tired of squinting into the sun. One of the teachers became a little confused and managed to land anotherís sandal in the water hazard. A fine round was had by all.
The gathering adjourned to the main party. With three of the members from outside the US, a few expressions from other regions began to provide some humor. The party was at an "express" "self-catering" sports club, cleverly located up the road in Shenadoah, up a narrow one way street, and behind Joeís Garage, right next to the "car park." About 25 showed up for the main event. All the local arrangements were made by Cassie. Beverages were an assortment of local brands of soda ("pop" to much of the rest of the world), and beer on tap. Food was provided by an Italian caterer prepared to feed about a hundred instead of thirty. Fried chicken, hamburgers and "sause", and hot dogs for the carnivores; homemade pierogies, tossed salad, potato salad, vegetarian bean soup, and cake for all. The caterer set up on warmers and left; all stayed warm for the duration.
The group entertained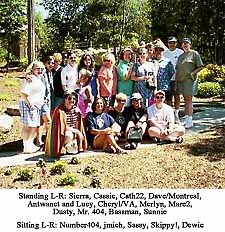 itself with help from a Karaoke Master. Dewey, punning around, was ready for a duet with anyone she could convince. Having left her blanket and her corner behind, she had to sing a lot. Dave (Montreal) led the male singers, starting with "Greyhound I Donít Love You Anymore" to the tune of "Please Release Me." Number404 contributed the Alan Sherman classic "Hello Muddah, Hello Faddah," and while everyone was trying to reorganize after a hilarious rendition of the Macarena, she burst into an impromptu Shenadoah. The Karaoke Masterís highlight was trying to find tough TV theme songs for a session of "Name That Tune," as he was having trouble stopping the music before someone could name the show. Midway through all of this the "glitterati" showed up. Much to the chagrin of this crowd, "self-catering" also means you have to sweep up afterwards.
Towards sunset,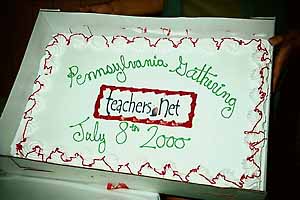 the second photo-op took place on the hill beside the "car park." (Virtual) cyber-prizes went to Cath22 for great travel distance, to Dave for longest travel time per kilometer, to Buckeye and Diet Coke for shortest stay per hour of travel time (tracked down by an injured relative about 45 minutes after traveling the entire previous part of the day), to Ron(NJ) for being lead model, to Sierra for taking the most digital photos, to M@gs for latest arrival (making an immediate bee-line for the pierogies), and a couple of unnamed Yankees for not being able to understand the Brits, nor the translation graciously provided by the Southerners (Perhaps explaining why Karaoke Master was frustrated trying to teach "Mountain" or "CoalCracker") . The party finally finished up with lessons on cake eating while sitting on the parking lot.
Adjournment took most to a single hotel room "high atop" (third floor) the Holiday Inn, where a single PC was set up to copy pictures from digital cameras and try to connect to T-Net without incurring a serious phone bill. It became obvious that there were no road warriors in the bunch as connecting was much more of a challenge that the phone bill. It has been rumored that remembering the password might help.
Such a sad reunion from a cyber point-of-view, it never seemed to get its own web page until pictures started trickling onto the net about a week later, amid the controversies of who does not want to be on the net, and who only wants to be on in a group picture. Someone tried to appoint M@gs official reporter, but those efforts never made it past a quick posting.
Sunday morning brought a return trip to Cracker Barrel for brunch. The group was recognized immediately and escorted to the back corner. Around eleven festivities moved to the good-bye lounge (Holiday Inn parking lot) where it took about two hours to pack everyone up and say good-bye. Clearly everyone had a good time.
Check out our the July Gatherings Photologue!