Laney October 29, 2000

To announce your wedding, births, or other news to the Teachers.Net community, email the announcement to kimtracy@teachers.net.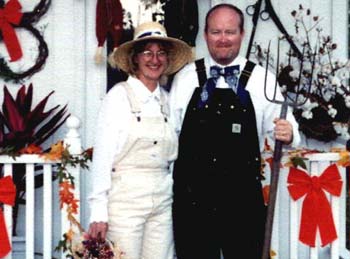 Newlyweds Sherry/NC and Husband
---
HTML Map Template for Teachers
I have an HTML example of using the USEMAP tag. This may be useful for teachers.
It contains a couple maps of the USA (.gif) images that are already mapped graphically, ready-to-use on a webpage. As the cursor is placed over a state, the tooltip displays the name of the state. Clicking the mouse will send the user to a unique link (URL) for each state.
enjoy ...
Max Seim
mlseim@mmm.com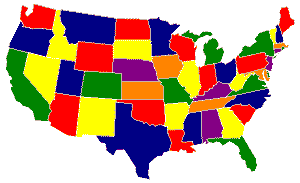 Download USA Map template (zipped file)


---
2000 Kids All-American Fishing Derby Contest Winners Named
ALASKA AND NORTH DAKOTA YOUNGSTERS CATCH HUGE FISH FOR GREAT PRIZES
Ketchum, OK -- The largest fish ever recorded in the 15-year history of the Kids All-American Fishing Derby "Big Fish" Contest was caught by Chevy Kadake, 11, of Kake, AK. Chevy caught a Pacific Halibut weighing a whopping 110 pounds and was named the National Winner in the Saltwater Division of the Igloo Camping "Big Fish" Contest.
Chevy, a sixth grader at Kake Grade School, participated in a derby organized by the U. S. Forest Service and the Gunnuk Hatchery in Kake, AK. For his efforts, he received an Igloo Family Camping Package. Chevy was just one of nearly 100,000 youngsters, ages six-16, who participated in events held in more than 650 communities nationwide this past summer. The 2000 Kids All-American Fishing Derby is directed by Hooked On Fishing International where kids are given the opportunity to participate in several nationwide events with prizes awarded for special achievements.
The National Winner of the Freshwater Division of the Igloo Camping "Big Fish" Contest is Taylor Sager, 11, of Jamestown, North Dakota. Taylorís fish, a 15-pound Northern, was caught at a derby organized locally by the Dakota Anglers Club. For his efforts, Taylor will also receive a Family Camping Package from Igloo Camping.
Alex Carrillo, nine, of Texas City, Texas, has been declared the 2000 winner of the Zebco Kids Casting Contest. Each youngster participating in the Zebco Casting Contest event was eligible for the nationwide drawing. Alex will be the lucky recipient of four round-trip tickets, complements of Southwest Airlines, to fly between any Southwest Airlines published destinations. Alex attended a derby organized locally by the Noon Optimist Club of Texas City, Texas.
Winner of the Southwest Airlines "I Caught A Fish!" Contest is Chelsea Ray, six, of Oakridge, Oregon. Chelseaís name was drawn from entries of youngsters who caught a fish at their local fishing derby. Chelsea, who attended a derby organized by the U. S. Forest Service in Westfir, Oregon, will also receive four round-trip tickets from Southwest Airlines.
Sponsors for the 2000 Kids All-American Fishing Derby program were Berkley PowerBait, Eagle Claw, FishingWorld.com, G3 Boats, Igloo Camping, Jadico, Pradco (Bomber and Rebel Lures), Southwest Airlines, Berkley Trilene Line, Wal-Mart Stores, Inc., and Zebco. Host organizations for the nationwide program included parks and recreation departments, the U. S. Forest Service, and various local and community service organizations.
Groups or agencies interested in receiving information on hosting a kidsí fishing derby event in 2001 should contact Hooked On Fishing International, P O Box 660, Ketchum, OK 74349, or E-mail: info@kids-fishing.com or visit the website: . While visiting the website, readers can also learn more about Project Bobber, a new non-profit arm of Hooked On Fishing International dedicated to providing fishing tackle and materials to disadvantaged youth.