Interview...
---
A Conversation with Joseph Pickett, Executive Editor, The American Heritage Dictionary
As Houghton Mifflin Company prepares for the release of the American Heritage? Dictionary of the English Language, Fourth Edition, Joseph Pickett, Executive Editor of the company's dictionary department, sits down to talk about American Heritage?; the challenges of assembling a comprehensive dictionary; and how Internet e-dictionaries could affect traditional print versions:
What attracted you to working with dictionaries and, ultimately, becoming a lexicographer?
I have always had a deep curiosity about words, and dictionaries are a kind of treasure chest where knowledge about words is stored. Once I looked inside, I was entranced.
Tell us about the history of the American Heritage? Dictionary.
The First Edition of the American Heritage?

Dictionary was published in 1969. It defined the vocabulary of English in a very readable style. It provided a lot more guidance about usage, and much more information about the origins of words, than most other dictionaries. And it had a very handsome format with lots of Notes and photos that invited browsing. It sold over a million copies in its first year. Since then, there have been three new editions: one in 1982, one in 1992, which was on The New York Times bestseller list for four months, and now the Fourth Edition in 2000.
What features are distinctive to the Fourth Edition of the American Heritage? Dictionary?
First, it has about 10,000 new words and senses ranging from slang words like bloviate and homey to technology words like bit stream and taggant. Its Usage Notes have been revised and updated, with many new Notes written to address emerging usage issues. There is also a new program of what we call "Our Living Language" Notes that discuss how language varies according to such things as the age and ethnicity of the speaker. And to top it all off, the dictionary has a stunning new full-color design with 4,000 color photos, drawings, and maps. It's really a pleasure to use.
Can you give us an example of some of the new words readers will find added to this edition?
I like to group new words by category, since that shows how productive various areas are. Here are a few examples: social and political: empty nest syndrome, sex offender, shopaholic, transgendered, yuppify computers and the Internet: domain name, dot-com, intranet, open source, taskbar, URL, zine medicine and physiology: acid reflux, ADHD, body mass index, mad cow disease, transfatty acid, xenotransplant sports: bodyboard, clap skate, cross-train, five hole, nail biter, trash talk, wallyball general: benign neglect, control freak, in-your-face, plain vanilla, reality check, wake-up call
Where do new words come from and how are they chosen to be a part of the dictionary?
New words have been pouring into the language for decades. They come from every corner of our society: computer geeks, rap singers, artists, politicians, journalists, sports writers, scientists, business leaders, religious leaders, educators, cooks. We find them mainly by reading publications in various fields, in both print and electronic form.
How has the dictionary been influenced by societal changes?
Since the dictionary really is a reflection of the nation's language, we try to be cognizant of the sensitivities of different groups. We spend a lot of effort examining the assumptions that we bring to the writing of the dictionary and we try to avoid perpetuating the assumption that a particular way of living is the norm for everyone. Also, we try to include material like regional words that reflects the different linguistic currents that make American English the great language that it is.
How often does a word that is considered slang become a mainstay in our language?
Slang is a tricky business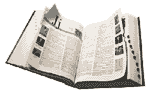 because it changes so rapidly. The challenge for lexicographers is to identify the slang words that they think will have broader use and longer staying power. Some slang words, after all, have become mainstays - words like cool and uptight, for instance. It's an imperfect science, but by seeing where and how slang words are used, we can get a pretty good idea of their cultural impact and then make an informed judgement about whether they should go in the dictionary.
What are the "Our Living Language" Notes and what aspects of the English language do they deal with?
The "Our Living Language" Notes explore one of the great areas of linguistic discovery of the last 40 years: that language varies not just by geographic region but also by social group. Even within a particular region, how individual speakers talk depends on factors like age, ethnicity, and social class or education level. Like the Regional Notes, the "Our Living Language" Notes provide readers with a broader and deeper understanding of the national language than is afforded by conventional dictionary treatments.
Is any part of the dictionary online? If not, are there any plans to put all or part of it on the Internet?
The American Heritage? Dictionary has always been at the forefront of electronic dictionary publishing, and we are continuing our efforts in this area. We have already embedded the dictionary in websites, so you can look up words without exiting the document you are reading. We have plans to do this with a number of e-book readers, as we did with the Glassbook Plus edition of Stephen King's Riding the Bullet. The dictionary is also available on CD-ROM, which can be purchased by itself or as part of a package with the print version.
Do you believe that eventually online dictionaries will replace or supersede the demand for print versions? Why, or why not?
I see electronic dictionaries as complementary rather than competitive with print dictionaries. You can do different and really wonderful things with each. Electronic dictionaries allow you to search through the entire database in seconds for pieces of information. Our new electronic dictionary allows you to increase the size of the type and the art on the screen. But as they are now configured, electronic dictionaries do not afford the same visual experience that a print dictionary does. Your eye can range over a page spread in a print dictionary, taking in everything it has to offer, and you can browse through the entire book this way. Besides, there is real pleasure in the tactile intimacy of a print dictionary, in the feel of the cover and the pages. As I see it, a good print dictionary should be more than just a reference book. Ideally, the reader should see the dictionary the way Les Paul sees his guitar: as a friend. It's just hard to imagine saying that about an electronic dictionary.
Open The New Fourth Edition Of The American Heritage? Dictionary Of The English Language And You'll Find...
Called "the most pleasurable dictionary ever published" by The New York Times, the American Heritage? Dictionary has been a success since its inception in 1969 when it spent 39 weeks on The New York Times bestsellers list and sold nearly 1,000,000 copies. The Third Edition, published in 1992, was also a national bestseller and garnered a rave, front-page review in The New York Times Book Review.
How does this classic remain on top? The answer is simple: by continuing its tradition of innovation. The all-new Fourth Edition offers readers more insight into American English than any other dictionary. Only in an American Heritage? Dictionary will you find:
Trustworthy guidance on usage based on the opinions of its renowned Usage Panel
An engaging and attractive presentation, with clearly written definitions and copious illustrations
Extensive coverage of science and technology
Word Histories that reveal the fascinating stories behind everyday words
In-depth, fully up-to-date biographical and geographical entries
Over 100 distinctive Notes on American regional speech
Published on Sept. 14, 2000, the Fourth Edition also includes:
10,000 new words and senses
All-new, full-color design with over 4,000 color images
New series of Notes on language variation and change
Revised Appendix of Indo-European Roots
All-new Appendix of Semitic Roots
IN BOOKSTORES NOW...
Houghton Mifflin will release both the print and CD-ROM editions of The American Heritage? Dictionary of the English Language, Fourth Edition, on Sept. 14, 2000. The book retails for $60.00 (A book and CD- ROM package is available for $74.95; the CD-ROM alone is available for $24.95).
---
---