Teacher Feature...
Field Day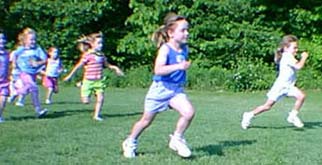 from The Teachers.Net Mailrings
http://teachers.net/mailrings
---
Last year our team did a field day. Each teacher had to do a station. The kids loved it almost as much as PE. My station was the Wet Sponge Relay to fill a soda bottle with water. I used big car wash kind of sponges. The sponges start in a bucket, they are passed through a team of 5 or so students, the last one squeezes the water into the bottle and throws the sponge back to the first person, who wets it in the bucket again. The process is repeated until the bottle is full. We did another variation; members of teams would take turns running to the bottle to fill it and throw the sponge back to the next runner.

Other teachers did basket ball throws, three legged races, chalk painting, find the beanie on the playground, etc. (We have 7 classes in each grade level.) Classes rotated so each teacher would have a class for about 15 minutes. One class was the popsicle and drink station. It was fun. But I was wet. Rhonda in Florida
---
Last year our school had a field day based on the characters and events from Marc Brown's Arthur as part of the 25 year celebration. We had about 22 different events. Buster's Boardjump and Baby Kate's Bubble Blowing were a couple of the events. Each class participated in as many events as possible during the day.
This year we are planning a field day called GAMES FROM AROUND THE WORLD. We are planning to have about the same number of events as last year. Students will be learning about the games in physical education and learning about the countries in their classrooms.
We have also discussed planning a literacy field day in the future. Each of the events would be based on a children's book. For example: The Hungry Caterpillar's Obstacle Course and students would have to move through the obstacle course, or Horton Hatches an Egg could be an egg relay with either the student moving with the egg on an object or trying to walk while holding the egg between their knees. Barbara/KY
---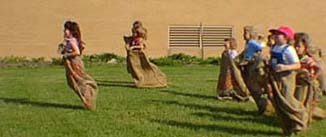 ---
Our Field Day consists of team and individual races and contests for the kids. We get parent volunteers (you can't do it without good help) to assist at each game, and bring a snack for the kids to take a break sometime during the all morning event. The teams and contests are constructed in a way that almost all the kids earn ribbons, either first, second, third or good sportsmanship ribbons. On this day, we must hand out over 400 ribbons to 260 students. I also secure some token of appreciation for our volunteers, Dairy Queen coupons or something similar. A first aid kit travels with us to the site down the street where our Field Day takes place, and all the equipment and lines and numbers for the events are chalked on the field for the teachers to lead their students to. The students are organized on their teams ahead of time, and the events are described to them so they know what to expect. It's a fun day for all! Greg Frye Elementary PE Urbana City Schools
---
It is a big celebration at our school done in the Olympic style.Each class represents a country and studies that country. We have 6 events that each child participates in and only compete with other sections of the same grade-we have 4 of each grade- with the same number points available for each grade. The section having the most points wins. It is great fun, educational and great PR. We eat like the country does, have speakers and basically become experts. I was Egypt so you can just imagine all the resources that I had available to me. Jane H.
---
Our school has field day and the teachers were responsible for doing everything, but we got a WONDERFUL PE teacher last year and now she does it. We go over to the high school where she has set up different stations. They are all physical activities of some sort. We stay at a station for 10 minutes and move to the next one. This is an all day event and the parents are very involved. At the end of the day we play tug o' war --the classes go up against each other and then the winning class goes against the teachers. It is a blast. They all win ribbions for participating. Some of the events are things like an obstacle course, relay race of some kind, bean bag toss, shot put, baseball throw, water balloon toss, etc.. I think we also do a relay with eggs and a spoon. We have sack race, of course a snack station...just whatever kind of fun we can think of. Good Luck. Oh, each class is kind of in charge of a station and the parents work in that station. Jenn K.
---
We love our Field Day. It is usually held the last week of school but the preparations begin the week before. We are a small school so we group our teams to have a sixth grade leader, and then each team is represented with K-6. :-) That takes away the hassle of overly competitive older kids. We have a chart of points. The first is to design a team poster - the kids work together to design a team logo and name. These are hung in the hallway and everyteam gets points - as an example, the first place would get 12 points, second place, 10, etc. All of our games our scored in that manner.
In the first set of games, the kids rotate through stations - one is block towers - they have a certain amount of time to use wooden blocks to build the highest tower. Another is a theme prechosen by the staff -each team gets a sidewalk square and has a certain amount of time to draw a chalk drawing matching the theme. Another is a basketball shoot - so many minutes to shoot baskets, one person at time. My personal favorite is to throw marbles in a kiddy pool of water and the team sits on stools and picks them out with their feet.
We then have a picnic lunch prepared by the parents. Then we do afternoon relays - crab walk, running, sack, over-under, "take it off" ( put on a hat and shirt, run to the end, take it off, put it on the next person), and of course, the grand finale: the water balloon toss. The winning team gets giant frozen pops, all other teams get regular pops. Dottie Kissell
---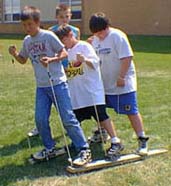 ---
Our PE coach had a wonderfully organized Field Day for our first graders today. We even had a disc jockey. We had 8 minute stations: Limbo; race, sit on a balloon to pop it and race back; horseshoes with plastic horseshoes;sack races; hula hoops; jumpropes; beanbag toss; a Magician, and then tug of war between classes. Each child received a certificate. Coach did it all! It was great fun. Petty1
---
At my middle school field day we had many competitions. Long jump, softball throw, waterballoon toss, free throw contest, relay races, hula hoop contest, and the limbo. This was always so much fun for most kids, especially the ones who were athletically gifted. I'm not sure how much fun the less active students had. Maybe it would be possible to create a huge memory game of some sort or a mind boggling scavenger hunt. Good luck with your field day. I hope it's a sucess!! Kara