Teacher Feature...
A Different Perspective to the Holidays
by Nancy Salsman aka "nan"
---
As many of you know I belong to a wonderful organization called AdoptaPlatoon. It is a non-profit organization that sends support to as many of our deployed service men/women serving all over the world. We send letters, emails, birthday cards, and care packages on a regular basis.

I very proudly serve as a Platoon Mom to 45 soldiers deployed to Bosnia. They are my newly adopted sons. Iíve sent them Care Packages, emails, and letters on a regular basis. I joined AdoptaPlatoon in memory of my dad. My dad served in the United States Marine Corp during WWII and the Korean War. I remember my dad telling me stories about soldiers that never received any mail. Itís because of my dad that I very proudly serve as a Platoon Mom.

As part of their holiday package I made each one of my sons a stocking stuffed with goodies. The boxes were mailed in plenty of time for Christmas. During a recent email exchange I found out that my point of contact (POC) was playing Santa on base in Bosnia. It turned out that I was playing Mrs. Claus for our local VFW Post kids Christmas Party. My POC and I promised to exchange pictures of him being Santa and me playing the part of Mrs. Claus.

I wanted to share their Christmas Picture with you. It certainly put a new perspective on the holidays for me. I salute each of our service men/women currently serving our country. It is because of them that each of us can enjoy all the freedom that we do. Please remember our service men/women as they are away from their families. God Bless each of them!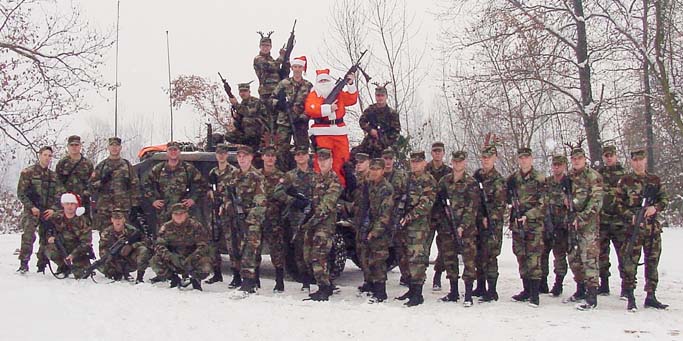 click the image to see a larger view
---
For more information about AdoptaPlatoon, visit their website at http://www.adoptaplatoon.org.
---
---
Related Teachers.Net Resources...
---
---
The Social Studies/Geography/History Chatboard...
is dedicated to discussions of issues related to social studies, geography, history, civics, and world events. Visit the Social Studies/Geography/History Chatboard to ask for advice, help a fellow teacher solve a problem, or keep up-to-date.
---
The Project Center...
Have you checked out the Teachers.Net Project Center lately? Every week, teachers around the planet design and implement distance interactive projects for their students. Make your classroom a global experience, join a classroom project today!
---
Explore A Postcard Project...
Your students don't need to leave the earth or even the classroom to explore strange lands and cultures. Check out the Teachers.Net Postcard Projects Chatboard and connect with people around the world, and introduce your students to fascinating new people ands places. Click here to visit the Postcard Projects Chatboard and don't miss this month's featured lesson Postcard Project Lesson in the Teachers.Net Lesson Bank.