Classroom Crafts
by The Teachers.Net Community
---
Paint Stirrer Snowman Craft Project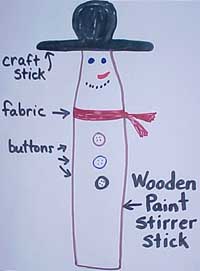 One wooden paint stirrer for each student from hardware section of store.
Paint the top (handle section) of the paint stirrer black. When dry, paint remainder of stick white.
Paint a craft (popscicle) stick black. Allow to dry.
Hot glue the craft stick across the paint stirrer where the black and white paints meet to serve as the brim of the hat.
Use fine tip markers to draw face details.
Tie on a fabric scrap for a scarf.
Glue on buttons.

Optional: glue on a loop of yarn for hanging.
Kathleen Carpenter
---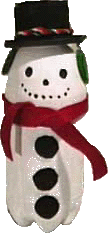 Soda Bottle Snowman
Take a 2 liter plastic bottle.
Paint it white or pour white paint inside and let children roll it around until the bottle is covered with white paint.
Cut out little scarves of felt or material scrapes
Put on eyes, nose and mouth.
You can get as creative as you like.
Deb
---
Balloon Print Snowman
Dip a blown-up balloon in white tempera paint.
Make two prints on blue construction paper, one for the body and one slightly smaller for the head.
Sprinkle with salt.
Let dry.
Decorate by using scraps - add a hat, scarf, facial features, and buttons.
Barb
---
Balloon Print Snowman
---
Doily Snowman
Use doilies on blue construction paper to make snowmen, one size for the body and a smaller one for the head.
Barb
---