Magic Slippers: Interview with Nancy Salsman
by Kim Tracy
---
As an educator in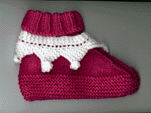 a high stakes testing state, I am always looking for creative techniques to reduce the pressures of testing on my students. How ecstatic when Nancy aka "nan" at Teachers.Net shared one of the most innovative strategies that I have ever heard of to take off the strains of testing. Nancy sent me an email one day stating the following: "As any teacher knows, achievement tests can be very stressful not only on the teacher, but the students as well. This year I have a group of fourth graders that really freeze when you mention the word test. We took the ITBS as a pre-test in the fall and the students will be given a post-test in the spring. I decided to do something to help my kids relax and still remind them to do their best."

Needless to say, I was intrigued as Nancy told me about her "Magic Slippers." She recruits volunteers to knit slippers for her students which they will wear on the standardized testing days. After the tests are over, the slippers are given to the students. I was so impressed with Nancy's dedication to her students and their needs that I wanted to share her idea with fellow colleagues. Recently, I was fortunate to interview Nancy:

Gazette: What sparked the idea for Magic Slippers?

Nancy: As a teacher I'm always looking for new and exciting ideas to help my students learn. I want them to be excited about learning. Giving the achievement test has always brought back the fear I used to feel when I was a student taking the test. I would actually make myself ill just thinking about the test. I have always tried to avoid that feeling for my students. The idea for the slippers came to me while talking with a friend. She told me that she used to take her achievement test in her houseshoes and it made her feel better. I thought about that idea and came up with seeing if I could get some of the senior citizens to use their talents and either knit or crochet my students each a pair of slippers. I went to the local senior citizens center and asked if anyone would be interested. The neat thing that happened is that my husband has two wonderful aunts that both knit. They were happy to contribute their talents. So those are my two angels making the magic slippers for my fourth graders.

Gazette: What are your concerns regarding the growing pressures of testing on our students?

Nancy: It bothers me that teachers are expected to teach to the test. I wonder what we are going to do to our kids in the long run with all the pressure. I see teachers getting burn out quicker over the test too. I worry what the future holds for our kids as they have been taught just how to pass a test.

Gazette: How will these Magic Slippers help the students?

Nancy: As a former student that was very scared of the test myself I know how my students feel. I can relate to their feelings. I know if I can simply get my kids to relax they will do just fine. I want them to be comfortable and able to think without being scared.

Gazette: How will you introduce the Magic Slippers to your students?

Nancy: Writing poetry has been a hobby of mine for a number of years. I wrote the "Magic Slippers" poem for my students. On the first day of the test I will have a copy of the poem and a pair of magic slippers on each students desk. They will be able to wear the slippers during the test on all four days. At the end of the test the slippers are for them to keep. I want to emphasize to my kids that there are people besides their teacher that has faith in them. A positive learning environment provides positive results.

Unfortunately, many educators feel threatened when other educators go beyond the call of duty. Instead of embracing the ideas of others and collaborating to have the most productive learning environments, we often shy away from grasping creative strategies. I asked Nancy if her colleagues were receptive to the idea of magic slippers.

As far as the other teachers in my school accepting the idea that won't be a problem. They are quite used to me being the one to try something different. If the end result turns out to be my kids learning that will be alright with them. I'm fortunate to work with a wonderful group of people. I'm sure they never know what to expect from me. One year, my husband and I built a classroom size plastic bubble and had class in the bubble the first day of school. It was awesome!!! I just know I'm a person that gets bored easy so I'm constantly on the look out for ways to improve my curriculum. I know if I'm excited about teaching then my kids are excited about learning.
---
KUDOS to Nancy for a SUPERB idea to reduce the pressures of testing. I am curious as to what other educators do to ease those tensions. In my classroom, I have magic bubbles that are known around the school. They were left on my desk by the testing fairy four years ago. When blown over the students' heads right before their standardized test, it brings good luck to them. I also have a magic wand that I wave over their heads that releases more knowledge into their brains if they squint their eyes and concentrate as I am waving it over their heads. One year, magic glitter was tossed over them before testing. All these ideas were simple to do, yet brought laughter, smiles and eagerness into the students before the state tests. The bubbles are regular bubbles that I took the label off the jar. The wand is a yardstick wrapped in masking tape with streamers attached to the end with the slogan "The Power Is Within" written down the side of the yardstick. The glitter is a big canister of glitter with the label off.
I shared these same ideas with high school teachers during one of my workshops and at first they thought their students would laugh at the idea. I agreed, "They will!" I commented. Yet, I would rather have my students laughing, as opposed to suffering from anxiety because of the high stakes test. The idea worked great. Is their research to back that these ideas will raise test scores? No, and I am not sure that the government would have do such controlled testing. However, I do believe that relieving the tensions of testing and promoting a positive testing atmosphere will help test scores.
What are other educators doing in their classrooms? Please send your ideas to kimtracy@teachers.net to be posted in the next issue of The Gazette.
Nancy Salsman is a fourth grade teacher in Oklahoma. She has a BS in Elementary Education and currently working on a master's in school administration. Nancy has been in the classroom for eleven years teaching kindergarten, second, and has been in fourth the past eight years. Nancy is married and has a son and a daughter. The light of their lives is their 2 1/2 yr. old grandson and in February will add a granddaughter to the family.
---
Test Success Chat...
Review our Brain-Compatible Classroom chat on Test Success by Rita King held Wednesday, February 2, 2000 in the http://teachers.net/archives/mi020200.html.
---