---
Handle with Care...
In the best of

worlds, discipline would be a minor chord in the teacher's repertoire. Our students would arrive at school with moral development well established. They'd have felt their baby hunger and cold soothed, convincing them, in the most vivid way, that their immediate world and the people in it are caring and dependable....
Click for Full story


---
The Effective Teacher...
You hear a lot these days about the effective teacher. It is the subject of many books and countless journal articles. Television documentaries and radio talk shows bounce the topic around with great frequency. But, hey, whoever said you had to know anything about a topic to talk about it...?
Click for Full story


---
Sources for Cheap Books...
When I talk to groups

of parents about the importance of having books in the home, many of them become concerned as they project that this can be a very expensive proposition. It needn't be. Here are some free or inexpensive ways to increase the number of books in your home....
Click for Full story


---
Celebration of Learning...
When push comes to shove, I have two choices in my classroom. I can either complain about the testing, raise the anxieties of my students, and produce a high level of stress in the classroom or I can turn this opportunity into a learning experience for both my students and myself. The first choice is one in which no one benefits. The second one is one that is more optimal for a learning environment.....

Click for Full story



The Miracle of Teachers
We don't know the last time someone thanked you for choosing teaching as a profession. So just in case no has told you lately, "Thank you." We know that there are many shortcomings and challenges facing educators, but as you begin a new year let's look at some data as to why teachers are to be respected, valued, and thanked....
Full story
---
Publishing Too Fast
In the beginning of the year, we don't set a goal of publishing with children. We work instead to be sure that all children become a least somewhat fluent in getting their ideas on paper.... Full story
Power Of Positivity
One salesgirl in a candy store always had customers lined up waiting while other salesgirls stood around. The owner of the store noted her popularity and asked for her secret. "It's easy," she said..... Full story
---
Magic Slippers: Interview with Nancy Salsman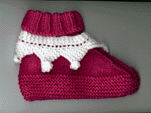 The idea for the slippers came to me while talking with a friend. She told me that she used to take her achievement test in her houseshoes and it made her feel better. I thought about that idea and came up with seeing if I could get some of the senior citizens to use their talents and either knit or crochet my students each a pair of slippers....
Full story
---
Connecticut Charter Schools
A bill passed by the Connecticut General Assembly in 1997 introduced a spirit of entrepreneurship into the CT public schools in the form of 17 charter schools, each with distinct approaches to teaching, learning and governance.... Full story
In Pursuit of Affluence, at a High Price
The adage that money cannot buy happiness may be familiar, but is easily forgotten in a consumer society.... Full story
---
Win a Complete Bad Wolf Musical Play!


It all started in 1991 when a first-grade teacher I know began experimenting with musical plays. Soon _all five_ first grade teachers committed themselves to doing three classroom performances every year. Read more about Bad Wolf Musical Plays and enter to win a complete production kit!
Full story
---
Attention Deficit Disorder
Many believe that Attention Deficit Disorder is the inability to pay attention. In actuality, people with ADD don't have a problem paying attention. Our problem lies in the fact that we pay attention to EVERYTHING around us.... Full story
NBPTS: Portfolio Thoughts
The portfolio box has arrived. You stare at it. It stares back. You think to yourself, what now? If this scenario sounds familiar, you must be a National Board Candidate...! Full story
---
In this issue:
---
The Teachers.Net Gazette is a cooperative publication by the members of the Teachers.Net community. If you would like to submit an article or story for publication, write editor@teachers.net.
---