Classroom Crafts
by The Teachers.Net Community
---
Crayon Resist Activity
by Debbie Oswald
An extension of the the book,
The Blizzard's Robe
by Robert Sabuda
(adaptable to other books and projects)
Materials for each student:
1 sheet of 12" x 18" white paper
crayons
newspaper (enough to form a "pad" under each student's paper)
a station of watercolor trays, brushes and water
optional: glue and glitter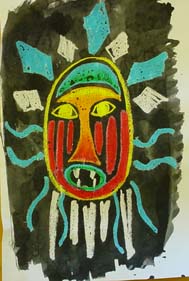 I like to do with my younger students seasonal projects that have artistic merit, teaching them the elements of art. I developed this lesson when I saw the gorgeous batik pictures in Robert Sabuda's book, The Blizzard's Robe. The story is a legend about how the North Wind gave an Eskimo tribe the northern lights in exchange for his life, all thanks to the sewing skills of a little girl.
The North Wind has a gorgeous mask-like face, and we use that as a jumping off point for our own winter mask project. I use a crayon resist technique for this.
First, I have the children draw a mask shape on their 12 x 18" white paper, using crayon in a very thick heavy line. Then they draw in eyes, coloring them inside but leaving a space of white paper around the shape of the eyes. Next they draw and color the nose, mouth, eye brows, any stripes or other designs, always leaving uncolored a space around the shape or facial feature. They are encouraged to use light and bright crayon colors and to color inside the shapes "waxy, shiny" with no freckles of the white paper showing through. I help this process along by having them use a "pad" of newspaper under their drawing, which assists in the complete coverage of crayon.
I demonstrate the project by making large dramatic features, using many colors, adding patterns of shapes in and around the facial parts. We leave some of the face uncolored, around each feature and embellishment, as this is where the resist part comes into play.
The children add "hair" or icicles, or other patterns around the outside of the mask as well, filling up much of their 12 x 18 piece of paper. After the coloring is complete, we take the pictures to a painting station and use either black, purple or blue watercolor and paint over the entire mask, the crayon resists the paint and the paper absorbs it. I have to remind my first graders not to over paint- to keep stroking and stroking over the picture- so it won't lose its vibrant quality. I also have to remind them that the watercolor will dry lighter than it is wet, so they need to make it as dark as they can.
When dry, I cut out the masks and mount them on a black or other color piece of construction paper as a "frame." For a special touch I have the children put some lines of glue on the black paper "frame" and I sprinkle on some gold or silver glitter.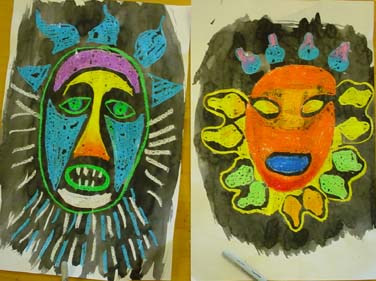 ---
Face-Paint Stencils
by MaryAnn F. Kohl
From Making Make-Believe, by MaryAnn Kohl, published by Gryphon House
Face Painting is the easiest disguise, masquerade, mask, costume, or celebration attire you can make. Here's a new twist on an old favorite: stenciling designs on the face with washable paints
Materials
Tempera paints
make-up sponges, slightly damp
face lotion
paper
selection of brushes, like

small paint brush
cotton swab
make-up brush
eye-liner brush

scissors
pie pan or other plate
mirror, optional
tape
pencil
Note: Consider using Biocolor© non-toxic paint from Discount School Supply because it peels off when dry and is otherwise entirely washable.

Process
Place puddles of tempera paints on the pie pan, about 2 T. for each color.
Squirt or drop a teaspoon of face lotion into each paint color to make removal easier later. Mix the lotion and paint together with a brush or swab.
Cut a small design, shape, or other stencil from the paper. A bold design without a lot of detail works the best like a star, flower, or cat.
If working alone, look in the mirror for the next steps. Or friends can paint friends.
Hold the stencil on the forehead or cheek. Use a little tape to hold, if desired.
Press the damp makeup sponge into a selected color of paint. Dab it on the edge of the pan to remove extra paint, or on a scrap of paper. Now gently dab the paint on the stencil, covering the skin that shows through the stencil. Let dry a moment.
Remove the stencil and the painted design will remain. The stencil can be used again, but is most effective the first time.
Do as many stencil designs as desired. Explore the use of the brushes and swabs for outlining or mixing colors on the skin.
When dry, remove with soap and water in the shower, or gently remove with face lotion on paper towels or tissues.
Variations

Paint designs without stencils on the face.
Paint the face to look like favorite animals, characters, or themes.
---
Cloth Dipping\Creaciones trapo
by MaryAnn F. Kohl
From Mudworks, Bilingual Edition, by MaryAnn Kohl, published by Bright Ring Publishing
Spanish first
Creaciones trapo
Provoca desorden y diversión
MATERIALES
1 1/2 partes de yeso de París
1 cucharada de alumbre por cada taza de agua
1 parte de agua
trapo, gasa, toallas de papel o sábanas viejas
PROCESO
Mezcle el yeso de París con el alumbre
Añada al agua el yeso y el alumbre
Revuelva hasta que esté suave y cremoso
Sumerja el trapo en el yeso
Drapee sobre una botella o armazón de cualquier tipo Sugerencia para la armazón: cono de cartón, alambre, cartón de leche, tubos de papel
Drapee y dé forma en 15 ó 20 minutos, antes de que seque
DATOS
Al secar queda muy duro
VARIACIONES
Úselo para hacer fantasmas o ángeles
Úselo para hacer formas extrañas e interesantes
Se puede pintar, dar brillo o pegarle pedrería cuando esté seco
English version of same project
CLOTH DIPPING
Messy and fun
Materials
1 1/2 parts plaster of Paris
1 T. alum for each cup of water
1 part water
cloth, gauze, paper towels, or old sheet
Process
mix plaster of Paris and alum
add plaster and alum to water
stir until smooth and creamy
dip cloth into plaster
drape over a bottle or armature of any kind hint for armature: cardboard cone, wire, milk carton, paper tubes
drape and shape in 15 to 20 minutes before it dries
Hint: Dries very hard

Variations
use to make ghosts or angels
use to make strange and interesting shapes - can be painted, glittered, or glued with broken jewelry when dry
---
MaryAnn F. Kohl
Bright Ring Publishing, Inc.
PO Box 31338
Bellingham, WA 98228-3338

360.398.9801
fax 360-383-0001

maryann@brightring.com
http://www.brightring.com
---
Check out the latest buzz in the Project Center...