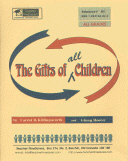 Book Review...
by Ethel Seiderman (Exec. Dir., Parent Services Project)
---
Review: The Gifts Of All Children
TITLE OF BOOK: The Gifts of All Children
AUTHOR: Carroll Killingsworth, Ginny Hoover
PUBLISHER: Teacher TimeSavers
ISBN # 1-894164-74-1

There Are No Throw-Away Children
It is a time when schools seem to be more about "mirror, mirror on the wall, who's the fairest of us all," this translates to--who gets the highest test scores and especially in California with STARTS testing, who deserves the golden apple--a cash award! Is this excellence in education? Is this the best for all kids? Is this good for any kids? Without question--NO!
It is therefore refreshing to have in my hand The Gifts of All Children by Carroll D. Killingsworth and Ginny Hoover. The simple, yet profound premise, is that all children are endowed with unique, inalienable gifts that cause them to thrive when light is shed on them by a tender, sensitive teacher who sees the gifts and pledges herself/himself to the student so that the gifts will resonate and the child thrive. Though it is hard work, it takes the believers to be relentless in promoting the child. In this book--as it should be in life--there are no throwaway children. Even the toughest among them to reach will get the point--this teacher is in my corner and gratefully she isn't going to leave me during my worst hours.
If you look only at the surface, the more visible attributes that may come up could be deficits and may confer doom and gloom on the student by respond to him/her as a failure in the making. To see the gifts, often under the surface, you must be tuned to the small signs of light that sneak through and are discernable only to the trained eye and the vulnerable heart that is willing to be touched, to hurt a bit and lay themselves on the line for a kid. Some kids need to know this to trust because for the most part the mistrust has piled up very high.
The authors, Killingsworth and Hoover, give us glimpses into the remarkable teacher, little known or acknowledged, who said, "give me a shot at the problem kids." She wanted to take the chance of perhaps being the vehicle that begins to help a child make a slight turn in the right direction. She wanted to replace the self fulfilling prophecy of others having said "you're trouble and just not worth my time and won't amount to much" with a belief in the gifts she saw that needed to be lifted up and given fresh air and sunshine so the student could at least begin to consider his worth.
This book is worth more than a look. It will compel you to reflect on those people we all know, who could have been throw-aways but for the act that a teacher saw their attribute and hung in until the students could own them and grow. The book has a whole repertoire of exercises and worksheets that are yours for the taking, to be used in your classroom or work.
Will you consider who the teacher was that uncovered your gift, or in my case one who dashed a potential gift and one who lifted one up? My high school English teacher at Theodore Roosevelt in the Bronx told me I was a good writer and wanted a piece for every school newspaper. I am a pretty good writer now. Mrs. Lehman on the other hand made me "a listener" in 3rd grade music class and I sat with the whole row of us not allowed to sing. Being petulant, every once in a while I tried to sing. She slammed down on the piano loudly and bellowed "there is a listener singing." To this day, I can't/won't sing and even the best--Tom Minton, by beloved friend and his wife Sara, tried for many years, and to no avail, finally we all agreed--the damage had been done very well by an expert destroyer.
There is a turn in the road--decide--will you extent a hand up to the child that seems to hold the thinnest hope, or will she become a throw away kid? The Gifts of All Children will confirm what you know already--they all deserve teachers who will go the extra mile. Will you?
Book available $16.50 (total costs) at
Teacher TimeSavers
Box 214, Ste. 2. RR1,
Brechin, ON
Canada. L0K 1B0
Fax: (705) 484 5081
http://www.teachertimesavers.com/gifts.htm