---
Magical Mystery Tourists...
In the Magical

Mystery Tour class, second through fifth grade students learned the basics of mystery writing through listening to mystery selections, journaling, practicing elements of mystery writing...
Click for Full story


---
Back To School...
I recommend

one activity that has the potential to make a tremendous difference: Make it a family practice to visit your local library once a week and have each child check out as many books as he can carry....
Click for Full story


---
Tactile/Kinesthetic Manipulatives...
Many times

when I give inservices to teachers, the first question that I hear is "What traits should I be teaching at my grade level?" It's a hard question to answer because I don't believe you can teach "pieces" isolated from the others....
Click for Full story


Harry & Rosemary Wong: How a Good University Can Help You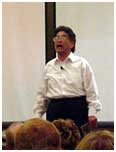 By preparing your classroom for success, you have greatly increased the odds of your success as an effective teacher and your students' success as responsible learners in the world. Your classroom management skill is the solid foundation on which the seeds of greatness will be sewn. It's a monumental responsibility. But then, individuals did not build great monuments. Use Teachers.Net as one of the most effective resources available today. There is a community of caring educators tapped into this site who truly want to help you be the most effective teacher you can be....
Full story
---
What Confidences Don't You Keep?
If a 13-year-old reports to her teacher/counselor that she is pregnant, do you (the teacher/counselor) keep the information confidential and work with her on the issue of telling her parents... Full story
Diary of a 2nd Year Teacher
I went to Home Depot to ask for carpet today. Last year, I spent way too much money on my classroom. Hubby and I are just starting out, and I have got to stop spending... Full story
---
Around the Block with First Grade

To teach first grade is to witness a small miracle every year. Each September I receive a group of what are little more than babies---some are only 5 years old, all need to be reminded daily to use the bathroom at recess, most arrive at the door the first day looking scared and clutching a parent's hand. The miracle occurs at different times for each of them. For some, it's beginning to happen in September and October; for others, it happens about Christmas time. If you are lucky, by Spring Break the miracle will have happened for all of them. And just what is this miracle...?
Full story
---
Reflection And Self-Evaluation
As important as reflection is in learning new information, the practice is equally as important for self-growth. When applied to oneself, reflection is referred to as self-evaluation..... (part two of three) Full story
4 Blocks & Process Teaching
It's almost that time again - when a brand new group of students will troop into your classroom and you will begin your task of shepherding them along on their individual paths to literacy.... Full story
---
In this issue:
---
The Teachers.Net Gazette is a cooperative publication by the members of the Teachers.Net community. If you would like to submit an article or story for publication, write editor@teachers.net.
---