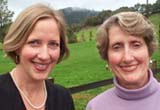 Instant Ideas for Busy Teachers...
by Barbara Gruber, M.A. & Sue Gruber, M.A.
www.bgrubercourses.com
---
Eight Winning Ways to Wrap Up the Year
---
The end of the school year is coming up fast!!! Children and teachers are all on "the countdown" to the last day of school. During the last week of school there will be all kinds of jumping up and down, hooting and hollering, and the humming of happy tunes. And, that is coming from the teachers' room!

During the last few weeks of school, teachers have golden opportunities to get the jump on the next school year. Take advantage of these opportunities---they will save you time and work this fall.

Job 1: Does your desk look like a paper drive? Here's how to keep track of important papers that have to do with next school year. Grab a file folder and label it NEXT YEAR. Do this right now---even if you don't have anything to put in the folder. Now you have established a place to stash memos, school calendars, and any other materials you receive that pertain to next school year.

Job 2: Imagine this---your parent helpers can help you prepare for NEXT school year! Do you have parent volunteers who help at school or at home? If so, have these helpers make sets of folders to use when school starts with your new class. A volunteer can make shape books or assemble writing booklets that you will need during the first few weeks of school. What a great feeling knowing you have materials prepared and ready-to-use. We have at-home parent helpers who do virtually all our folding, stapling, cutting and pasting kinds of jobs! Their help adds up to an amazing number of minutes of work we do not have to do. If a volunteer does an hour's worth of work for you each school week that adds up to thirty-six hours in a school year! That's thirty-six hours of work YOU don't have to do. Put the materials for making folders/booklets/whatever, along with completed samples, in shopping bags for volunteers to do at home.

Job 3: Looking for an end-of-the-year activity that bonds the class and can be used as a reward? We use autograph books made from construction paper. (Needless to say, they were made by our at-home parent helpers!) Cut construction paper pages, 6" x 8" to staple into autograph books. Be sure to use light colored paper so writing will be visible on the pages. You will need an autograph book for each child, one for yourself, and a few extras…just in case. Pass out the autograph books and have children decorate the covers and write their names on their books. Then, collect the books and set them aside until the last week of school. Why not go ahead and sign all the autograph books before returning them to children? When you pass the books out, children will be thrilled to find your autograph in their books! Our rule is children can only use their autograph books during official "autograph time" which happens to be lunch and recess times. And, they are not allowed to take the books home until the last day of school. You can occasionally reward the class with "in class autograph time" during the last few hectic days of school. During this time your students can sign the teacher's autograph book! Our students loved having playground supervisors, the principal, the librarian and other teachers sign their books.

Job 4: Looking for a quick-and-easy fall bulletin board kids will actually look at? During the last week of school, collect a sample of work from each child. Make sure you end up with an assortment of different kinds of papers and projects. Stash the work samples you collected in a folder or bag labeled back-to-school bulletin board. In fall, title a bulletin board "Take a look at second grade work!" and simply put up a collage of the papers and projects you saved. Your new class will love looking at this bulletin board created by last year's class. This bulletin board is perfect for Back-to-School Night meetings. The bulletin board shows parents the kind of work their children will do.

Job 5: Who says you can't take a field trip during the last week of school? This is the world's easiest field trip---no parent helpers and no permission slips are required because the field trip occurs right AT school. Take your class on a field trip to visit the next grade level. If there are several classrooms at the next grade level, visit a different one each day. Our classes loved these ten-minute visits to other classrooms. It's fun and it alleviates some of the worries children may have about entering the next grade. If you teach the highest grade at your school, arrange a visit back to kindergarten.

Job 6: Put children to work locating classroom library books that need repair. Have small groups of children spend ten minutes in the classroom library carefully looking through books and locating ones in need of repair. You'll need a box and some grocery bags for this activity. Children place damaged books in the "Fix this book!" box. Children place the other books that do not require repairs in bags. Make sure every child has a turn to be engaged in this important end-of-the-year job. Have as many books checked as time permits during the last week of school. Now, you have a box of books that need repair and bags of books that do not require repairs. You can wait until fall and have a newly recruited volunteer repair the books in the "Fix this book!" box. Have student helpers put some of the books back on the library shelves. Leave the remaining books in bags.

In the fall, take six or eight classroom library books out of a bag and spread the books along the chalk ledge. Take a moment to highlight the books by reading the titles aloud or showing a few illustrations to the class. Then, add the books you introduced to the class to the library. Every day or two, continue to display groups of books from the bags on the chalk ledge and introduce them to the class. Eventually, all the books will be back on the classroom library shelves. By gradually introducing classroom library books to children, interest in the classroom library gets a big boost! What a positive difference this makes in how much children use and enjoy your classroom library!

Job 7: When you prepare your classroom for back-to-school, isn't it a great feeling when you get all those bulletin boards up? Why not get the jump on things and cover all your bulletin boards with background paper and edge trimmers before you leave at the end of the year? Barbara just puts up the background paper and trimmers---Sue actually FINISHES all her back-to-school bulletin boards! You'll be amazed how quickly you can zap up your bulletin boards when you are anxious to depart the shores of the school campus. If you can't stand the thought of doing them all---just do one! You'll love it when you come back to school knowing some of your work is already done!

Job 8: Do things mysteriously disappear in your file cabinet? It happens to us! We've filed important papers and a day later they are nowhere to be found? We've been amazed to find long-lost papers mixed in with other papers in our files. There's never enough time at school to file things, let alone go through files and organize them. Why not take a section of your file cabinet home to go through over the summer. When we did this, we found:
lots of papers we could discard
long-lost papers
things that were misfiled
multiple copies when we needed only one
would you believe…stuff from student teaching days
and some things we couldn't even identify!
Yep---we qualify as card-carrying packrats! Our "housecleaned" files were reduced by almost half. We continued this housekeeping chore by taking sections of the files home till we made it all the way through two of the three drawers. Next summer we'll tackle the bottom drawer. This task is like painting the Golden Gate Bridge…by the time you finish, it's time to start over. But, it's worth doing, for sure!
Teaching is a more difficult, challenging job than most teachers ever dreamed it could be! Do whatever you can to make your busy job as a teacher go smoothly for you. You are a VIP in your classroom---do everything you can to treat yourself well.
If you like the kinds of ideas we've shared in this article, you'll love the online courses we offer for K-6 teachers. Every single idea is practical and easy-to-implement. Summer break is coming up---it's a perfect time for teachers to earn units. You can get realistic teacher-friendly ideas for your classroom and move up on the salary ladder. We can help---you can earn one, two or three semester units of University credit through University of the Pacific which is accredited by the WASC (Western Association of Schools and Colleges).
We've never met a teacher who was looking for more work to do! That's why we help teachers find ways to save time and work and improve instruction. As a matter of fact, our motto is "There's a life beyond teaching." When teachers have a life beyond teaching, they are energized and enthusiastic. We hope you found some ideas in this article that will help you wrap up the year the win-win way. Good luck with your end-of-the-year wrap up!
Best regards,
Barbara Gruber & Sue Gruber
Teachers, Authors of Teacher Resource Books,
Course Developers and Instructors for
Barbara Gruber Online Courses for K-6 Teachers
Copyright 2002: Barbara Gruber Courses for Teachers