New location for French immersion?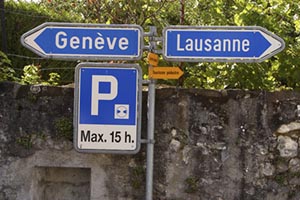 Dear Global Travel Guru,
I've been taking my French class to Europe for a few years, and I'm starting to get bored of the traditional sights and cities. Do you have suggestions for some out-of-the-way destinations where my students will still get a solid French language immersion experience?
Jeremy Heffner
Memphis, TN
Dear Jeremy,
I have two suggestions: Belgium and Switzerland. While the dialects of French are slightly different in these two neighbors, the Franco-culture runs deep. I recommend an itinerary that starts in French Belgium, passes through France, and ends in western Switzerland. This gives your students a worthwhile language immersion experience while getting you out of the well-worn France travel circuit.
Start in the city of Namur, an important settlement during Celtic times. Namur's citadel, which dates back a few centuries, has played a big role defending the town's population from German, French and Dutch armies. The fort is now decommissioned, and along with a distinct 18th-century cathedral, is one of the oldest attractions in the city. Bastgone, another French-Belgian city only an hour drive south of Namur, contains many Roman ruins as well as the intact 14th-century city gates. While in Bastgone, make sure to see the memorial to the 77,000 American causalities of the Battle of the Bulge during the Second World War.
Luckily for you, the region of France that falls in between Belgium and Switzerland is Champagne. During the 8th Century, Charlemagne encouraged the growth of grape vines, cementing this area as a crucial player in the global wine trade. For the past twelve hundred years, this region has elevated its sparking wine to an art. Don't miss this chance to visit a working winery and taste some of the world's most delicious…history.
Finally, end your program in Geneva, Switzerland. This medieval city of 185,000 is the largest in Romandy, the French-speaking area of Switzerland. In the 16th Century, the city was the center of Calvinism, garnering it the nickname "the Protestant Rome." Today, it spends twenty percent of its budget on cultural institutions, so make sure to bring your class to a few of its free world-class museums.
Hopefully this helps you get away from the standard Paris-based French trip and into some new territory. You can thank the Global Travel Guru by sending back some "history" from Champagne!
Global Travel Guru
Article continued on next page


» More Gazette articles...