In Focus...
Your Everyday Wisdom Counts
from: www.everydaywisdom.net
---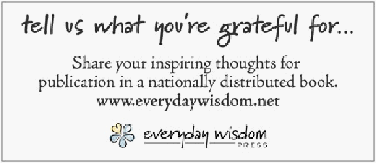 Become a contributing writer to an innovative and heart-felt new book series! The first book to be published, For This I Am Grateful, is a collection of thoughts and realizations from everyday people (just like you!) answering the simple question: What are you grateful for?
This book and all in the collection will be authored by, "All of Us." Everyday Wisdom Press welcomes your unique perspective. We hope you will join our community of writers and encourage you to invite your friends and family to participate as well.
As a special gift to those whose contributions are published in this nationally distributed book, each 'author' will receive a special edition copy -- because we are grateful for you!
Visit us at www.everydaywisdom.net and help us write this book! All submissions entered by June 30th, 2003, will be considered.
A portion of proceeds from the sale of this book will be donated to the National Center for Family Literacy.
For More Information Contact:
Anna Johnson, Associate Publisher
425.827.7120
annaj@everydaywisdom.net